Natalia Prishepenko, Violin -
Oliver Triendl, Piano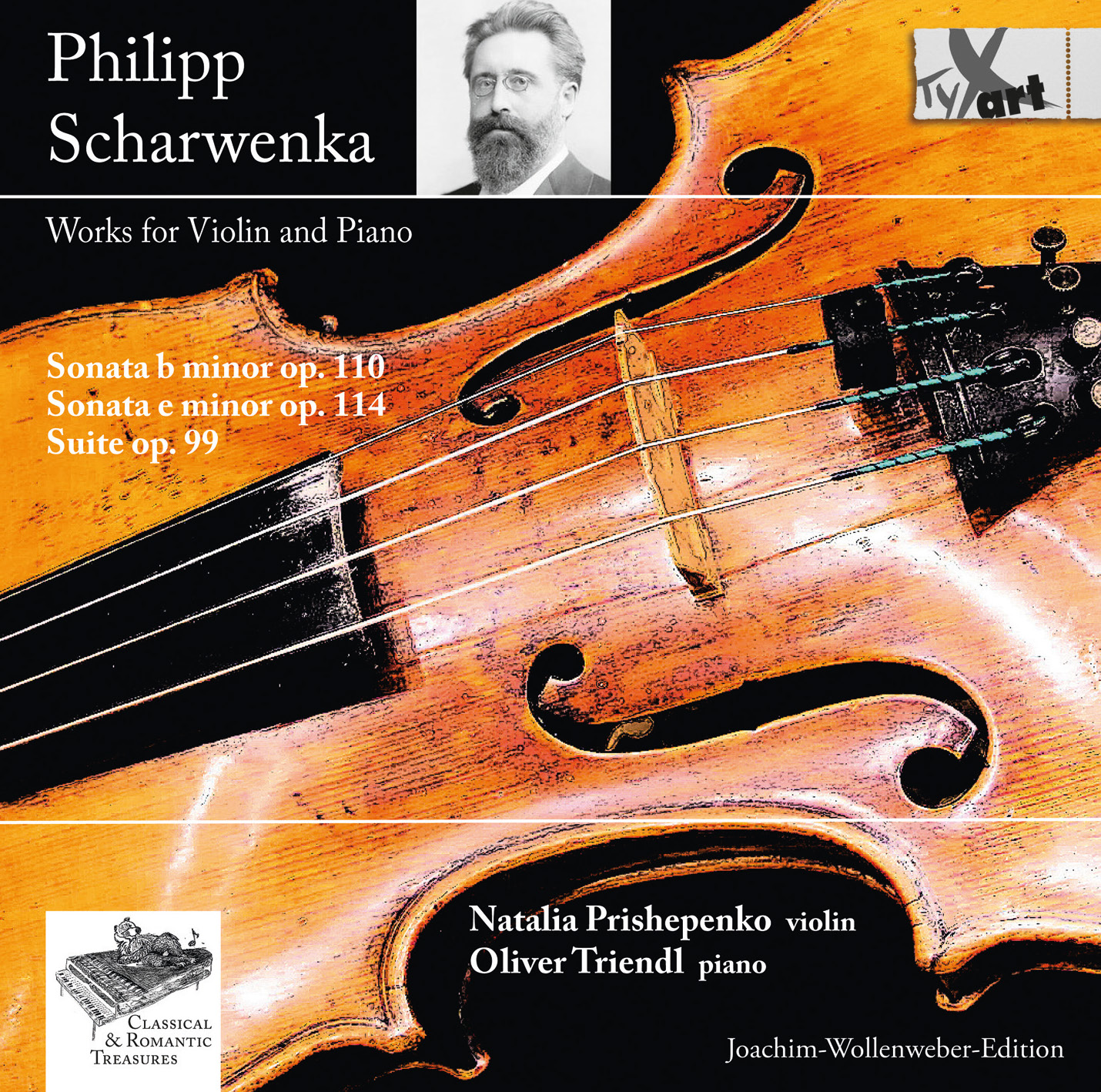 A new TYXart chamber music CD series!

This Coproduction of TYXart and the new Joachim Wollenweber Edition refocuses the publics attention on forgotten composers of the classical and romantic periods.
New sheet music editions are created in collaboration with top artists, musicologists and radio stations, with CD recordings being published at the same time.

This fourth CD of the series is devoted to a composer of the late Romantic period: Philipp Scharwenka. With his symphonies and chamber music works, he won the admiration of Max Reger. Today, Philipp Scharwenka is increasingly gaining the appreciation of enthusiasts through the recordings of his works that have long since been out of print, like this one for violin and piano.

A challenge for virtuosos — Violin works by Philipp Scharwenka
Going to a chamber music concert about 100 years ago, occasionally a "typical" program may well have included Beethoven, Scharwenka and Brahms. If a music-lover with similar interests goes to an evening with a similarly orientated ensemble in a similarly structured concert hall today, the poster will not rarely announce Beethoven and Brahms. Of Scharwenka or one of his many contemporaries, however, not a trace. The justified pressing-forward of new generations of composers is only partially to blame, since they, too, are only all too infrequently sandwiched in between the classics. The cause is rather the general impoverishment of the repertoire during the last decades, which in turn is a result of the fact that performers – trained for this from the time they begin their studies – are first of all looking for opportunities in the international world of music. This again seems to be most likely possible with those names that are equally popular everywhere, ensuring them an engagement.
Many a musician believe that they cannot afford to present a true rarity. Obviously, this of course works out only partially and is bound to fail in the long term. Always being served the same thing will sooner or later lead inevitably to the worst thing that can happen in musical life: boredom. This is why it has been happening again for some time now, after all: the digging-up of rarities. Not a few small gems and glittering jewels from long-forgotten times have been unearthed this way, which inspire to extend the search. Not everything that is now being re-examined exhibits a composer equal to the most famous creations. Certainly, much forms the valuable surroundings, the humus, in which the masterpieces were able to grow.
(Dr. Christian Heindl)

A Coproduction of the Joachim Wollenweber Edition and TYXart.
German Record Critics' Award ("Preis der deutschen Schallplattenkritik") - 'Chamber Music'!
PdSK 3/2016
International Classical Music Awards 2017
The Jury of the International Classical Music Awards (ICMA) has nominated the recording!
17 media - 14 countries: ICMA, THE ONLY INTERNATIONAL MUSIC AWARD IN THE WORLD
ICMA
CD Tip!
Radio SWR2 Treffpunkt Klassik – New CDs (Broadcast, 08 April 2016)
CD Review and Recommendation
MusicWeb International, UK (May 2016)
CD Review and Recommendation
klassik.com (Mai 2016)
»[...] This CD is a small sensation!«
Newspaper 'Stuttgarter Zeitung' (19 April 2016)
Review & CD Tip!
klassik-heute.de (online 31 May 2016)
CD Review & Tip!
Magazine 'Concerti' (May 2016)
Magazine 'das Orchester": Review and Recommendation
dasOrchester.de, Germany (12/2016)
CD Review & Recommendation!
Newspaper 'Frankpost', Germany (29 August 2016)
Review and Recommendation!
OpusKlassiek, The Netherlands, Aart van der Wal (02/2017)
»[...] Phrasing, attack, dynamic, bow technique, virtuosity and emotionality - better, more intensively, nicer...you can hardly get more.
A further highlight of the cooperation by TYXart and the Edition Wollenweber.«
Musik & Theater - The Swiss Culture Magazine with internat. Competence (July-August 2016)
CD Review & Recommendation!
nmz - Neue MusikZeitung (07/2017)
Music and Sound: 4 Stars!
Magazine 'FONO FORUM' (August 2016)
CD programme (Tracklist):
Philipp Scharwenka (1847-1917)

Sonate h-Moll op. 110 für Violine und Klavier /
Sonata b minor op. 110 for violin and piano
Allegro
Largamente
Allegretto con moto

Suite op. 99 für Violine und Klavier /
Suite op. 99 for violin and piano
Toccata. Allegro moderato
Ballade. Andante con moto
Intermezzo. Allegro non tanto e con spirito
Recitativ und Tarantella. Largo – Molto allegro vivace

Sonate e-Moll op. 114 für Violine und Klavier /
Sonata e minor op. 114 for violin and piano
Allegro moderato
Andante tranquillo
Finale. Allegro animato


Tags Keywords Philipp Scharwenka Violin Piano Sonatas Suite Prishepenko Triendl CD TYXart LC28001 4250702800750 TXA16075