Sojka String Quartet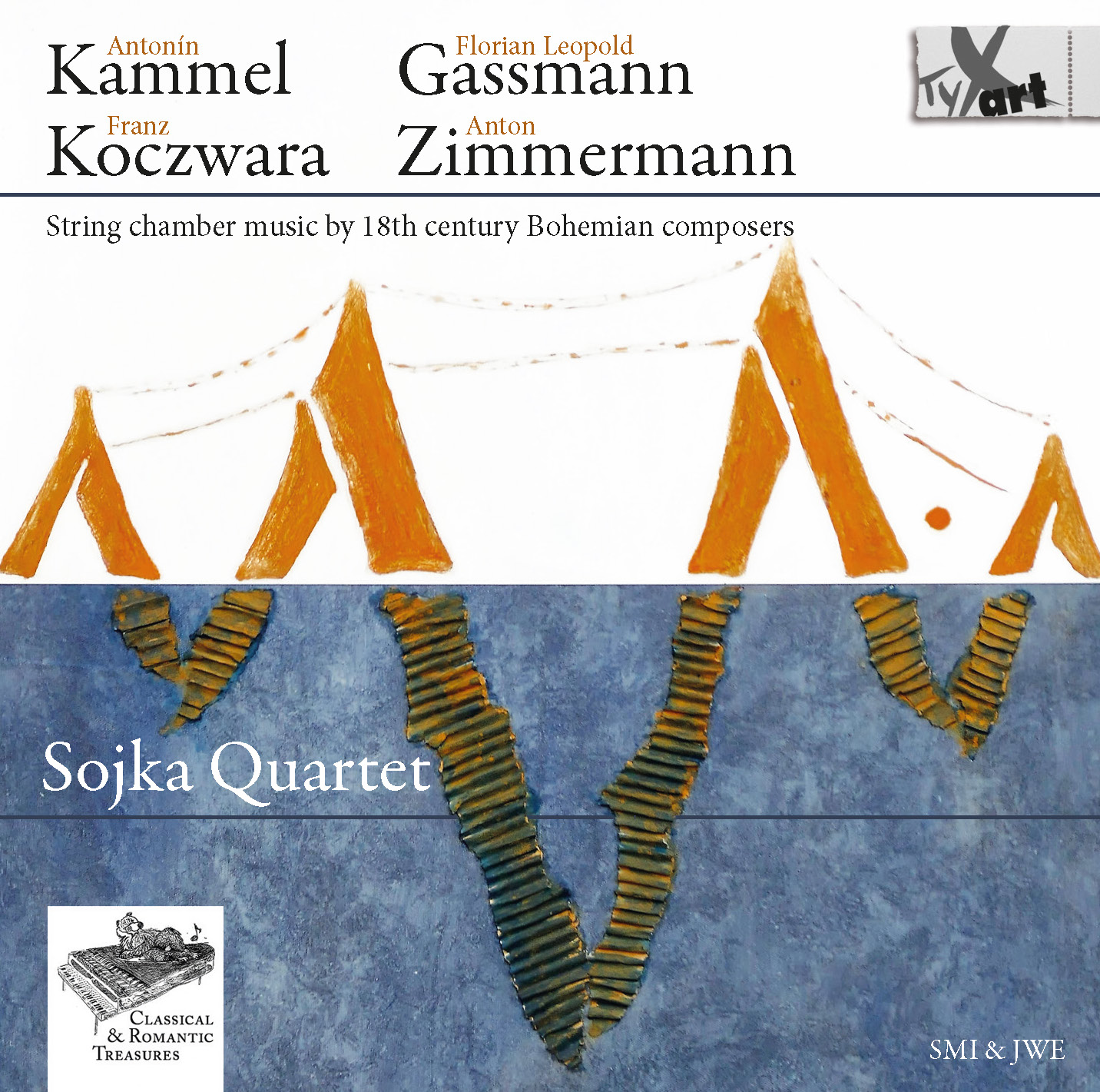 A new TYXart chamber music CD series!
The new series refocuses the public's attention on forgotten composers of the classical and romantic periods. New sheet music editions are reated in collaboration with top artists, musicologists and radio stations, with recordings being published at the same time.
This fifth CD of the series is devoted to four composers from the Bohemian countries of the second half of the 18th century: A. Kammel, F.L. Gassmann, F. Koczwara, and A. Zimmermann.
The CD is impressive proof of the position of the Bohemian string chamber music, which had great standing and was quite widely known during its time. The works are largely first recordings, all set for string quartet, with the addition of a trio for two violas and cello.

String chamber music by 18th century Bohemian composers
The music from the "Bohemian countries", i.e. those Habsburg territories that belonged to the Bohemian crown lands – Bohemia, Moravia and the part of Silesia (Austrian Silesia) that had been left the House of Habsburg after 1742 –, was at the very top of the musical development in the second half of the 18th century. When referring to music and musicians in this context, Bohemian is here primarily a geographical rather than an ethnical designation. The musical life there was determined by the European and international trends of the time in quite a wide variety of ways, for example, Italians played a central role in opera, for instrumental music, among others musicians from Germany. As justified as it may be to ask for the origin and the ethnical awareness of the composers and musicians, as questionable it is on the other hand to wear out that aspect. Ethnical allocations as they became customary in the 19th century as part of the rising nationalism often appear almost forced when looking back on the 18th century. Even though it is possible in many cases to identify composers as "German Bohemians" or "Czechs", this aspect really was of only subordinate importance, particularly in the fine arts. [...]

[text extract of the CD booklet by Dr. Andreas Wehrmeyer]


The Sojka String Quartet was founded by students of the department of music at the Academy of Performing Arts in Prague (AMU). Since 2009, it has been playing with the following members: Martin Kos and Martin Kaplan (violins), Josef Fiala (viola), and Hana Vítková (cello). The ensemble focuses on the music of the classical period and on the contemporary music of the Czech Republic; it premiered for example works by Jirí Vyšata, Pavel Samiec, Martin Cervinkaa, Vladimír Sommer, Vojtech Mojžíš, Karel Pexidr, and Jirí Bezdek. The quartet has repeatedly been invited to play in the matinée concerts of the Josef Kajetán Tyl Theater (Pilsen) and there performed among others works of the First Viennese School, by Franz Schubert, Antonín Dvorák, and Josef Suk. Since 2013, they have been presenting thematic programs, e.g. "Adolf Loos and the Second Viennese School" (with works by Hanns Eisler, Anton Webern, and Arnold Schönberg) or "The Czech Modern Age Between the Wars" (with works by Vítezslava Kaprálová and Jaroslav Ježek). In 2015, the quartet played concerts among others in Japan and took part in the Festival for Contemporary Music in Prague.


A Coproduction of the Joachim Wollenweber Edition, SMI (District Upper Palatinate) and TYXart.
Free Audio Samples ... of this CD album!
»CD TIP - Mozart's Contemporaries
Grade: very recommended to listen to.«
Newspaper 'Coburger Tageblatt', Germany, Jochen Berger (14 Aug 2017)
»[...] This very interesting CD production contains premiere recordings, the Quartet plays filigreed and with full string sound. A very recommendable novelty.
Recommendation to buy!«
Glarean Magazine, Switzerland, Walter Eigenmann (online 30 June 2016)
Album review & recommendation
klassik-heute.de, Germany
»[...] beautiful music [...] the knowledge of these documents contributes to an (even) better understanding of the Bohemian and Moravian musical art in the 18th century.
[...] the qualities of the Sojka Quartet (Pilsen/Czech) and the bright image with its beautiful string sound let you optimally enjoy what undoubtedly will be ear-openers.«
OpusKlassiek, The Netherlands, Aart van der Wal (online 02/2017)
CD programme (Tracklist):
Antonín Kammel (1739 – 1784)
Streichquartett B-Dur (op. 7 Nr. 2) /
String Quartet B Flat Major (op. 7 No. 2)
Allegro, Andante espressivo, Tempo di Menuetto

Florian Leopold Gassmann (1729 – 1774)
Streichquartett C-Dur /
String Quartet C Major
Andante, Allegro, Menuetto – Trio, Allegro

Franz Koczwara (ca. 1750 – 1791)
Sonate für zwei Violen und Violoncello C-Dur /
Sonata for Two Violas and Cello C Major
Andante espressivo, Adagio, Rondo (Allegro)

Anton Zimmermann (1741 – 1781)
Streichquartett F-Dur (op. 3 Nr. 3) /
String Quartet F Major (op. 3 No. 3)
Andante un poco Adagio, Menuetto (Allegretto) – Trio, Allegro, Menuetto – Trio, Finale – Allegro non molto


Incl. Premiere Recordings | Album first release!


Tags Keywords Sojka String Quartet Kammel Gassmann Koczwara Zimmermann Chamber Music 18th century Bohemian CD TYXart LC28001 TXA16076
» Detailed CD booklet includes further info (bios, photos, etc.)
» Total playing time: 77min 15sec | Booklet Text: DE, EN, CZ
» Format: 1 Audio-CD | " Modern Classics" | RD int'l from ~10/2017
» Order No.: TXA17090 | GTIN (EAN): 4250702800767 | (p)+(c)2017
» CD available commercially or directly via TYXart
The second CD by the Sojka Quartet:
"Roland Leistner-Mayer: String Quartets 5, 6, 7"
Further information, concert dates sojkaquartett.com
Further information SMI