Sojka String Quartet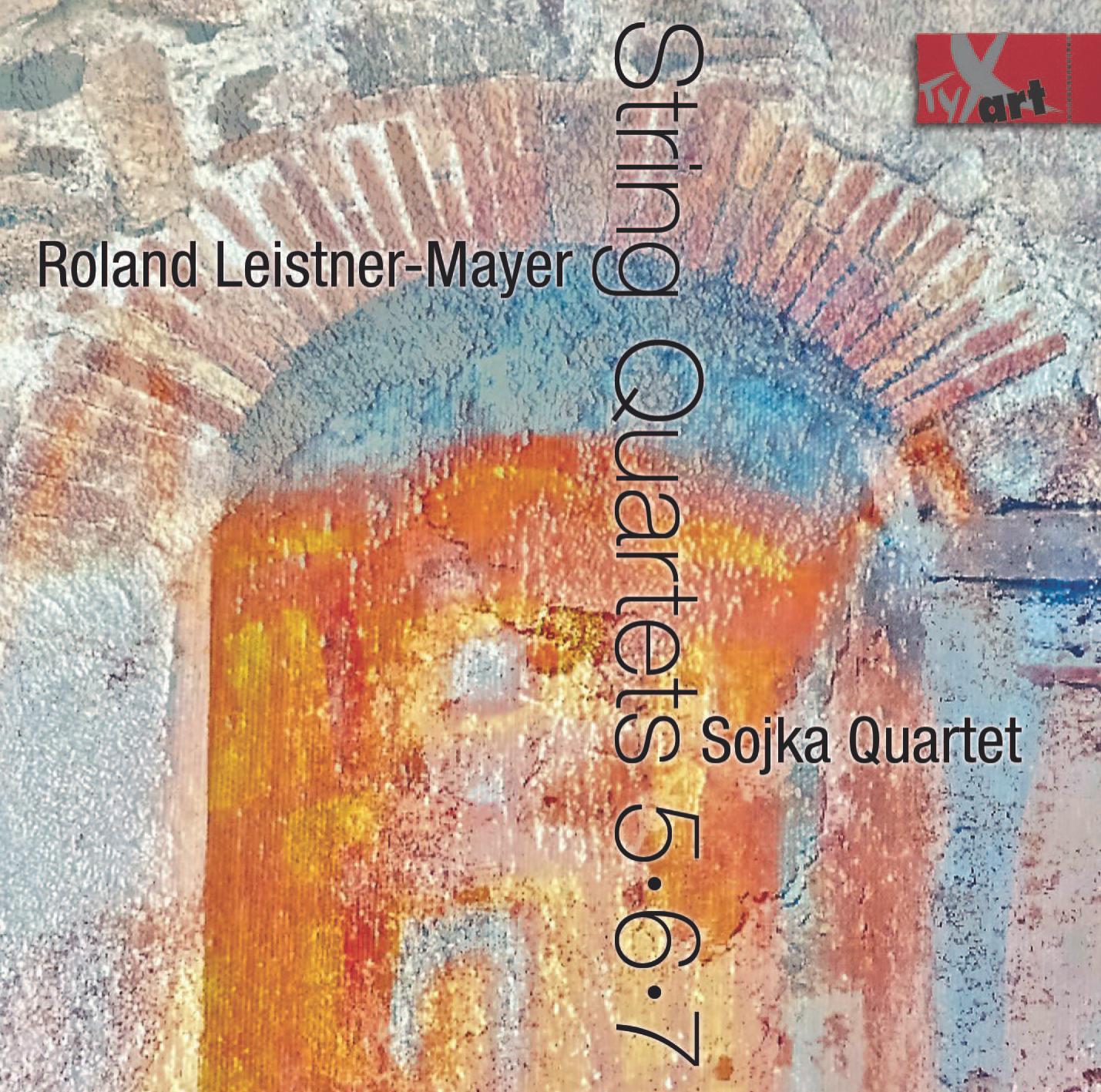 Premiere Recordings of contemporary String Quartets

The string quartet is one of the central genres in the work of Roland Leistner-Mayer. This CD offers the recently composed string quartets No. 5 to 7 (2014‒16).

Roland Leistner-Mayer distanced himself early on from fashionable trends and avant-garde experimentation in favour of a forceful, expressive, and authentic diction. Form is for him the result rather than the means of expression. In his cyclical works ‒ the string quartets, for example – he returns to traditional types of movements and genres, which he re-forms and individualizes. From the time of the early string quartets (Nos. 2 and 3) on, he has occasionally moved towards a Bohemian idiom, similar to Leoš Janáček, audible in the rhapsodic themes, eruptive expansion of form, and a tendency to the "informal" which are the main features of his music.
"The melody resonates [...] in its complete totality; it is more than a sum of melodic parts. The end of the melody is already in me as I shape the beginning. Periodicity in the classical sense is effective as well. So it is possible for the unbiased hearer to comprehend the music immediately. My music does not demand prior intellectual knowledge. That was always important for me. Clearly harmonic sections are also fundamental – my music is perceived to be tonal throughout: in a free tonal functionality." (Roland Leistner-Mayer)
Leistner-Mayer strives for a comprehensible music, without clinging to well-established styles, pandering to nostalgic wishful thinking or paying homage to non-committal postmodernism.
"The great inner complexity of the artistic experience does not have to result in greater structural complexity. Quite the opposite: Roland Leistner-Mayer has searched unwaveringly for the simplest and most direct expression of the internal necessities. Through this, he has developed a personal style where vehement attacks and long spun out cantabile lines are always part of a logical implementation of the harmonic plan. Only the musical essence counts; there is no sound for sound's sake." (Christoph Schlüren)

Roland Leistner-Mayer wrote the string quartets Nos. 5, 6 and 7 (edited and published by Vogt & Fritz, Schweinfurt) between 2014 and 2016. All three are in several sections (four to seven movements) and ca. 25 minutes long. This performance by the Sojka Quartet is the first recording on CD.
[text extract of the CD booklet by Dr. Andreas Wehrmeyer]

The Sojka String Quartet was founded by students of the department of music at the Academy of Performing Arts in Prague (AMU). Since 2009, it has been playing with the following members: Martin Kos and Martin Kaplan (violins), Josef Fiala (viola), and Hana Vítková (cello). The ensemble focuses on the music of the classical period and on the contemporary music of the Czech Republic; it premiered for example works by Jirí Vyšata, Pavel Samiec, Martin Cervinkaa, Vladimír Sommer, Vojtech Mojžíš, Karel Pexidr, and Jirí Bezdek. The quartet has repeatedly been invited to play in the matinée concerts of the Josef Kajetán Tyl Theater (Pilsen) and there performed among others works of the First Viennese School, by Franz Schubert, Antonín Dvorák, and Josef Suk. Since 2013, they have been presenting thematic programs, e.g. "Adolf Loos and the Second Viennese School" (with works by Hanns Eisler, Anton Webern, and Arnold Schönberg) or "The Czech Modern Age Between the Wars" (with works by Vítezslava Kaprálová and Jaroslav Ježek). In 2015, the quartet played concerts among others in Japan and took part in the Festival for Contemporary Music in Prague.
The Sojka String Quartet has worked with Roland Leistner-Mayer with great success, performing his Sixth String Quartet in Munich in 2015. They premiered the Seventh String Quartet in Pilsen on 23 February 2017; on 05 October 2017, the "German Premiere" will follow in Regensburg.

A Coproduction of SMI (District Upper Palatinate) and TYXart records.
Promoted by R. Leistner-Mayer, J. Wollenweber, Verein der Freunde und Förderer der Sudetendeutschen Musikkultur e.V.
Free Audio Samples ... of this CD album!
CD Review & Recommendation "MusicWeb INTERNATIONAL"
»[...] Attractive and compelling scores, recommended without reservation. [...]«
MusicWeb INTERNATIONAL, United Kingdom (online 10/2017)
Composer & CD Portrait - Journal "pizzicato"
»German composer Leistner-Mayer, whose roots are in Bohemia, is presented in this TYXart recording with his latest three string quartets. The music is very agreeable, tuneful and benefits from exquisite performances by the Czech Sojka Quartet.«
pizzicato.lu, Luxembourg (online 24.10.2017)
Portrait & Recommendation!
»[...] You never know where startling new music is going to come from. Here's a Bohemian composer with a very British-sounding name, Roland Leistner-Mayer, whose string quartets sound like nothing you've ever heard before in your life. [...] In all this music, the Sojka Quartet is right on the mark in terms of both technical security and emotional commitment. They have apparently had a good relationship with the composer [...]
This is a great CD; you need to hear it!«
The Art Music Lounge, USA (online Nov 30, 2017)
Concert & CD Review, Composer's Portrait and Recommendation!
Magazine 'nmz Neue Musik Zeitung', Germany (12/17 - 1/18)
CD Review, Composer's Portrait and Recommendation!
Newspaper 'OVB', Germany (Sept 24, 2017)
Album/Composer Presentation & Tipp!
OpusKlassiek, The Netherlands (online 09/2017)
CD Review and Recommendation!
musicalifeiten.nl, BeNeLux (online 09/2017)
klassik.com Review
»... exciting String Quartets!«
klassik.com, Germany/international (online Jan 27, 2019)
CD programme (Tracklist):
5. Streichquartett op. 147 / String Quartet No. 5 Op. 147
Molto Adagio – Allegro con brio
Scherzo
Adagio molto
Poco vivace

6. Streichquartett op. 148 "7 untapfere Bagatellen" / String Quartet No. 6 Op. 148 "7 Unbrave Bagatelles"
Nachklang – zwangsweise [compulsorily] Vivo
Hinter dem Fenster [Behind the window] – Allegro moderato
Blick zum Berg [View of the mountain] – Molto vivace
Blick zum Wassergraben [View of the moat] – Con brio
Ricordanza – Larghetto
Blick zum Torbogen [Glimpse through the gateway] – Con moto
Passare in ... – Arioso allontanandosi

7. Streichquartett op. 151 "Ariadne-Quartett" / String Quartet No. 7 Op. 151 "Ariadne Quartet"
Molto Adagio
Scherzo – Molto Vivace
Molto moderato
Presto precipitando


Premiere Recordings | Album first release!


Keywords: Sojka String Quartet Roland Leistner-Mayer Chamber Music Contemporary SMI CD TYXart LC28001 TXA17090
» Detailed CD booklet includes further info (bios, photos, etc.)
» Total playing time: 77min 15sec | Booklet Text: DE, EN, CZ
» Format: 1 Audio-CD | "Modern Classics" | Release: int'l ~10/2017
» Order No.: TXA17090 | GTIN (EAN): 4250702800903 | (p)+(c)2017
» CD available commercially or directly via TYXart
The first CD by the Sojka Quartet:
"Kammel Gassmann Koczwara Zimmermann"
Further information, concert dates sojkaquartett.com
Further information SMI