Máté Szücs, Viola - Noah Bendix-Balgley, Violin -
Oliver Triendl, Piano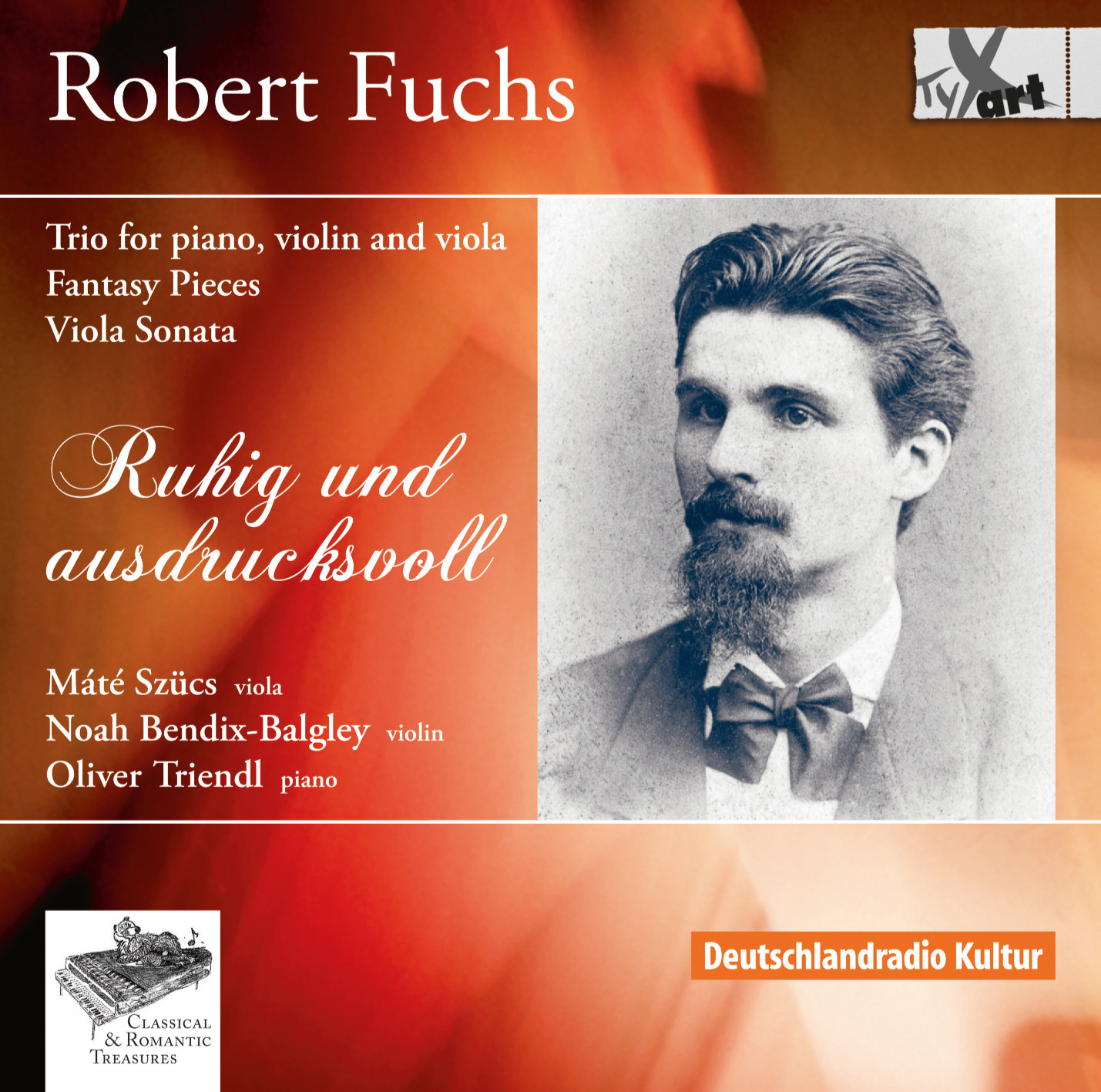 A new TYXart chamber music CD series!

This Coproduction of TYXart and the new Joachim Wollenweber Edition refocuses the publics attention on forgotten composers of the classical and romantic periods.
New sheet music editions are created in collaboration with top artists, musicologists and radio stations, with CD recordings being published at the same time.
This second album of this CD series introduces a trio and two duos of the Austrian composer Robert Fuchs (1847-1927), representing gems of chamber music literature that are performed much too seldom. Famous pupils such as Gustav Mahler, Jean Sibelius and Richard Strauss studied with him in Vienna.

From the late studio of the master of serenades - Duos and chamber music by Robert Fuchs Although he composed one symphony more – a total of five – than his immediate contemporary, Johannes Brahms, he went down in history with his five serenades for string orchestra and chamber orchestra: People still often talk about the "Serenade Fox" when the Austrian composer Robert Fuchs is mentioned. Today, his works are rarely seen on concert programs, whereas many of his pupils gained worldwide renown. Only recently, people have begun rummaging in Fuchs' extensive catalog of works and unearthing one or another gem from it – especially in the chamber music area.
(text extract of the CD booklet by Christian Heindl)

A Coproduction of the Joachim Wollenweber Edition, Deutschlandradio Kultur Berlin and TYXart.
»CD Recommendation!
Maximum Score in all 3 categories: Artistic Quality, Sound Quality and General Impression.«
klassik-heute.de - Germany (online, 02 Nov 2015)
»CD News - Die MusikWelt in "SR 2 - Der Vormittag"«
SR 2 KulturRadio, Broadcast "MusikWelt" (22 Sept 2015)
»CD Tip!«
Frankenpost Newspaper, Michael Thumser (18 Sept 2015)
CD Review & Tip
klassik.com (online, 19 Nov 2015)
CD Review & Recommendation
Musik&Theater - Switzerland (Nov./Dec. 2015)
»CD Review & Recommendation!«
Magazine das Orchester (02/2016)
"to be clearly audible": CD Recommendation!
nmz - Neue Musikzeitung, Mátyás Kiss (09/2016)
»... In my book you can never overdose on such eminently tuneful and attractive music from the likes of Robert Fuchs ...«
musicweb-international.com - UK (online 02/2016)
»Maté Szücs' Fuchs performances are passionate, cantabile and elegant.«
pizzicato - Remy Franck's Journal about Classical Music - Luxembourg, Guy Engels (online 20 July 2016)
CD programme (Tracklist):
Robert Fuchs (1847-1927)

Trio fis-Moll op.115 für Klavier, Violine und Viola /
Trio f sharp minor op.115 for piano, violin and viola
Allegro molto moderato
Andante grazioso
Allegretto scherzando - Vivace
Allegro giusto

Sechs Phantasiestücke op.117 für Viola und Klavier /
6 Fantasy Pieces op.117 for viola and piano
Ländler Tempo
Ruhig und ausdrucksvoll
Leicht bewegt
Andante sostenuto con espressione
Mäßig bewegt
Allegretto con delicatezza

Sonate d-Moll op.86 für Viola und Klavier /
Sonata d minor op.86 for viola and piano
Allegro moderato, ma passionato
Andante grazioso
Allegro vivace


Tags Keywords Robert Fuchs Trio op.115 Fantasy Pieces op.117 Viola Sonata op.86 Szücs Bendix-Balgley Triendl CD TYXart Labelcode LC28001 4250702800668 TXA15066
» Detailed CD booklet includes further info (bios, photos, etc.)
» Total playing time: 69min 49sec | Booklet Text: DE, EN, FR, JP
» Format: 1 Audio-CD | "Classics" | Release: from ~10/2015
» Order No.: TXA15066 | GTIN (EAN): 4250702800668 | (p)+(c)2015
» CD available commercially or directly via TYXart
The other CD with music by Robert Fuchs: "Robert Fuchs"
The first CD of this new Chamber Music series: "Hermann Goetz"