Martin Ostertag, cello -
Oliver Triendl, piano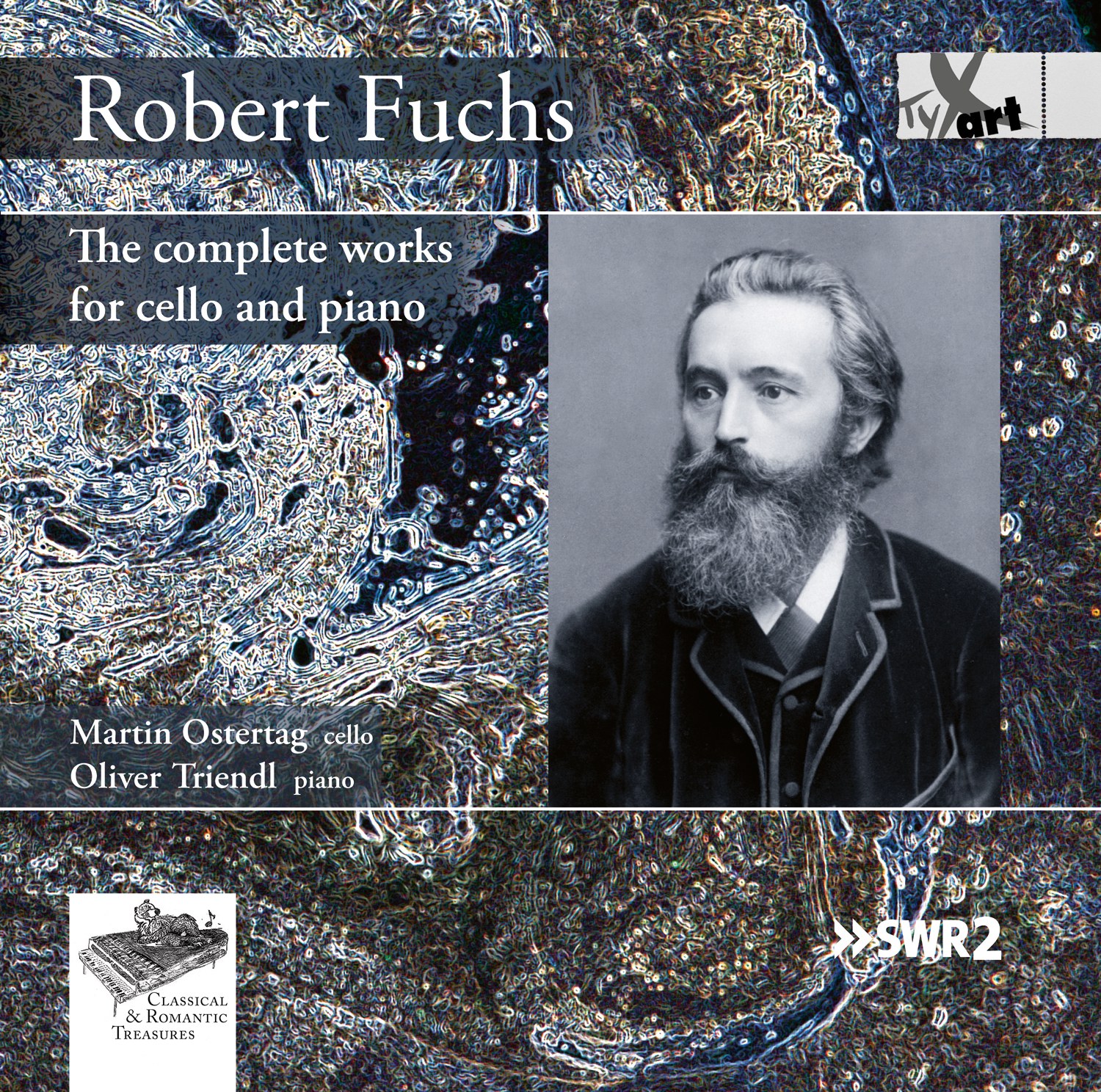 A new TYXart chamber music CD series!

The seventh CD of this series, and the second with works by Robert Fuchs (first CD: TXA15066 with viola, violin and piano) brings together the complete repertory for violoncello and piano. The Austrian composer is deemed to be one of the most appreciated musicians of the Viennese musical life surrounding Johannes Brahms. The cello works recorded here impressed listeners already at the time of their creation with their inventiveness and elegance.
The recordings on hand continue seamlessly where the first CD recording with duos and chamber music by Fuchs already closed prominent repertory gaps (TXA15066). While the viola was the focal point initially, here, it is some of the works the composer created for the violoncello and that can all be counted among the most mature works to flow from his pen. If one were to give but one summarizing keyword for Fuchs' compositions for this instrument, it would no doubt be elegance. Elegance pervades all three operas and demonstrates the exceptionally high standard of this composer, almost forgotten today.

A production of SWR / An album co-production of JWE and TYXart.
Free Audio Samples ... of this CD album!
CD Tip!
Magazine LITERATUR SPIEGEL May 2017, DER SPIEGEL (Issue April 29, 2017)
CD Review/Recommendation
klassik.com (online May 01, 2017)
CD Tip!
klassik-heute.com (online May 24, 2017)
GRAMOPHONE - The World's best classical Music Reviews
»[...] Martin Ostertag and Oliver Triendl capture the symphonic potential of that movement nicely. [...]«
Magazine GRAMOPHONE, UK (Issue 07/2017)
CD programme (Tracklist):
Robert Fuchs (1847-1927)

Sonate es-Moll op. 83 / Sonata e flat minor Op. 83
Allegro moderato assai
Adagio con sentimento
Allegro vivace

Sieben Phantasiestücke op. 78 / 7 Fantasy Pieces Op. 78
Etwas bewegt, launig
Ruhig und äusserst zart
Lebhaft
Ruhig und gesangvoll
Anmutig bewegt
Etwas langsam, sehr innig
Lebhaft bewegt

Sonate d-Moll op. 29 / Sonata d minor Op. 29
Molto moderato
Scherzo. Allegro
Adagio
Allegro non troppo ma giocoso


Tags Keywords Robert Fuchs cello piano Op.83 Op.78 Op.29 Ostertag Triendl CD TYXart LC28001 4250702800781 TXA16078
» Detailed CD booklet includes further info (bios, photos, etc.)
» Total playing time: 75min 40sec | Booklet Text: DE, EN, FR, JP
» Format: 1 Audio-CD | "Classics" | Release int'l from 04/2017
» Order No.: TXA16078 | GTIN (EAN): 4250702800781 | (p)+(c)2017
» CD available commercially or directly via TYXart
The other CD with music by Robert Fuchs: "Robert Fuchs"
The first CD of this new Chamber Music series: "Hermann Goetz"