Oliver Triendl, piano - Marina Chiche, violin - Peijun Xu, viola -
Niklas Schmidt, cello - Matthias Beltinger, double bass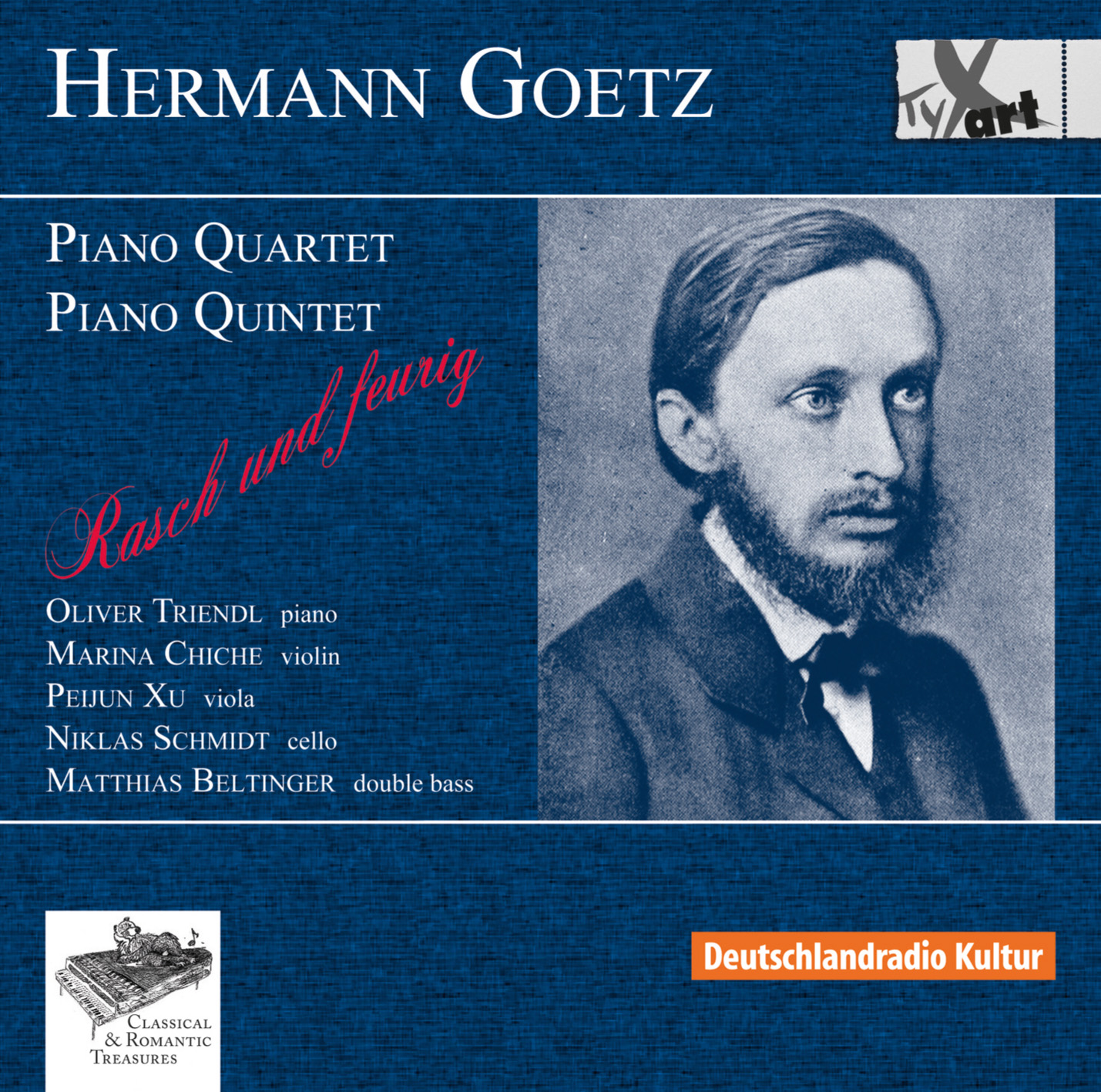 Starting a new chamber music CD series!

This Coproduction of TYXart and the new Joachim Wollenweber Edition refocuses the publics attention on forgotten composers of the classical and romantic periods.
New sheet music editions are created in collaboration with top artists, musicologists and radio stations, with CD recordings being published at the same time.
The works by Hermann Goetz (1840-1876) recorded here launch this series and enrich the chamber music literature by two substantial and highly romantic masterpieces.
The great artists Marina Chiche, Peijun Xu, Niklas Schmidt, Matthias Beltinger and Oliver Triendl bring this chamber music to the stage with exciting performance.

The piano quartet in E major, created in the fall of 1867 and dedicated to Johannes Brahms, isconsidered the masterpiece of the composer. The first movement bears the title "Quick and spirited." The tempo is limited, the fire blazes mostly in a restrained manner, yet intensely. The yearning main theme is being continuously spun on, all secondary motives are at its service. More dramatic accents of the piano are woven into the flowing voices of the strings. In the second, slower movement, a melancholy minor veil drapes over the artfully set-up variations. Of course, Goetz had studied his Beethoven, Schumann and Mendelssohn and certainly knew the early chamber music by Brahms, yet despite all following in form, he finds a unique beauty of the sound that dawns and glows and is all his own. The second of the five variations changes into a dance-like major, the third surprises ...
"And when man in his anguish falls silent, a god told me to say what I am suffering," Hermann Goetz wrote in 1874 as moto over his piano quintet in c minor, which was only printed after 1878 as op. 16 - the opus numbers in Goetz's oeuvre say little about the chronology of the creation and a lot about the publishing dates. The deeply moving piece can be seen as the requiem of a highly sensitive artist for himself, even though music always also has an absolute quality. Goetz used the instrumentation of Schubert's "Trout Quintet" for the quintet, i.e. piano and all four string instruments including double bass. Some commentators see the fact that violin and viola on the one hand and cello and bass on the other hand are often playing in octaves as a problem. However, it is precisely this which causes an alarming and dark atmosphere, which could have something to do not only with the illness of the composer, but also with his studies of Dante's "Divine Comedy" for the opera. The stirring, fateful main theme of the passionate opening movement ...
(text extract of the CD booklet by Gottfried Franz Kasparek)

A Coproduction of the Joachim Wollenweber Edition, Deutschlandradio Kultur Berlin and TYXart.
»[...] if the two works on this CD are to be used for reference, that his music is on an equal footing with that of Brahms or Schumann for example. [...] it's inner dialogue glows with the same expressive fire, and is the work of a technically secure mind.
There's hardly any competition on the market at the moment as far as recordings of his music are concerned. It's nice to see a music label as young as TYXart extending itself with a new series of recordings titled 'Classical and Romantic Treasures' focusing on chamber music by forgotten composers.
Leave Brahms on the shelf for a while and introduce Goetz to your CD player. Guaranteed it won't take long before familiarity sets in, quickly followed by admiration.«
classicalmusicsentinel.com, Canada, Jean-Yves Duperron (09/2015)
»[...] extremely recommendable - interpretation and repertoire!«
THE RECORD GEIJUTSU Japan, Peter Cossé (07/2015)
CD Review and Tip
MusicWeb International UK (12/2015)
»[...] played respectively by Marina Chiche, Peijun Xu, Niklas Schmidt, Matthias Beltinger, and Oliver Triendl. This international assemblage offers a carefully attentive, but nonetheless exciting, reading of two works that chamber music aficionados should readily embrace.«
santafenewmexican.com USA (29 Jan 2016)
»Interpretation, Sound Quality, Repertoire, Booklet: very good!«
klassik.com (12 Aug 2015)
Link tip: CD presentation & review, KULTUR SPIEGEL, magazine issue 8/2015: "NEW CLASSIC ALBUMS"
DER SPIEGEL spiegel.de, Dr. Johannes Saltzwedel (25 July 2015)
Presentation of the new CD
SWR2 radio program "Musik Spezial - Radiophon"
SWR2 Broadcasting Corp. (16 July 2015)
TYXart has brought together five good musicians to perform two quite opposite compositions,
the colourful and vernally Quartet and the rather dark Quintet, both written in an early romantic style.
pizzicato.lu, Luxembourg (online, 08/2015)
CD review & tip!
faustkultur.de (online, 08/2015)
»Presentation of the new edition!«
WDR 3 TonArt / WDR Broadcasting Corp. Cologne (broadcasting 15 July 2015)
»CD Tip!«
Stuttgarter Zeitung Newspaper, Hans Jörg Wangner (14 July 2015)
CD Review & Recommendation!
drehpunktkultur.at, Austria (online 23 February 2016)
The German Record Critics' Award (PdSK - Preis der deutschen Schallplattenkritik)
Nomination 4/2015 - Category CHAMBER MUSIC
PdSK (4th quarter 2015)
International Classical Music Awards
The Jury of the International Classical Music Awards (ICMA) has nominated the recording
"Hermann Goetz: String Quintet & Quartet" (Category CHAMBER MUSIC)!
17 media - 14 countries: ICMA, THE ONLY INTERNATIONAL MUSIC AWARD IN THE WORLD
ICMA (20 Nov 2015)
CD programme (Tracklist):
Hermann Goetz (1840-1876)

Quartet E major op.6
for piano, violin, viola and cello
Rasch und feurig
Langsam
Scherzo. Sehr lebhaft
Sehr langsam - Frisch und lebendig

Quintet c minor op.16
for piano, violin, viola, cello and double bass
Andante sostenuto - Allegro con fuoco
Andante con moto
Allegro moderato (quasi Menuetto) - Più moto
Allegro vivace



Tags Keywords Hermann Goetz Piano Quartet Quintet
Triendl Chiche Xu Schmidt Beltinger CD TYXart Labelcode LC28001 4250702800613 TXA15061
» Detailed CD booklet includes further info (bios, photos, etc.)
» Total playing time: 63min 54sec | Booklet Text: DE, EN, FR, JP
» Format: 1 Audio-CD | "Classics" | Release: from ~08/2015
» Order No.: TXA15061 | GTIN (EAN): 4250702800631 | (p)+(c)2015
» CD available commercially or directly via TYXart
The second CD of this new Chamber Music series: "Robert Fuchs"