Anna Kreetta Gribajcevic, Viola -
Oliver Triendl, Piano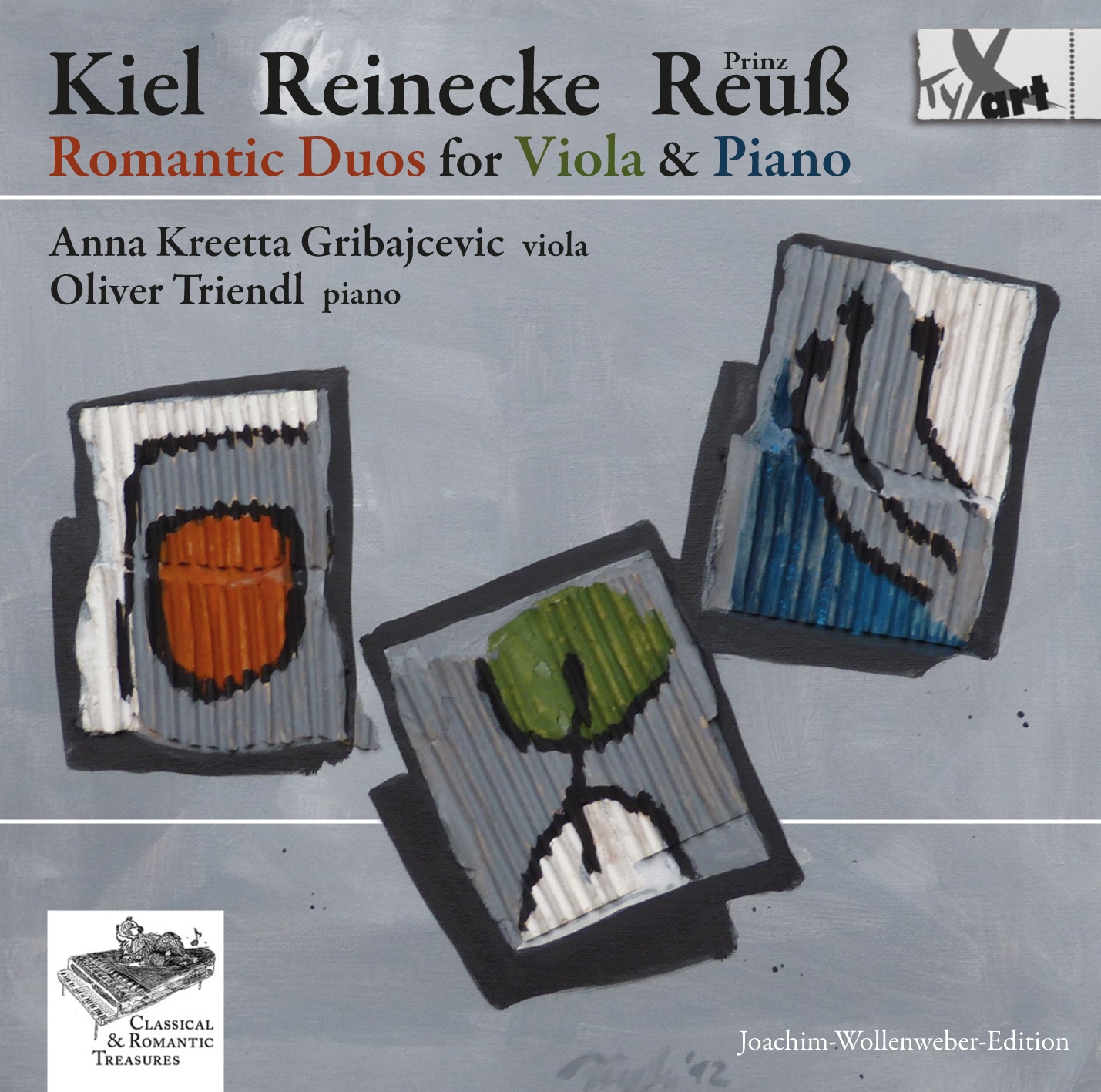 A new TYXart chamber music CD series!

This Coproduction of TYXart and the new Joachim Wollenweber Edition refocuses the publics attention on forgotten composers of the classical and romantic periods.
New sheet music editions are created in collaboration with top artists, musicologists and radio stations, with CD recordings being published at the same time.

This third album (first album, shortly released: CD "Hermann Goetz: Piano Quartet & Piano Quintet", second album, shortly released: CD "Robert Fuchs: Trio (+Violin) and Duos for Viola and Piano") in this series grants chamber music connoisseurs access to the genre of the sonata for viola and piano in an exemplary manner with expressive interpretations of forgotten, yet all the more interesting works by Friedrich Kiel, Carl Reinecke and Prince Reuss.

The great artists Anna Kreetta Gribajcevic (viola) and Oliver Triendl (piano) bring this chamber music to the stage with exciting performance.

A Coproduction of the Joachim Wollenweber Edition and TYXart.
CD Review and Recommendation!
Strings Magazine USA, Laurence Vittes (online 07 March 2016)
»CD Review - General Impression: Maximum Score!«
klassik-heute.de Germany, Peter Cossé (online, 27 Dec 2015)
A very good new review of the CD "Romantic Duos for viola & piano" (TXA15067):
passion-musique-et-culture Canada, Guy Sauvé (online Février 2016)
CD Review & Recommendation!
drehpunktkultur.at, Austria (online 23 February 2016)
»CD Review & Tip«
klassik.com Germany, Dr. Jürgen Schaarwächter (08/2018)
»This label is making a fine job of presenting the works of Hermann Goetz and Robert Fuchs so neglected or indeed forgotten works of this period are its metier.
These well-considered and finely recorded viola pieces are fully up to the standards already set.«
Musicweb International Classical Reviews UK, Jonathan Woolf (03/2016)
CD programme (Tracklist):
Friedrich Kiel (1821-1885)
Sonate g-Moll op. 67 für Viola und Klavier /
Sonata g minor Op. 67 for viola and piano
Allegro
Scherzo. Vivo
Andante con moto
Allegro molto

Carl Heinrich Carsten Reinecke (1824-1910)
Drei Phantasiestücke op. 43 für Viola und Klavier /
3 Fantasy Pieces Op. 43 for viola and piano
Romanze. Andante
Allegro molto agitato
'Jahrmarkt-Szene'. Molto vivace. Ausgelassen und mit ungebundener Laune

Heinrich XXIV. Prinz Reuß (1855-1910)
Sonate G-Dur op. 22 für Viola und Klavier /
Sonata G major Op. 22 for viola and piano
Allegro
Andante sostenuto e maestoso
Finale. Allegro con brio


Tags Keywords Kiel Reinecke Prince Reuss Viola Sonatas Gribajcevic Triendl CD TYXart Labelcode LC28001 4250702800675 TXA15067
» Detailed CD booklet includes further info (bios, photos, etc.)
» Total playing time: 56min 05sec | Booklet Text: DE, EN, FR, JP
» Format: 1 Audio-CD | "Classics" | Release: from ~11/2015
» Order No.: TXA15067 | GTIN (EAN): 4250702800675 | (p)+(c)2015
» CD available commercially or directly via TYXart
The first CD of this new Chamber Music series: "Hermann Goetz"
The second CD: "Robert Fuchs"