Münchner Frauenchor - Münchner Mädchenchor -
Norbert Düchtel, Organ - Katrin Wende-Ehmer, Conductor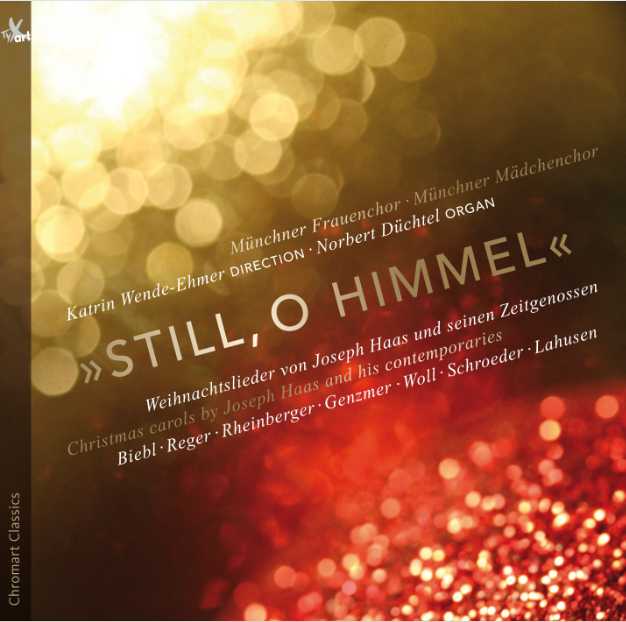 Works by Haas, Biebl, Reger, Rheinberger, Genzmer, Wolf, Schroeder and Lahusen

Together with Paul Hindemith and Heinrich Burkard, the composer Joseph (1879–1960) Haas co-founded the Donaueschingen Festival in 1920. Although he himself was not part of the avantgarde movement, this fact alone already shows that he was immune to sentimentality and superficial sentiments. His Christmas Liederspiel called "Christnacht" ("Christmas Eve"), in which he combines Bavarian and Tyrol folk tunes into an oratorio, also is an example of this. The same applies to the "Marian hymns" based primarily on texts from the 13th to the 18th centuries.

The composers of the other Christmas carols on this CD album are either students - Biebl and Woll - or contemporaries - Rheinberger, Haas' teacher Reger, Genzmer (student of Hindemith), Lahusen and Schroeder. The songs from the Christmas Liederspiel "Christnacht" ("Christmas Eve") were adapted for women's chorus and organ by Norbert Düchtel.

The Münchner Frauenchor (Munich Women's Choir) and the Münchner Mädchenchor (Munich Girls' Choir) under the direction of Katrin Wende-Ehmer and accompanied on the organ by Norbert Düchtel have recorded a CD that contrasts pleasantly with the customary potpourris and adequately realizes the always high-class and in part moderately modern arrangements of the Christmas theme by the various composers. A Christmas CD that sets high standards.
Free Audio Samples ... of this CD album!
Review and Recommendation!
Newspaper 'Die Tagespost' (17 Dec 2016)
CD Review & Recommendation
klassik-heute.de (online 17 Dec 2015)
CD Review & Recommendation
Newspaper 'Badische Zeitung', Johannes Adam (15 Dec 2015)
CD Review & Recommendation
ouverture - Das Klassik-Blog. (online 11 Dec 2015)
CD programme (Tracklist):

Still, o Himmel (Silent, o heavens)
Christmas carols by Joseph Haas and his contemporaries

01–10 Joseph Haas (1879–1960) / Norbert Düchtel (*1949)
from: Christnacht op. 85

11 Joseph Rheinberger (1839–1901)
Puer natus in Bethlehem

12 Harald Genzmer (1909–2007)
Christkindleins Wiegenlied

13–14 Erna Woll (1917–2005)
Es sungen drei Engel – Kind und Gottessohn

15-16 Max Reger (1873–1916)
Lobt Gott, ihr Christen – Maria sitzt am Rosenhag

17 Christian Lahusen (1886–1975)
Steht auf und wacht

18-23 Hermann Schroeder ( 1904–1984)
6 Weihnachtslieder:
Susani (Worte und Weise aus dem "Seraphisch Lustgart" 1635) – Lieb Nachtigall, wach auf (um 1670) – Komm, Nachtigall mein (17. Jh.) – Kindelein zart (um 1860) – O schlafe lieblicher Jesu (Elsässische Weise) – Es wird schon gleich dunkel (aus Tirol, "Es wird scho glei dumpa")

24-30 Joseph Haas (1879–1960)
from: 10 Marienlieder op. 57

31-33 Franz Biebl (1906–2001)
Rorate – Leise kommt ein Lied – Es weihnachtet
Keywords: Tags Haas Biebl Reger Rheinberger Genzmer Wolf Schroeder Lahusen CD No. TXA 15070 GTIN EAN 4250702800705 TYXart LC28001