Norbert Düchtel, Organ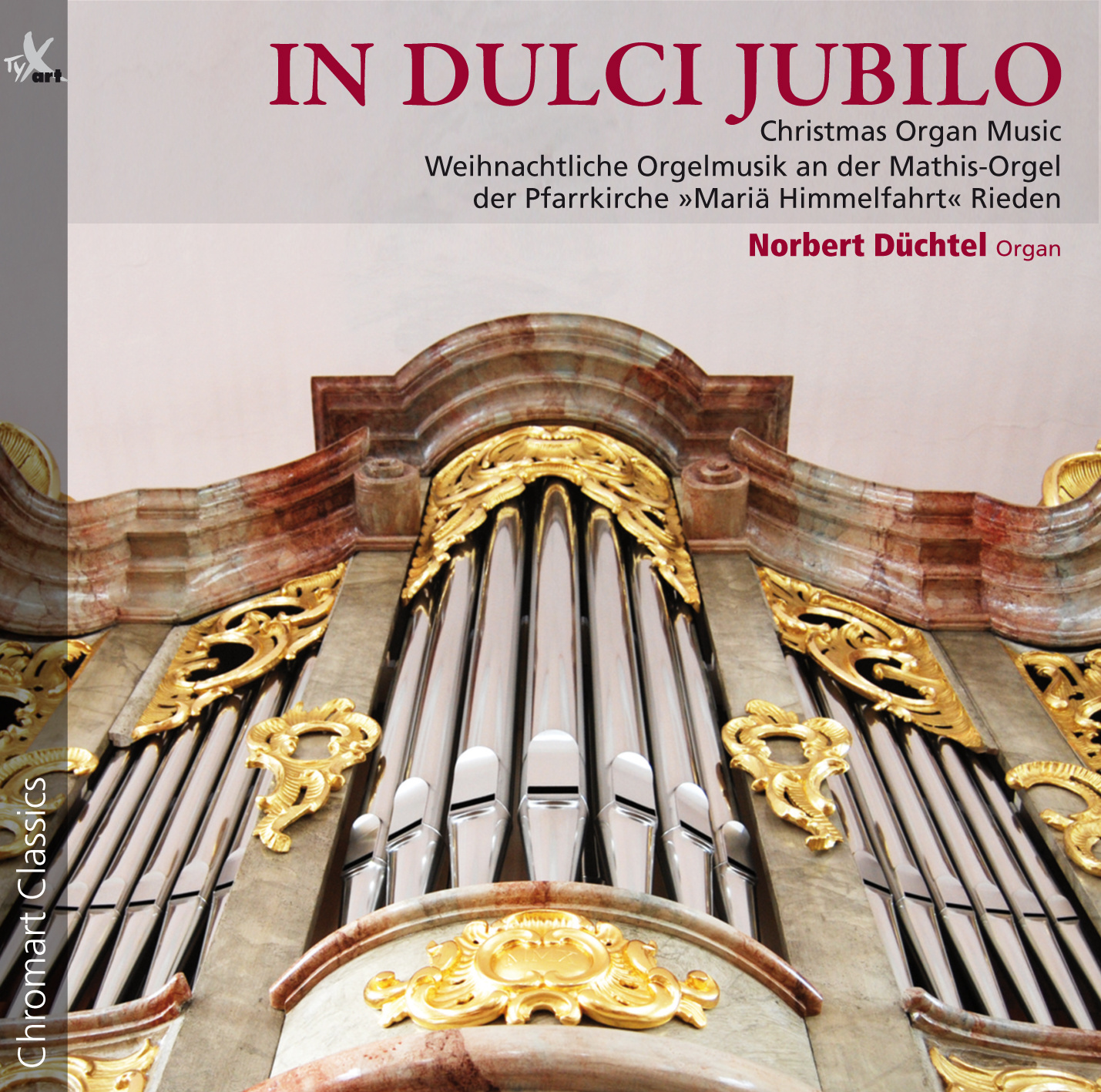 Christmas Organ Music on the Mathis Organ
in the Parish Church »Mariä Himmelfahrt« Rieden (Bavaria/Germany)

Norbert Düchtel plays a wonderful programme of organ works for Christmas on the new Mathis Organ (2010) at the Church of the Assumption of Mary in Rieden/South Bavaria (Germany).
The music is from the Baroque and Romantic eras and allows us to experience the full tonal variety of the instrument in sophisticated and sensitive interpretations – incl. a premiere recording (Paul Geist: Weihnachts-Vorspiel über den Choral »Vom Himmel hoch« op. 2).
This is organ playing in the finest »South Bavarian tradition«.
CD Review & Tip!
MusicWeb International (online, 14 Dec 2015)
CD-Programme / Tracklist:

IN DULCI JUBILO

Peal of Bells

Johann Sebastian Bach (1685 – 1750)
In dulci jubilo BWV 729

Marianus Königsperger (1708 – 1769)
Drei Pastorell-Arien (1755):
Grave G-Dur
Andante F-Dur
Grave C-Dur

Joseph Gabriel Rheinberger (1839 – 1901)
Pastorale G-Dur op. 156 Nr. 8
Andantino

P. Theodor Grünberger (1756 – 1820)
from: Neue Pastoral-Orgelstücke
Allegro moderato B-Dur
Andantino un poco assai F-Dur
Allegretto B-Dur

Johann Sebastian Bach
Pastorella in F BWV 590
I
II
III
IV

Gustav Adolf Merkel (1827 – 1885)
Weihnachts-Pastorale op. 56
Andantino · Allegro maestoso · Tempo I

P. Theodor Grünberger
from: Neue Pastoral-Orgelstücke
Allegro e piu assai Es-Dur
Allegro con brio C-Dur
Andantino · Allegro con brio

Carl Sattler (1874 – 1938)
Weihnachts-Pastorale
unter Verwendung des Liedes »Es ist ein Ros' entsprungen«

Paul Geist (1865 – 1895)
Weihnachts-Vorspiel
über den Choral »Vom Himmel hoch« op. 2 *

* World Premiere Recording


Tags: Keywords In dulci jubilo Christmas Organ Music Prof. Norbert Düchtel Mathis Organ Rieden 2010 New CD 2013 World Premiere Recording Paul Geist Weihnachtsvorspiel Choral Vom Himmel hoch op.2 record company Label TYXart Series Chromart Classics LC Labelcode 28001