Gerhard Weinberger - Norbert Düchtel - Edgar Krapp - Wolfgang Seifen, Organ
Choral Schola of the Former Regensburg Domspatzen - Josef Kohlhäufl, Conductor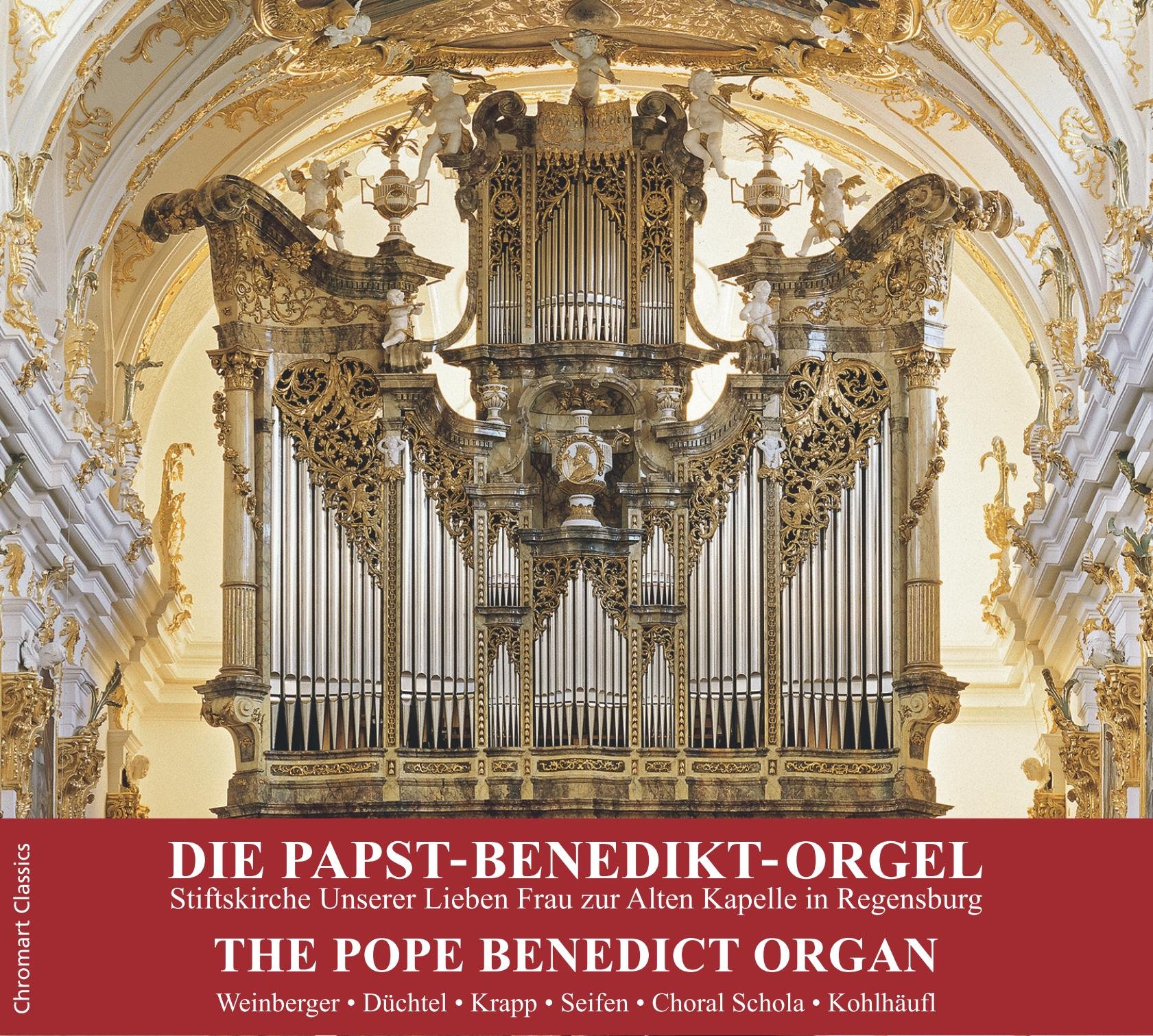 Series Chromart Classics

This CD presents the first recording of the new Pope Benedict Organ, which was built in 2006 by the Swiss organ- building firm Mathis. The recording took place in September/October 2006, during the week of celebrations surrounding the consecration of the new Instrument by Pope Benedict XVI. Leading artists selected and presented works which demonstrate the organ's wide range of registration possibilities, including excellent organ improvisation and gregorian chant.
Extensive details regarding the planning and building of the organ are included in the accompanying booklet (24 p.), and some excellent photos of the instrument, too.
The accompanying booklet is in four languages and presents further information about the organist, the works and the instrument itself, together with a range of photographs.
CD-Programme:

THE POPE BENEDICT ORGAN — Festival 2006

Johann Sebastian Bach (1685 – 1750)
Praeludium et Fuga e-Moll BWV 548
Josef Gabriel Rheinberger (1839 – 1901)
aus der Sonate e-Moll op. 132,8:
IV. Passacaglia. Molto moderato
Gerhard Weinberger, Organ

Johann Melchior Dreyer (1747 – 1824)
aus der Sonate für Orgel B-Dur:
Rondo. Allegretto
Johann Kaspar Kerll (1627 – 1693)
Capriccio sopra il Cucu (2. Fassung)
Norbert Düchtel, Organ

Felix Mendelssohn-Bartholdy (1809 – 1847)
Sonate c-Moll op. 65,2
Grave – Adagio
Allegro maestoso e vivace
Fuga. Allegro moderato
Johann Pachelbel (1653 – 1706)
Ciacona f-Moll
Edgar Krapp, Organ

Organ Improvisation and Gregorian Chant (alternatim)
Aus den Orgelversetten (im romantischen Stil)
zum Magnificat im 8. Ton:
- Präludium *
- Magnificat alternatim *
Symphonische Phantasie und Fuge für Schola und Orgel über die Marianische Antiphon "Regina caeli, laetare alleluja"
kombiniert mit der deutschen Paraphrase "Freu dich, du Himmelskönigin" *
Wolfgang Seifen, Organ
Choral Schola of the Former Regensburg Domspatzen
Josef Kohlhäufl, Conductor

* Live Recording


CD Album: Digipak 4 pages, Booklet 20 pages, multi-lingual
Tags: The Pope Benedict Organ Our Lady of the Old Chapel Papal Basilica Stiftskirche Unserer Lieben Frau zur Alten Kapelle Regensburg Germany Gregorian Chant Schola Festival Consecration Mathis Organ 2006