Gerhard Weinberger, Organ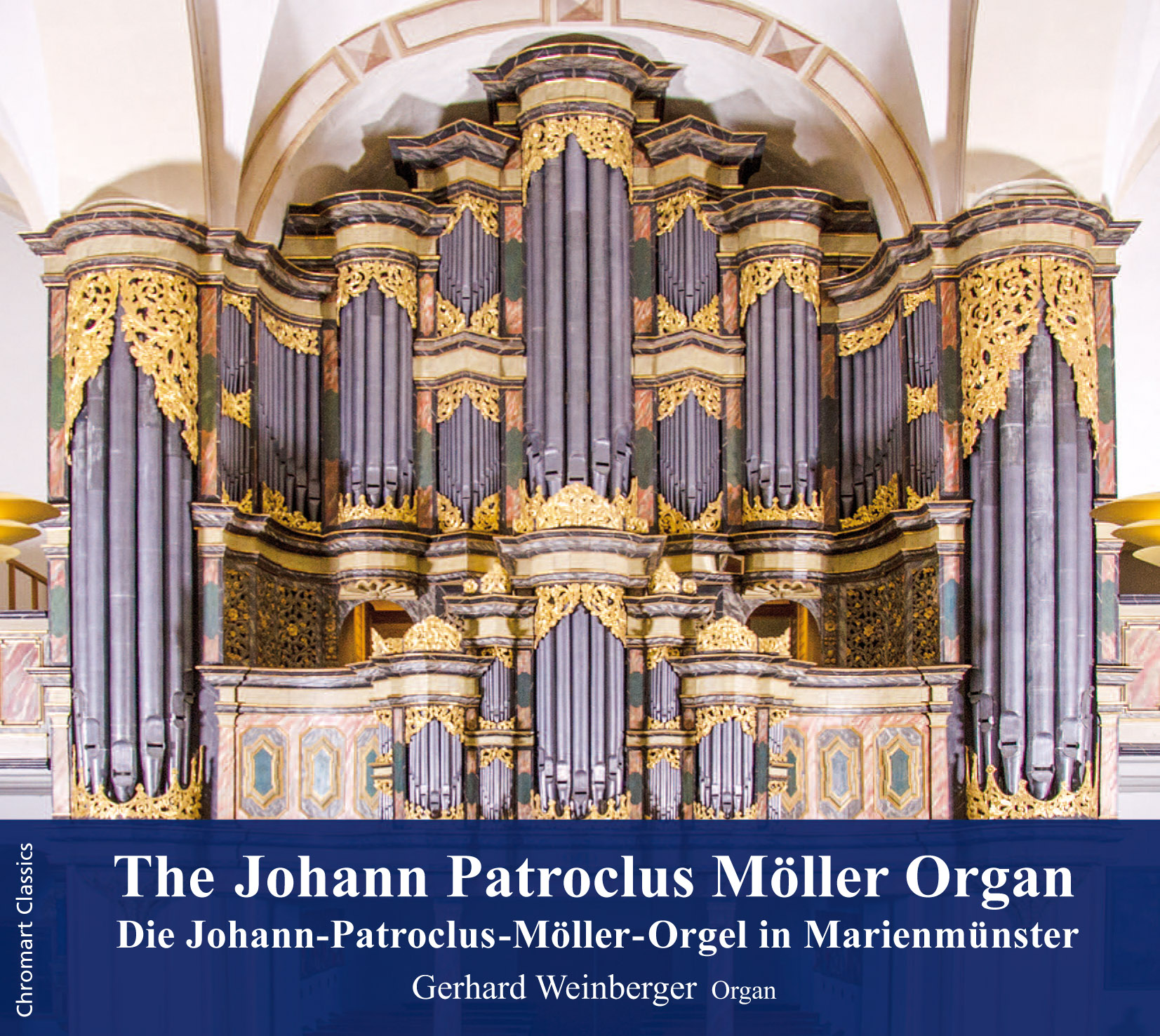 Johann Sebastian Bach - Carl Philipp Emanuel Bach - Heinrich Nikolaus Gerber

The Johann Patroclus Möller Organ in the former Benedictine Abbey in Marienmünster (NRW) was built from 1736-38 by Johann Patroclus Möller. After more than two years of intensive work, taking specialised knowledge and comprehensive analysis into consideration, it has now been restored to its original condition and was heard for the first time in November 2012 at a concert in honour of this occasion.
This recording, played by Gerhard Weinberger, who has long been familiar with the organ, is the first to have been made with the restored instrument.
Two of Johann Sebastian Bach's important free works form a framework for this CD: the Toccata and Fugue in D minor (Dorian) BWV 538, and the well-known Passacaglia in C minor BWV 582.
The remaining programme of music by Johann Sebastian Bach, Carl Philipp Emanuel Bach and Heinrich Nicolaus Gerber, which includes arrangements for organ, demonstrates the instrument's wide range of possibilities and impressive sonority - with just 42+2 registers on three manuals + pedal and 2.748 organ pipes - and is played by Weinberger with brilliant musical finesse!
»Reviews see German Website Version.«
CD-Programme:

The Johann Patroclus Möller Organ in Marienmünster
in the former Benedictine Abbey in Marienmünster

Johann Sebastian Bach (1685 – 1750)
Toccata et Fuga d-Moll ("Dorische") BWV 538
Sinfonia F-Dur nach BWV 156/1 und 1056/2

Carl Philipp Emanuel Bach (1714 – 1788)
Duetto D-Dur für zwei Flöten (Mäßig geschwind)
Duetto C-Dur für zwei Clarinetten (Adagio e sostenuto – Allegro)

Heinrich Nikolaus Gerber (1702 – 1775)
Inventio G-Dur à 2 Clav. et Pedal
Inventio C-Dur à 2 Clav. et Pedal

Johann Sebastian Bach
Trio C-Dur nach BWV 1014/3
Concerto d-Moll BWV 974 nach dem Concerto d-Moll für Oboe, Streicher und Basso continuo von Alessandro Marcello:
Andante - Adagio - Presto
Choralbearbeitungen:
Nun komm, der Heiden Heiland à 2 claviers et pédale BWV 659
Wachet auf, ruft uns die Stimme à 2 Clav. et Pedal BWV 645
Valet will ich dir geben à 2 Clav. et Pedal nach BWV 95/3
Ich bitte dich, Herr Jesu Christ à 2 Clav. et Pedal nach BWV 166/3
Ach, wie hungert mein Gemüthe à 2 Clav. et Pedal n. BWV 180/3
Passacaglia c-Moll BWV 582


CD Album: Digipak 6 pages, Booklet 28 pages, multi-lingual
Keywords: Johann Patroclus Möller Organ Benedictine Abbey Marienmünster Germany 2013 Weinberger Organist CD