Gerhard Weinberger, Organ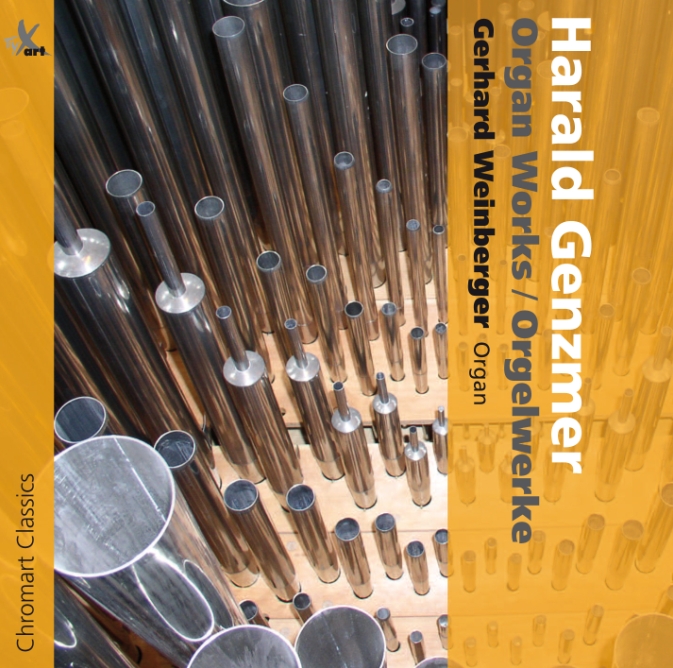 Series Chromart Classics

Harald Genzmer (1909–2007), Paul Hindemith's most significant pupil, is considered one of the internationally best-known composers of the 20th century. Organ music occupies an important place in his extensive and multifarious musical oeuvre.
Gerhard Weinberger, who has intensively occupied himself with the organ works of Genzmer for decades and worked on many of these with the composer himself, performs substantial works of the composer on this CD. He presented the world premieres of some of these works.
Festive Prelude, GeWV 407, Easter Concerto, GeWV 400, Fantasy on the Chorale "Hinunter ist der Sonne Schein", GeWV 411, Pentecost Concerto, GeWV 399 and the Symphonic Concerto No. 2, GeWV 409 are heard here on the Rieger organ in St. Johannes Baptist Paderborn-Wewer (Germany) in outstanding interpretations on this CD world premiere recording.
»Inspiring stuff to sharpen the brain and raise uplifting smiles.
[...] Gerhard Weinberger has given première performances of Genzmer's work, [...] his name a seal of quality when exploring this kind of new repertoire. [...]
Recorded on a very fine modern instrument in the rich but not overly swampy acoustic of the St. Johannes Baptist church in Paderborn-Wever, this has to be one of the best organ discs to come my way this year. Harald Genzmer is one of those 'stop messing about and get on with it' composers who manages to combine traditional pragmatism to a musical idiom which inspires and delights. Yes, his music is distinctively German, but in that best of ways which takes itself just seriously enough for us to sharpen our listening muscles, but with a lightness of touch which keeps us smiling. More please!«
MusicWeb International (09/2013)
»Maximum Score! Interpretation: *****, Recording: *****, Organ: *****, Booklet: *****«
Musik & Kirche - Die Zeitschrift für Kirchenmusik (No. 5, 09-10/2013)
»[...] Gerhard Weinberger spielt mit größter Sorgfalt, Liebe und technischer Perfektion. Orgel und Aufnahmetechnik erweisen sich als gute Partner. [...]
Allen, die Genzmers Musik schätzen, und allen, die sich ihr nähern wollen, sei diese Einspielung ans Herz gelegt.«
MUSICA SACRA - Die Zeitschrift für kath. Kirchenmusik (Heft 6, 12/2013-01/2014)
»Es lebe die Linie! CD-Ersteinspielungen: Gerhard Weinberger mit Orgelwerken des Ex-Freiburgers Harald Genzmer. [...]
Auf dieser höchst gelungenen Scheibe spielt Gerhard Weinberger, mithin ein veritabler Vertreter der deutschen Organistenelite. Obendrein ein Experte für Genzmers Orgelschaffen – so hat Weinberger etwa das Osterkonzert uraufgeführt. Er nimmt diese Musik ernst, legt sie so aus, wie sie ausgelegt werden muss. Die Aufnahmen sind samt und sonders mustergültig. Zumal mit der 2001 gebauten prächtigen Rieger-Orgel der Kirche St. Johannes Baptist in Paderborn-Wewer auch ein Instrument zum Einsatz kommt, das in Stil, Farbe und Größe zu Genzmers Tonkunst passt. Schön zeigt sich die Transparenz der Werkstrukturen. Girlanden und Ranken können sich entfalten. Und nicht zuletzt wird dem Ohr dissonant geschmeichelt.«
Badische Zeitung, Johannes Adam (21 June 2013)
»CD Tip — Thüringische Landeszeitung!«
TLZ, Wolfgang Hirsch (08 June 2013)
»Neue CD als ausdrückliche Empfehlung! [...] gehört in meiner Wahrnehmung mit zum Spannendsten, was es derzeit zu kaufen gibt. Und so sollte sich niemand, der sich ernsthaft für Orgelmusik interessiert, dieses Orgelhighlight entgehen lassen.
Gerhard Weinberger, der zu den bekanntesten und renommiertesten Organisten unserer Zeit zählt, ist hier der Interpret. Die äußerst klangschöne Orgel besitzt ein sehr warmes, "holziges" Timbre und eignet sich sehr gut für die herrlichen, zuweilen in ihrer Registrierung sinfonisch-orchestral wirkenden Genzmer-Stücke. Weinberger interpretiert in jeder Hinsicht exzellent, sowohl technisch als auch in Sachen Phrasierung. Seine Klangmodi wirken durchweg stimmig, die gesamte Aufnahme ist einfach nur ein Genuss – auch wegen des hervorragenden, jederzeit Hifi-tauglich zu nennenden Klangbilds.«
THE LISTENER (11 July 2013)
CD programme (Tracklist):

Harald Genzmer – Organ Works

Festliches Präludium (Introduktion, Aria und Finale) GeWV 407 12:40

Osterkonzert GeWV 400
Passion ("Aus tiefer Not") 06:10
Meditation und Choral ("O Lamm Gottes") 03:34
Finale ("Christ ist erstanden") 04:43

Finale (Fantasie über den Choral "Hinunter ist der Sonne Schein") GeWV 411 10:52

Pfingstkonzert GeWV 399
Präludium 05:03
Meditation und Choral ("Veni creator") 04:04
Finale ("Nun bitten wir den heilgen Geist") 04:41

Sinfonisches Konzert Nr. 2 GeWV 409
Präludium. Moderato e un poco libero 04:17
Meditation. Adagio 08:09
Rubato e deciso 03:30
Finale. Allegro moderato e poco rubato 03:48
CD Album: World Premiere Recording and First Release!
Keywords: Tags Composer Harald Genzmer Gerhard Weinberger new CD 2013 Contemporary Music Rieger Organ World Premiere Recording Genzmer Stiftung Order Number TXA 13023 TYXart LC Labelcode 28001