Münchner Frauenchor - Münchner Mädchenchor - Monika Lichtenegger, Soprano -
Simone Brückner, Mezzo-soprano - Norbert Düchtel, Organ - Susanne Brunner, Piano -
Joseph Haas Orchestra - Katrin Wende-Ehmer, Conductor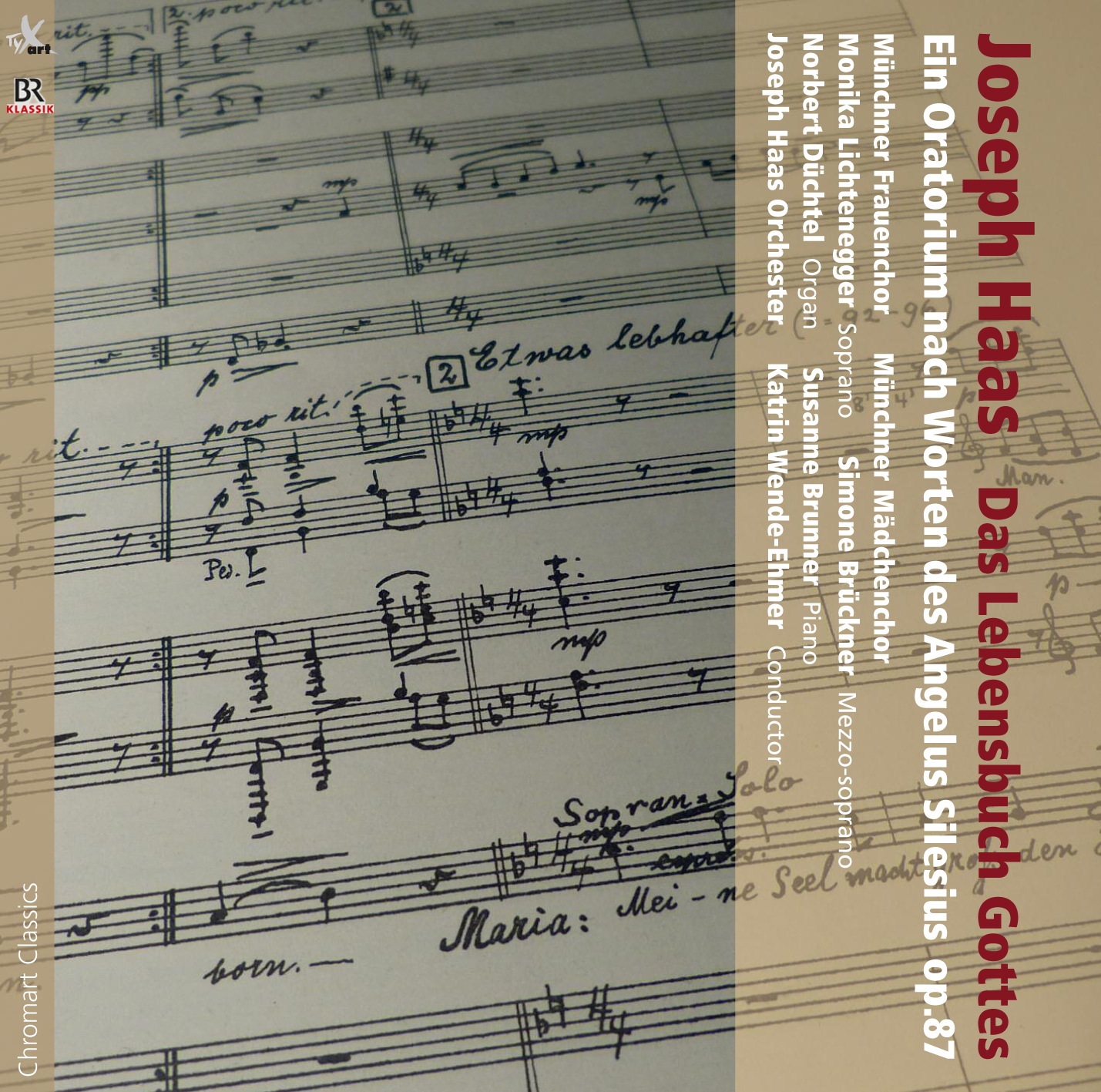 Version for Women's Choir, Solos, Organ, Piano and small Orchestra

The oratorio "God's Book of Life" Op. 87 by Joseph Haas (1879–1960) after words by Angelus Silesius (1624–1677) premiered in Essen on 6 November 1934. The composer called his third oratorio a people's oratorio, as well, not in the national sense of National Socialism (which cannot possibly be true due to the religious topic alone), but in the sense that the audience is included in the performance, meaning, as he once said, that "a spiritual bond connects performers and listeners with one another". For him, this also meant that he did not overstep the boundaries of tonality in his work.

Joseph Haas gave the verses and epigrams from the "Cherubinic Pilgrim" by the musician Angelus Silesius, whom he greatly admired, a certain kind of drama, contrary to the originally epic/reflecting form of the oratorio. He took the three parts "The Incarnation", "The Passion" and "The Transfiguration" from the poet's work.

This version for women's choir was arranged by the composer himself. The Münchner Frauenchor (Munich Women's Choir) under the direction of Katrin Wende-Ehmer, which has already won multiple awards, has selected this work for its 25th anniversary, and all involved realized the profound epigrams by Angelus Silesius in the melodies, harmonies and rhythms typical of the music by Joseph Haas both fittingly and outstandingly.

A Co-Production with BR KLASSIK.
»Ensemble Sound & Interpretation : 4 Stars!«
Professional journal "Chorzeit" Germany (05/2015)
»[...] a very rare (and a very good) recording!«
Professional journal "singende kirche" Austria (09/2015)
»CD review & tip!«
Professional journal "Musica Sacra" Germany (11-12/2015)
CD programme (Tracklist):

Joseph Haas (1879-1960): God's Book of Life
An oratorio after words by Angelus Silesius Op.87

Version for Women's Choir, Solos, Organ, Piano, small Orchestra

01 Introitus: Chor der Wissenden
02-12 1. Teil: Die Menschwerdung
13-24 2. Teil: Die Passion
25-32 3. Teil: Die Verklärung


World premiere recording and first album release!

Recorded in Concert
Keywords: Tags Haas God's Book of Life CD Order No. TXA 14045
GTIN EAN 4250702800453 TYXart Labelcode LC28001
» Detailed CD booklet includes further info (bios, photos, etc.)
» Booklet Text: DE, EN, FR | Total playing time: 74min 36sec
» Format: 1 Audio-CD, Jewelcase | Series "Chromart Classics"
» Order No.: TXA14045 | (p) 2014 (c) 2015 TYXart
» GTIN (EAN): 4250702800453 | | Release: int'l from 05/2015
» CD available commercially or directly via TYXart