Norbert Düchtel, Organ - Alex Dorow, Recitation -
cantica nova holzkirchen, Choir - Katrin Wende-Ehmer, Conductor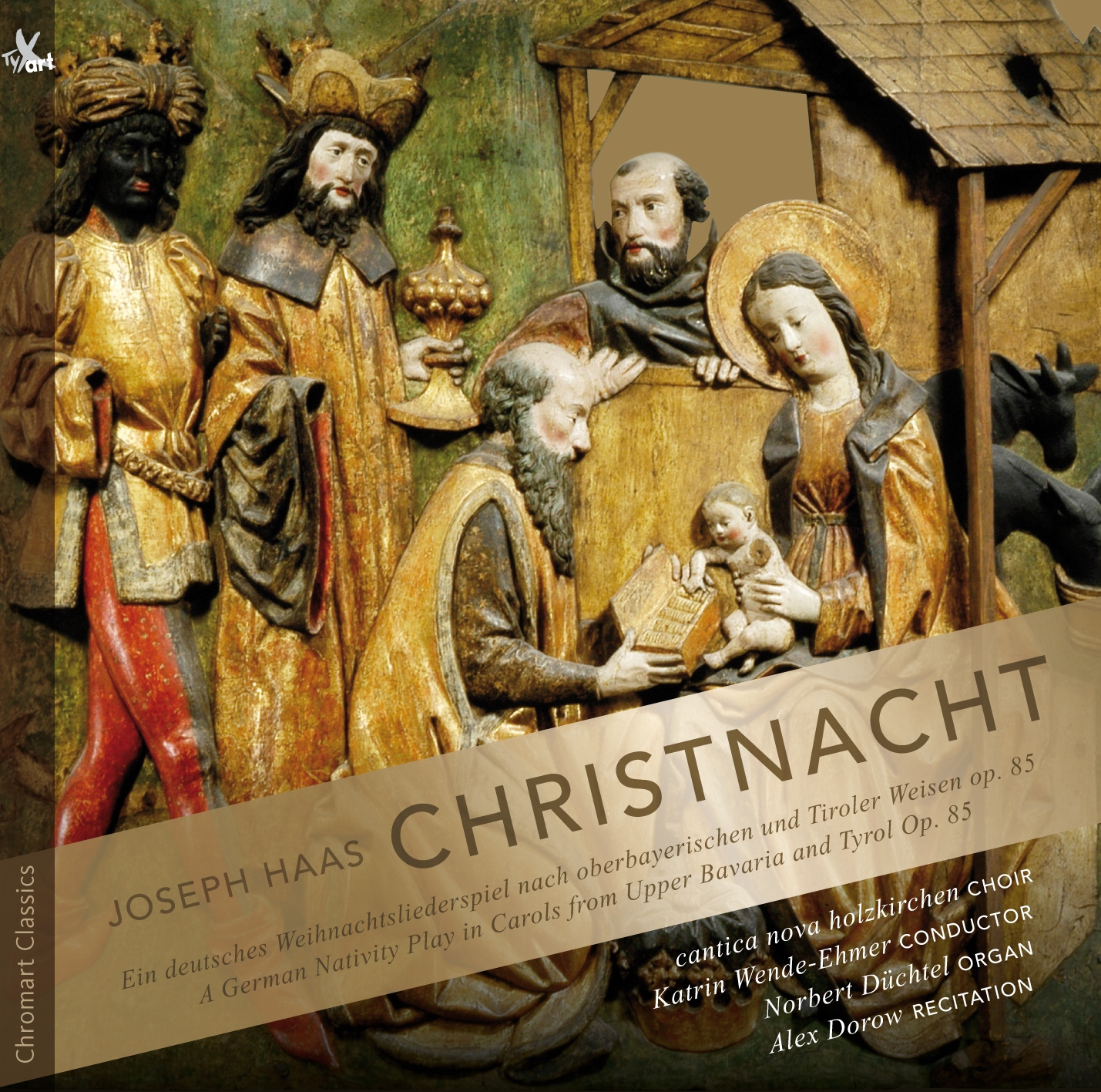 A German Nativity Play in Carols from Upper Bavaria and Tyrol with connecting words by Wilhelm Dauffenbach
New Edition for Solo Parts, Recitation, Mixed Choir and Organ (Music Publisher: Schott)

To make its performance easier, Norbert Duechtel has adapted the Christmas Liederspiel "Christnacht" by Joseph Haas (1879–1960) for organ. The cantica nova holzkirchen choir under the direction of Katrin Wende-Ehmer — with inserted texts read by Alex Dorow — delivers a recording that is true to the original intentions of the composer Joseph Haas: "The incredible power of the text's words, though clumsy and awkward, their unique richness of imagery, the outward hardness and coarseness and the inward tenderness and vibrancy of the language appealed to me just as much as the indescribable melodic beauty of the tunes and the diversity of their shaping. This is authentic art of South German farmer baroque!"

This is a new exclusive CD incl. familiar melodies like "Herbergsuche", "Es blühen die Maien" or "Es wird schon gleich dunkel" (Es wird scho glei dumpa), in a very fine arrangement by Joseph Haas — to be far from standard "Christmas Mainstream" music!
Free Audio Samples of this CD album!
CD Review and Tip
»[...] A very fine production indeed that doesn't sound amateurish in any sense of the word.«
Classical Music Sentinel, Canada/int'l (11/2018)
CD Review and Tip
klassik-heute.com, Germany/int'l (11/2018)
CD Presentation and Christmas Recommendation
Newspaper "Muenchner Merkur", Germany (12/2018)
Album Review and Tip
Newspapers "Ulmer Kulturspiegel" and "SUEDWEST PRESSE", Germany (12/2018)
CD Presentation and Recommendation
"Culture Journal" Regensburg/Bavaria, Germany (12/2018)
CD Review and Tip
ich-habe-gehoert.blogspot, Klassik Blog, Germany/int'l (12/2018)
Radio Broadcast and Recommendation
Klassik Radio, Germany/int'l (12/2018)
CD programme (Tracklist):

Joseph Haas: Christnacht Op. 85

01 Sinfonia 02:48
Orgel

Erster Teil: Die Erwartung
02 Mariä Verkündigung
(aus Holzkirchen, Oberbayern) 05:53
Sopransolo, Altsolo, zweistimmiger Frauenchor
03 Herbergsuche
(In Oberbayern und Tirol) 03:47
Wechselgesang: Sopransolo, Baritonsolo, Basssolo, vierstimmiger gemischter Chor
04 Intermezzo misterioso 02:57
Orgel
05 O Wunder über Wunder
(Aus Mariastein bei Wörgl in Tirol) 02:52
Wechselgesang: Ensemble Sopran, Ensemble Männer, Altsolo, Basssolo
06 Mit Schnall und Gefall
(Aus Kastelruth, Südtirol) 03:05
Wechselgesang: zweistimmiger Frauenchor und vierstimmiger gemischter Chor
07 Gloria in excelsis Deo 02:04
Sopransolo und zweistimmiger Frauenchor
08 Ihr Hirten, steht's nur auf
(Aus dem Oberinntal, Tirol) 04:02
Einstimmer Frauenchor, einstimmiger Männerchor
09 Schalmeienspiel 01:55
Orgel
10 Es blühen die Maien
(In Oberbayern und Tirol) 02:22
Vierstimmiger gemischter Chor

Zweiter Teil: Die Anbetung
11 Pastorale 02:03
Sopransolo, Altsolo, einstimmiger gemischter Chor - Ensemble
12 Juhu, Nachbarn!
(Aus dem Ahrntal, Tirol) 02:38
Sopransolo und gemischter Chor
13 Bauerntanz 03:17
Orgel
14 Es hat sich halt aufton
(Aus dem Oberinntal, Tirol) 02:54
Sopransoli – Kinderstimmen, zweistimmiger Frauenchor
15 Engelreigen 03:08
Einstimmiger Frauenchor
16 Es wird schon gleich dunkel
(Aus Hopfgarten, Tirol) 03:32
Altsoli – Kinderstimmen
17 Still, o Himmel
(Aus dem Chiemgau, Oberbayern) 04:37
Sopransolo, gemischter Chor - Ensemble
18 Marsch der heiligen drei Könige 03:39
Orgel
19 Die heiling drei König
(Aus Oberbayern) 01:53
Einstimmiger gemischter Chor
20 Das himmlische Orchester
(Aus dem Niederpustertal, Tirol) 03:05
Vierstimmiger gemischter Chor


Arrangement for Organ: Norbert Düchtel
Tags: Joseph Haas Christnacht Christmas Eve TXA 18111 TYXart LC28001