Mechthild Kiendl, Soprano - Anne Dufresne, Oboe - Norbert Düchtel, Organ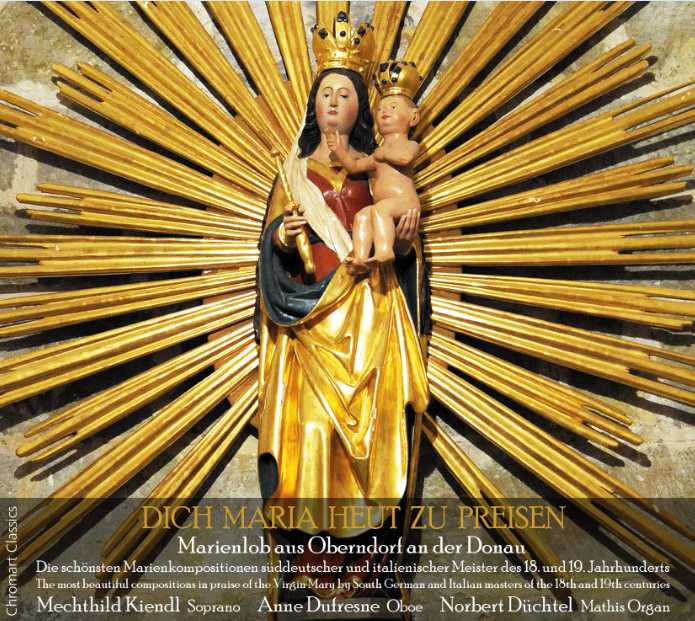 The most beautiful compositions in praise of the Virgin Mary by South German and Italian masters of the 18th and 19th centuries

Compositions with the Virgin Mary as topic were created throughout all phases of the history of church music. In the 17th and 18th centuries, the veneration of the Virgin Mary was particularly marked especially in the region of Southern Germany, as can be seen from the countless solo and choir works composed at the time. This CD aims to give a small yet excellent insight into the musical liturgical practice of that time. "Oboe and organ" was a popular combination both in the Classical and Romantic periods. The works by Hertel and Rheinberger are original compositions.
For this recording, the Mathis organ, built in 2010 and located in the Church of the Assumption of St. Mary in Oberndorf/Bavaria (Germany), was the ideal instrument.
Album Review and Tip!
Newspaper 'Die Tagespost' (31 Dec 2016)
CD Review and Tip
Newspaper 'Badische Zeitung' (15 Dec 2015)
CD Review and Recommendation
Newspaper 'Mittelbayerische Zeitung' (10 Dec 2015)
CD Presentation and Tip
Newspaper 'Rundschau' (16 Dec 2015)
CD Review and Tip
ouverture - blog for classical music (07 Mar 2016)
CD-Programme / Tracklist:

Valentin Rathgeber (1682 - 1750) REGINA COELI
Soprano, Oboe and Organ

Fr. Marianus Königsperger (1708 - 1769) PRAEAMBULUM ET FUGA SEPTIMI TONI (1756)
Organ solo

Fr. Marianus Königsperger DICH MARIA HEUT ZU PREISEN
Soprano, Oboe and Organ

Johann Wilhelm Hertel (1727 - 1789) PARTITA I C-Dur
for Oboe and Organ

Pietro Terziani (1765 - 1831) SALVE REGINA
for Soprao and Organ

Johann Sebastian Bach (1685 - 1750) PASTORELLA IN F BWV 590
Organ solo

Josef Gabriel Rheinberger (1839 - 1901) AVE MARIA op. 171, 1a (1888)
Soprano and Organ

Josef Gabriel Rheinberger ANDANTE PASTORALE aus op. 98
Oboe and Organ

Josef Gabriel Rheinberger PASTORALE G-Dur op.156 Nr. 8
Organ solo

Max Reger (1873 - 1916) MARIA SITZT AM ROSENHAG (MARIÄ WIEGENLIED)
Soprano and Organ

Fr. Marianus Königsperger ARIA QUARTI TONI
Organ solo

Benedikt Biechteler (1689 - 1759) ALMA REDEMPTORIS MATER
Sopraon, Oboe and Organ

Fr. Marianus Königsperger ARIA SECuNDI TONI
Organ solo

Benedikt Biechteler AVE REGINA
Soprano, Oboe and Organ

Fr. Marianus Königsperger ARIA SEPTIMI TONI
Organ solo


Album: First Release!


1 CD, Digipak 6 pages, Booklet full color multilingual.


Tags: Keywords Dich Maria heut zu preisen Marien Lieder Soprano Oboe Mathis Organ Oberndorf Donau Bavaria