Münchner Frauenchor (Munich Women's Choir) -
Susanne Jutz-Miltschitzky, Piano - Katrin Wende-Ehmer, Conductor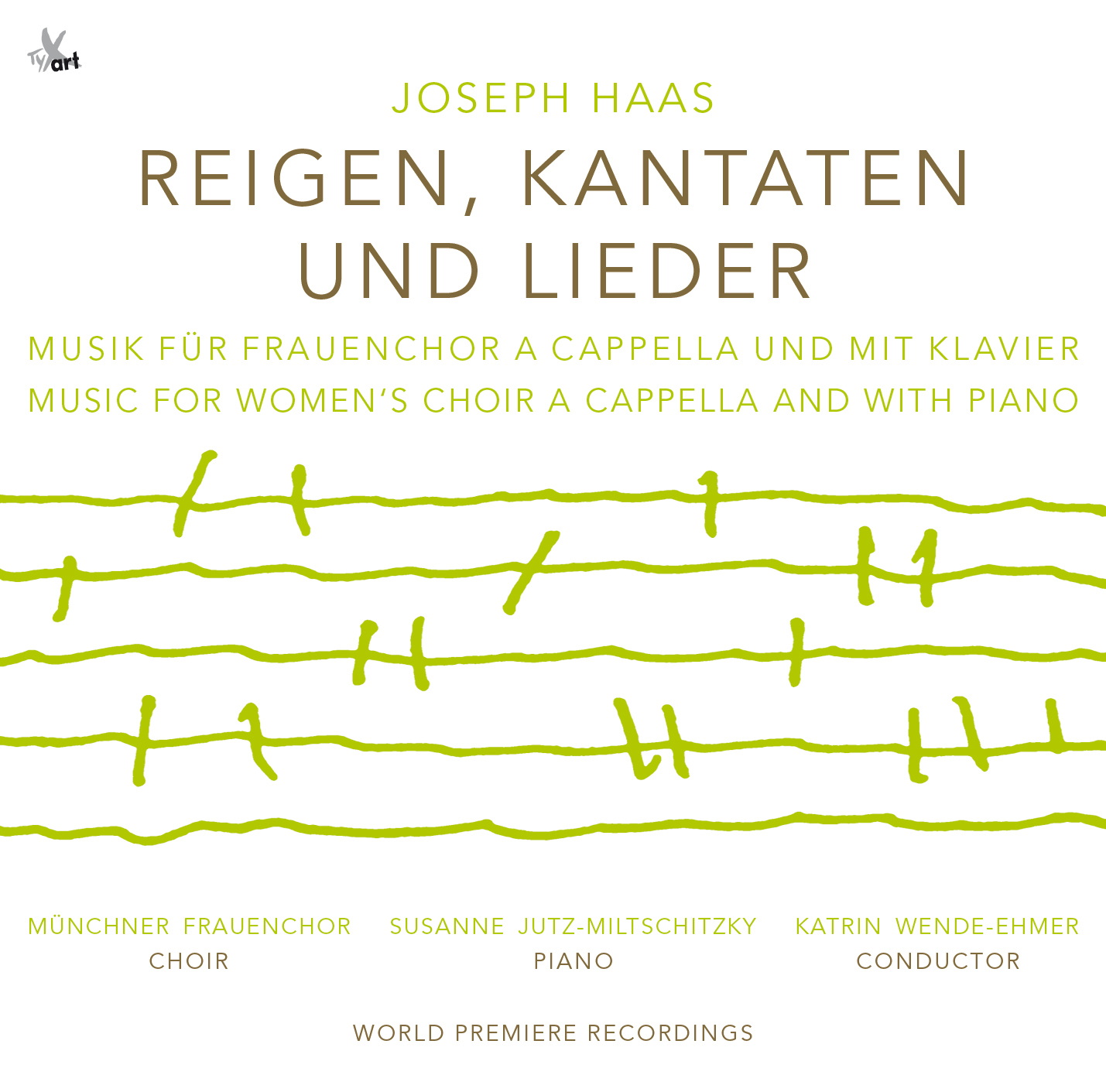 Joseph Haas: Folk Song Selections, Cantatas and Lieder -
Music for Women's Choir a cappella and with piano [World Premiere Recordings]

Joseph Haas (1879-1960) has written a relatively large number of works for women's choir and thus shows his preference for female voices. This CD gives an overview of the work in this field. It ranges from folk song cycles to "hymns" to cheerfulness to cantatas in praise of music and in praise of nature. The Munich Women's Choir under the direction of Katrin Wende-Ehmer, together with pianist Susanne Jutz-Miltschitzky, interprets these works with appropriate diversity in expression.

FOLK SONG SELECTIONS, KANTATAS AND LIEDER
The works (also) for women's choir by Joseph Haas range from the oratorio "Das Lebensbuch Gottes" op. 87 (TYXart, CD No. TXA14045) to the folk song adaptations of the Liederreigen op. 89 and include 10 works with opus number. This is quite a lot and shows the composer's interest in the female voices. He thought not only of secular women's choirs, but also of singing in nunneries with their educational facilities. Singing in the choir became more and more important for him in the course of his life. The meaning of the words and their expression in music was the aim of his composition. The works recorded on this CD as world first recordings are either folk song adaptations or melodically in folk song tones, as is typical for Joseph Haas.
Free Audio Samples ... of this CD album!
CD programme (Tracklist):

Joseph Haas (1879-1960)
Folk Song Selections, Cantatas and Lieder
Music for Women's Choir a cappella and with piano

Liederreigen nach Volksweisen
01 Alemannischer Liederreigen op. 89 Nr. 1 [08:52]
02 Fränkischer Liederreigen op. 89 Nr. 2 [08:47]
03 Pfälzischer Liederreigen op, 89 Nr. 3 [09:29]

Hymnen an den Frohsinn
04 Des Lebens Sonnenschein op. 73 Nr. 1 [04:53]
05 Kommt, laßt uns allesamt op. 73 Nr. 2 [05:02]

Lieder op. 44
06 Wiegenlied [05:11]
07 Der Kiebitz [02:05]
08 Kleiner Morgenwanderer [02:43]
09 Christ und die Kinder [02:11]

Drei dreistimmige Liedlein
10 Morgenlied [01:17]
11 Galliarde [02:06]
12 Schlummerlied [03:12]

13 Trauungsgesang [02:58]

14 Heißa, Kathreinerle [01:03]

15 Kommt ein Kindlein op. 76 Nr. 2 [02:55]

Kantaten für Frauenstimmen und Klavier
16 Zum Lob der Musik op. 81 Nr. 1 [05:23]
17 Zum Lob der Natur op. 81 Nr. 2 [07:15]


*** World Premiere Recordings ***
Keywords: Tags Haas Folk Songs Reigen Cantatas Lieder Munich Women's Choir TXA20151 4250702801511 TYXart LC28001