Duo Imaginaire —
John Corbett, Clarinet/Basset horn and Simone Seiler, Harp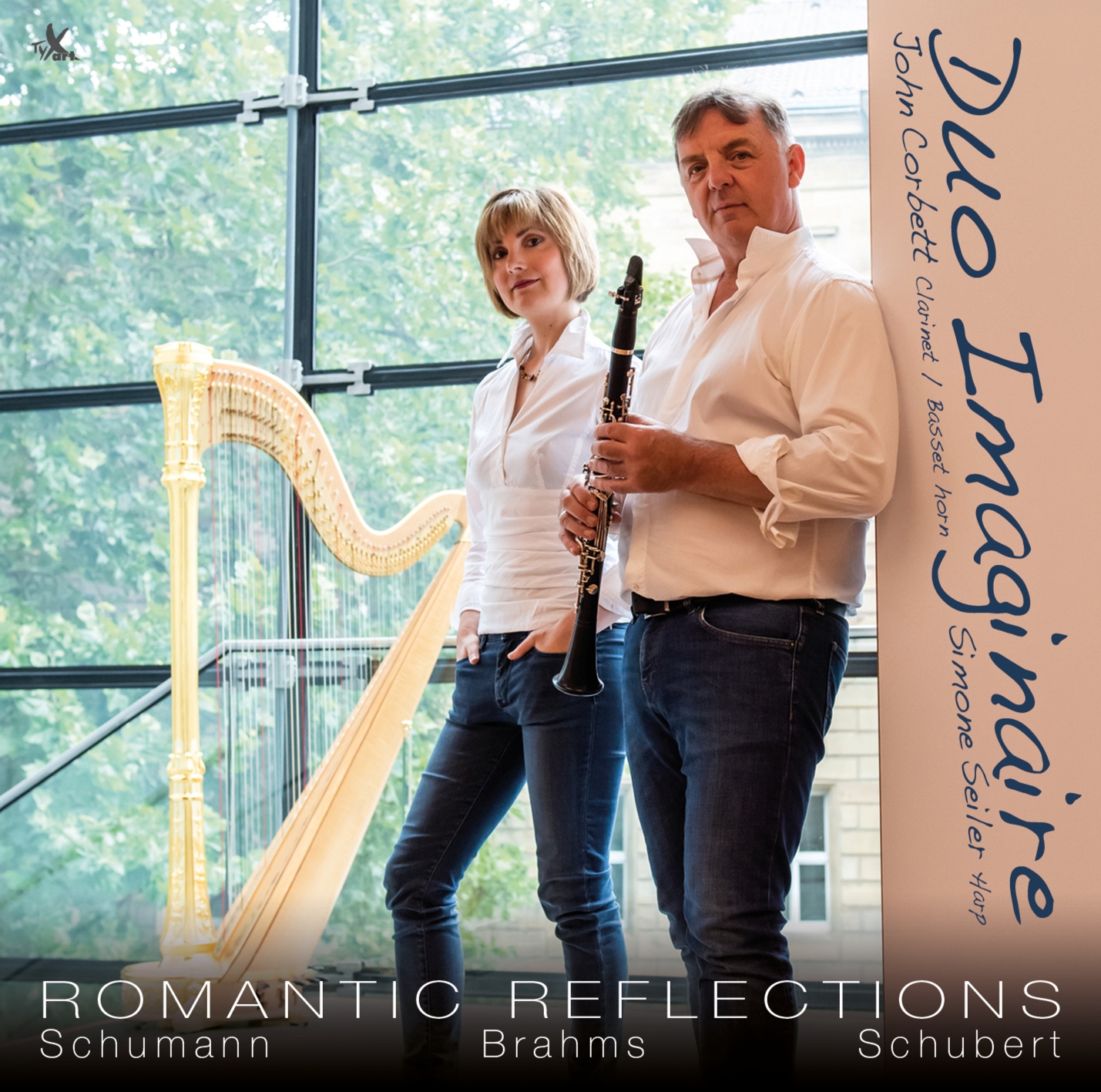 "Romantic Reflections"
Works by Schumann, Brahms and Schubert

"Romantic Reflections" – Great works always attract artists of many different instruments, and for good reason - it is only then that they are illuminated in their full scope. New sounds and colors enrich the original material. The unusual combination of clarinet/basset horn and harp reveals a powerful emotionality to the listener and, particularly in Brahms's Intermezzi, highlights complex chamber music qualities already concealed within the piano version. Transcriptions, to which this CD is exclusively devoted, have never been uncommon. Since the original repertoire from this period for harp, both as a solo instrument and in chamber music works, is relatively limited, the literature for piano and for harpsichord holds a special appeal for harpists. In addition, it was a widespread practice with duo pieces at that time to print the piano part in an alternative version for harp. Due to technical limitations, many composers found no use for the harp. This changed, however, at the beginning of the nineteenth century when the piano and harp manufacturer Sébastien Érard invented the double-action mechanism, which made it possible to play in any key - just in time to avoid missing out on the increasingly chromatic music of the Romantic period. But the harp was not the only instrument that enjoyed its heyday during Romanticism; it was during this era that the clarinet, too, flourished for the first time. Likewise in the early nineteenth century, Iwan Müller designed the "Clarinette Omnitonique," an instrument with thirteen keys; thanks to this innovation, the clarinet was now also able to play in every tonality. The clarinet is considered to be the wind instrument that comes closest to the human voice. Hector Berlioz praises it for its "beautiful instrumental soprano" and "a middle register that is favorable to the expression of the most poetic feelings and ideas." (Grand traité d'instrumentation et d'orchestration modernes).

Since 2007 Duo Imaginaire, clarinettist (basset horn) John Corbett and harpist Simone Seiler, have been performing together. This collaboration includes recitals at the World Harp Congress in Sydney, Australia as well as at the Symposium of the German Clarinet Society in Rostock.
In October 2010, Duo Imaginaire together with the Hagen Philharmonic Orchestra gave the premiere of the "Sinfonia Concertante Nr. 5 - Imaginaire" also dedicated to them by Carlos Micháns. Their first CD "Old New Borrowed Blue" with works by Debussy, Beethoven, Granados, Backofen, Rossini, Lancen and Micháns was released in 2013 on the TYXart label. 2014 saw the release of their second CD "Quinär" with 5 dedicated works by contemporary German composers (J. Birkenkötter, D. Hahne, S. Heucke, F. Zabel und M. Chr. Redel) on the same label, followed by "Japanese Echoes - Hommage à Claude Debussy" (Works by Debussy, Minami, Yamaguchi, Fujii, Omura, Rai and Miyaki) in 2017. Based on transcriptions of the French Impressionists and a sparse number of original works for this combination, the Duo has enlarged the repertoire with own arrangements (Debussy, Beethoven, Granados, De Falla, Satie, Bartók). Furthermore it has increasingly collaborated with contemporary composers acquiring and premiering over 20 new works.
Free audio samples of this new CD album!
CD Programme / Tracklist:
"Romantic Reflections" –
Works by Schumann, Brahms and Schubert

Robert Schumann (1810–1856)
Drei Romanzen, op. 94 für Klarinette und Harfe
Nicht schnell
Einfach, innig
Nicht schnell

Johannes Brahms (1833–1897)
Intermezzi für Klarinette und Harfe (arr. John Corbett)
op. 117, Nr. 1 in Es-Dur – Andante moderato
op. 117, Nr. 2 in b-Moll – Andante con moto, e con molto espressione
op. 117, Nr. 3 in cis-Moll – Andante con moto
op. 118, Nr. 2 in A-Dur – Andante teneramente
op. 119, Nr. 1 h-Moll – Adagio
op. 119, Nr. 2 e-Moll – Andantino un poco agitato

Franz Schubert (1833–1897)
Sonate b-Moll für Bassetthorn und Harfe, D 821
"Arpeggione-Sonate" (arr. John Corbett)
Allegro moderato
Adagio – Allegretto
CD Album: First release!
Keywords: Romantic Reflections Schumann Brahms Schubert Clarinet Basset horn Harp Duo Imaginaire
» Detailed CD booklet includes further info (bios, photos, etc.)
» Total playing time: 63min 47sec | Booklet-Text: DE, EN, FR
» Format: 1 Audio-CD | Series "Chromart Classics" | RD: ~02/2020
» Order No.: TXA18114 | GTIN (EAN): 4250702801146
» CD available commercially or directly via TYXart
Further information:
Duo Imaginaire
Further CDs by the "Duo Imaginaire":
Japanese Echoes
Quinaer - 5 new Works for Clarinet & Harp
Old New Borrowed Blue
PREVIEW
Further CDs in the Series Chromart Classics coming soon.