Duo Imaginaire —
John Corbett, Clarinet & Bassclarinet and Simone Seiler, Harp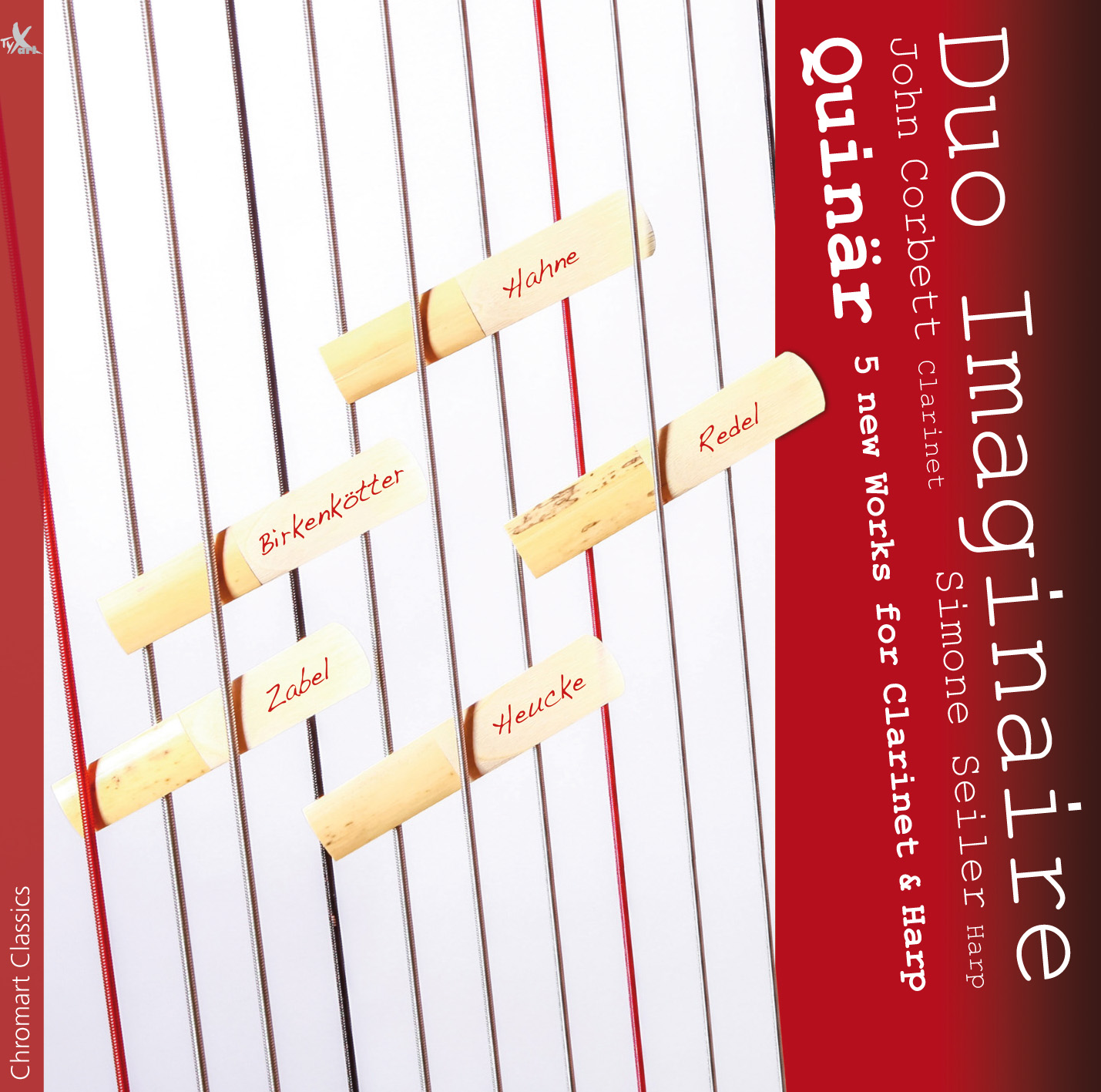 Redel - Zabel - Heucke - Birkenkötter - Hahne

The five works presented here, all premiere recordings (new CD TXA13035, 2014), were initiated by the Duo Imaginaire: John Corbett, Clarinet & Simone Seiler, Harp and given their world premiere performances in 2012/13.
A quinary structure arises through the shared relationship of the five composers (Redel, Zabel, Heucke, Birkenkötter, Hahne) to the federal state of Westphalia in Germany. Despite this, the composers could hardly differ from each other more, both in style and in character. From melancholia and jocular high spirits to dramatically explosive outbursts, these works offer new forms of expression that take this rare sonic combination to the limits - supported by new playing techniques and effects.
»Presentation CD Album, Radio WDR 3 TonArt:
[...] This CD is a gem of the year 2014!«
www.wdr3.de (14 Oct 2014)
CD Programme / Tracklist:
Quinary – 5 new Works für Clarinet & Harp

Martin Christoph Redel (*1947)
"Arparinetto" - Tre pezzi per clarinette ed arpa, Op. 71
Mobile – Fantasia – Moto perpetuo

Frank Zabel (*1968)
"Von fremden Moosen und Gräsern" - For Clarinet and microtonal Harp

Stefan Heucke (*1959)
"Serenata malinconica" - For Clarinet (in A) and Harp, Op. 67

Jörg Birkenkötter (*1962)
"why Tristan?" - Nocturne for Bass Clarinet and Harp

Dietrich Hahne (*1961)
"Metanoia" - For Clarinet, Harp and Tape
World Premiere Recordings | CD Album: First release!
Tags: CD 2014 Quinär 5 Five new Works für Clarinet and Harp Duo Imaginaire Seiler Corbett Redel Zabel Heucke Birkenkötter Hahne
» Detailed CD booklet includes further info (bios, photos, etc.)
» Total playing time: 71min 25sec | Booklet-Text: DE, EN, FR, JP
» Format: 1 Audio-CD | Series "Chromart Classics" | RD: ~09/2014
» Order No.: TXA13035 | GTIN (EAN): 4250702800354
» CD available commercially or directly via TYXart
Further information:
Duo Imaginaire
Further CDs:
Old New Borrowed Blue
Japanese Echoes - Hommage à Claude Debussy
PREVIEW
Further CDs in the Series Chromart Classics coming soon.