Duo Imaginaire —
John Corbett, Clarinet & Bassethorn and Simone Seiler, Harp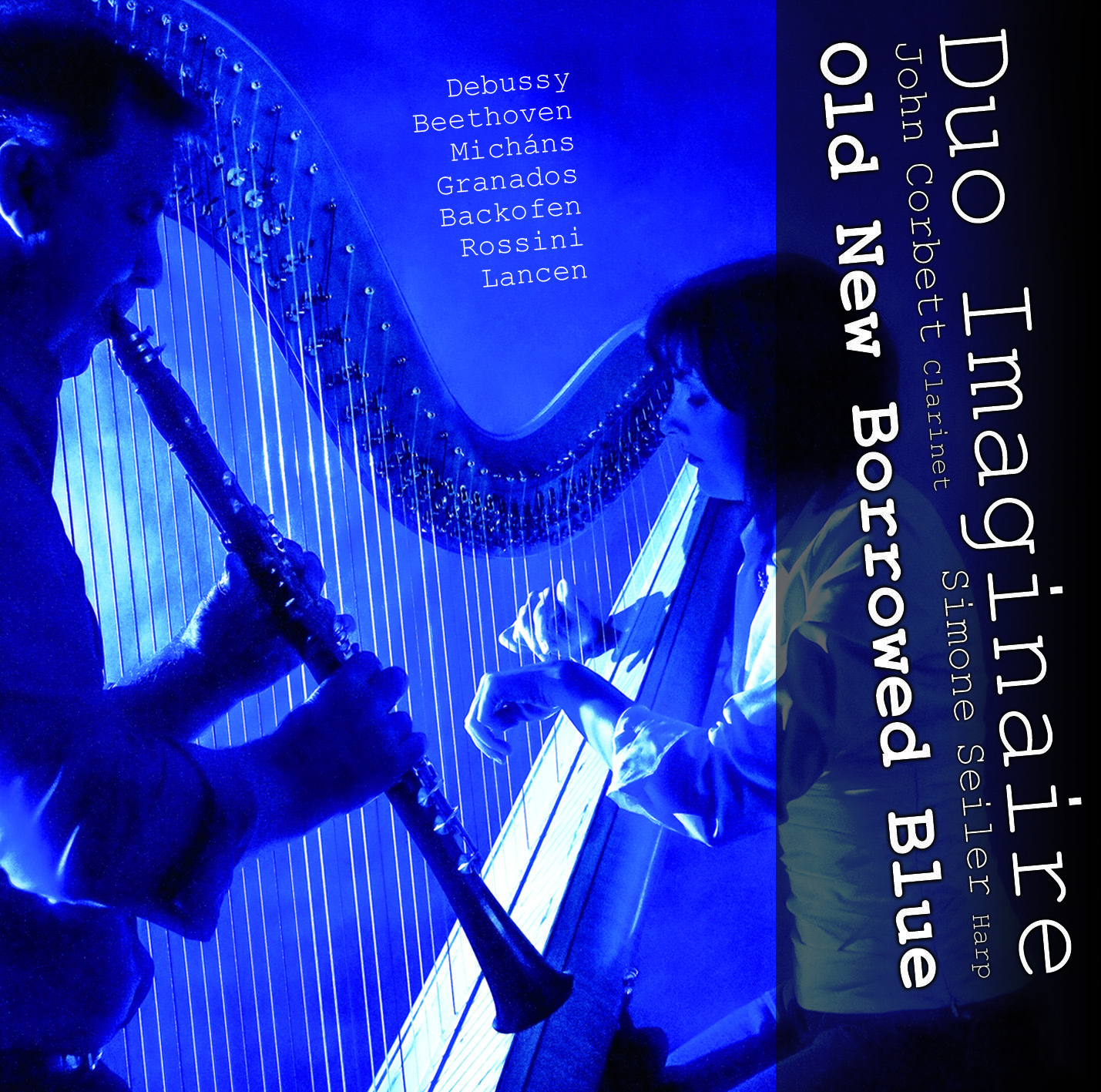 Debussy - Beethoven - Micháns - Granados - Backofen - Rossini - Lancen

Clarinet and harp are an appealing combination with which new works can be discovered and also newly discovered. The Duo Imaginaire - John Corbett, Clarinet and Bassethorn & Sabine Seiler, Harp - illustrates, with this recording, the unique effect of the combination of their instruments, beyond the boundaries of genres and epochs. The result is a sound image rich in facets, raising the question as to why more music has not been written for this combination, or why the transcription did not find its audience sooner. — This CD version represents a Premiere Recording.
In the year 2007 a small café on the Place Fernand Cocq in the district of Ixelles, Brussels was to serve as patron-saint to the rather unconventional combination of clarinet and harp: Café Imaginaire. From that moment on, the idea was born to further develope and establish these two instruments as duo in the concerthall. The composers Andrew Digby, Gordon Kampe, Manfred Stahnke, James Wishart and Frido ter Beek were among the first to compose works specifically for Duo Imaginaire.
CD Programme / Tracklist:
Old New Borrowed Blue

Claude Debussy (1862–1918)
Suite bergamasque (Arr.: Duo Imaginaire)
Prélude, Menuet, Clair de lune, Passepied

Ludwig van Beethoven (1770–1827)
Adagio from: 5 Stücke für Flötenuhr WoO 33
(Arr.: Julius Baechi / Duo Imaginaire)

Carlos Micháns (*1950)
Music for Harp and Clarinet

Enrique Granados (1867–1916)
from: Tonadillas (Arr.: Duo Imaginaire)
La maja dolorosa III, El majo olvidado, El majo discreto

Johann G. H. Backofen (1768–1839)
Duo concertante F-Dur op. 7 für Bassetthorn und Harfe
Allegro, Allegretto: Thema mit Variationen

Gioachino Rossini (1792–1868)
Cavatina "Una voce poco fa" from: Der Barbier von Sevilla
(Arr.: Ivan Müller)

Serge Lancen (1922–2005)
Duo concertant
CD Album: First release!
Keywords: New CD Release Old New Borrowed Blue Duo Imaginaire Simone Seiler Harp John Corbett Clarinet Bassethorn 2013 Debussy Beethoven Micháns Granados Backofen Rossini Lancen GTIN EAN 4250702800224