Duo Imaginaire —
John Corbett, Clarinet and Simone Seiler, Harp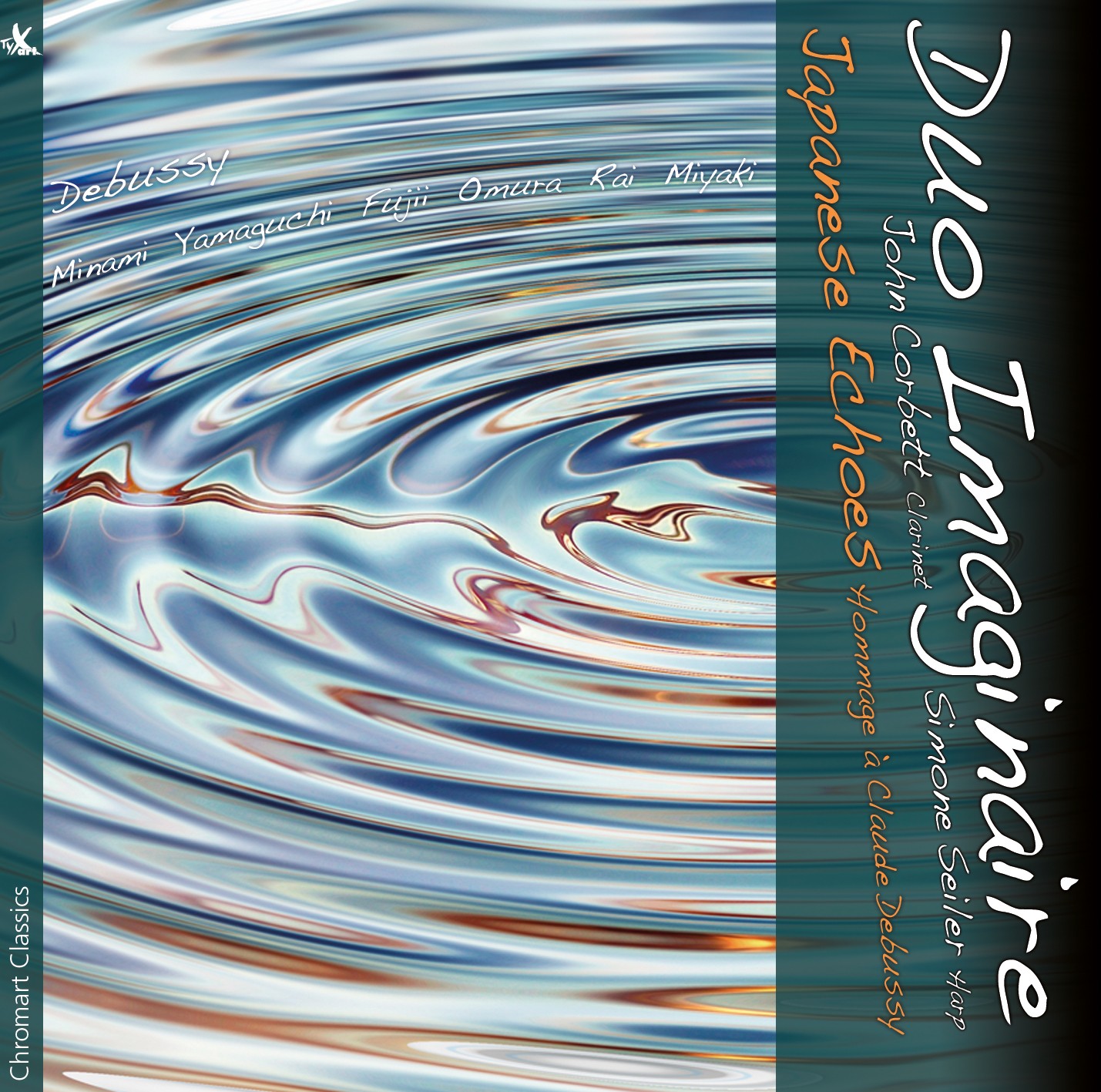 Japanese Echoes - Hommage à Claude Debussy
Works by Debussy, Minami, Yamaguchi, Fujii, Omura, Rai, Miyaki

As a homage to Claude Debussy the six japanese composers Takashi Fujii, Satoshi Minami, Asako Miyaki, Kumiko Omura, Takayuki Rai und Yasuko Yamaguchi each wrote a piece for clarinet and harp that is related to one of the preludes by Debussy. These preludes are originally composed for piano solo and were transcribed for clarinet and harp by Duo Imaginiare.

Why Debussy? Why a japanese answer?

"Music is the silence between the notes" (Claude Debussy)

Debussy was extremely fascinated by the Orient, especially Japan. During the two World Exhibitions of 1889 and 1900 in Paris, he had the possibility of experiencing East-Asian Arts first hand and consequently integrated several of the aesthetic elements into his own music. He shunned the bombastic, post-romantic (Teutonic) trends of the day, preferring a calm, sensual, spacious form. In Japan this sensibility for space, "ma" (間) is ubiquitous in Japanese artforms.
Tone-colour was very important to Debussy which is very evident by his use of an expansive range of timbres relating to space or environment, though not influencing the structure. This is analogous to the shakuhachi honkyoko tradition where the focus is concentrated on the aesthetic of a single note. The sound is thereby more important than the structure.
[Excerpts of the CD booklet]

Since 2007 Duo Imaginaire, clarinettist John Corbett and harpist Simone Seiler, have been performing together. This collaboration includes recitals at the World Harp Congress in Sydney, Australia as well as at the Symposium of the German Clarinet Society in Rostock. In October 2010, Duo Imaginaire together with the Hagen Philharmonic Orchestra gave the premiere of the "Sinfonia Concertante Nr. 5 - Imaginaire" also dedicated to them by Carlos Micháns.
Based on transcriptions of the french Impressionists and a sparse number of original works for this combination, the Duo has enlarged the repertoire with own arrangements (Debussy, Beethoven, Granados, De Falla, Satie, Bartók).
Furthermore they have increasingly collaborated with contemporary composers acquiring and premiering over 20 new works.
Free audio samples of this new CD album!
Album Recommendation!
»[...] Duo Imaginaire seek and find a great variety of ways to express their musicality.«
Magazine TEMPO, UK (04/2018)
Magazine "das Orchester": Review and Recommendation - 5 Stars!
dasOrchester.de, Germany/int'l (02/2018)
»CD Tip!«
pizzicato.lu, Luxembourg, Remy Franck's Journal about Classical Music (online Sept 24, 2017)
CD Review ✩✩✩✩
klassik.com, Germany/international (online 06/2018)
CD Review & Recommendation!
OpusKlassiek, The Netherlands, Aart van der Wal (online 09/2017)
Album Review & Tip!
musicalifeiten.nl, BeNeLux (online 08/2017)
Portal 'Klassik Heute' CD Review
klassik-heute.com, Germany/int'l (online Mar 07, 2018)
CD Programme / Tracklist:
Japanese Echoes - Hommage à Claude Debussy

Claude Debussy (1862—1918) "La danse du Puck"
Satoshi Minami (*1955) "Soundprint No.4" (Clarinet / Snaredrum and prepared Harp)

Claude Debussy "Des pas sur la neige"
Yasuko Yamaguchi (*1969) "Die Entdeckung der Freude im Schnee"

Claude Debussy "Canope"
Takashi Fujii (*1959) "Annotation on a Japanese Lullaby"

Claude Debussy "Brouillards"
Kumiko Omura (*1970) "À travers le brouillard"

Claude Debussy "Feuilles mortes"
Takayuki Rai (*1954) "Misty Stillness"

Claude Debussy "Les sons et les parfums tournent dans l'air du soir"
Asako Miyaki (*1967) "The garden of afterimage II - butterfly pattern"
World Premiere Recordings | CD Album: First release!
Keywords: CD Japanese Echoes Debussy Clarinet Harp Duo Imaginaire
» Detailed CD booklet includes further info (bios, photos, etc.)
» Total playing time: 57min 28sec | Booklet-Text: DE, EN, FR, JP
» Format: 1 Audio-CD | Series "Chromart Classics" | RD: ~10/2017
» Order No.: TXA17099 | GTIN (EAN): 4250702800996
» CD available commercially or directly via TYXart
Further information:
Duo Imaginaire
Further CDs:
Old New Borrowed Blue
Quinaer - 5 new Works for Clarinet & Harp
PREVIEW
Further CDs in the Series Chromart Classics coming soon.