Matthias Veit, Piano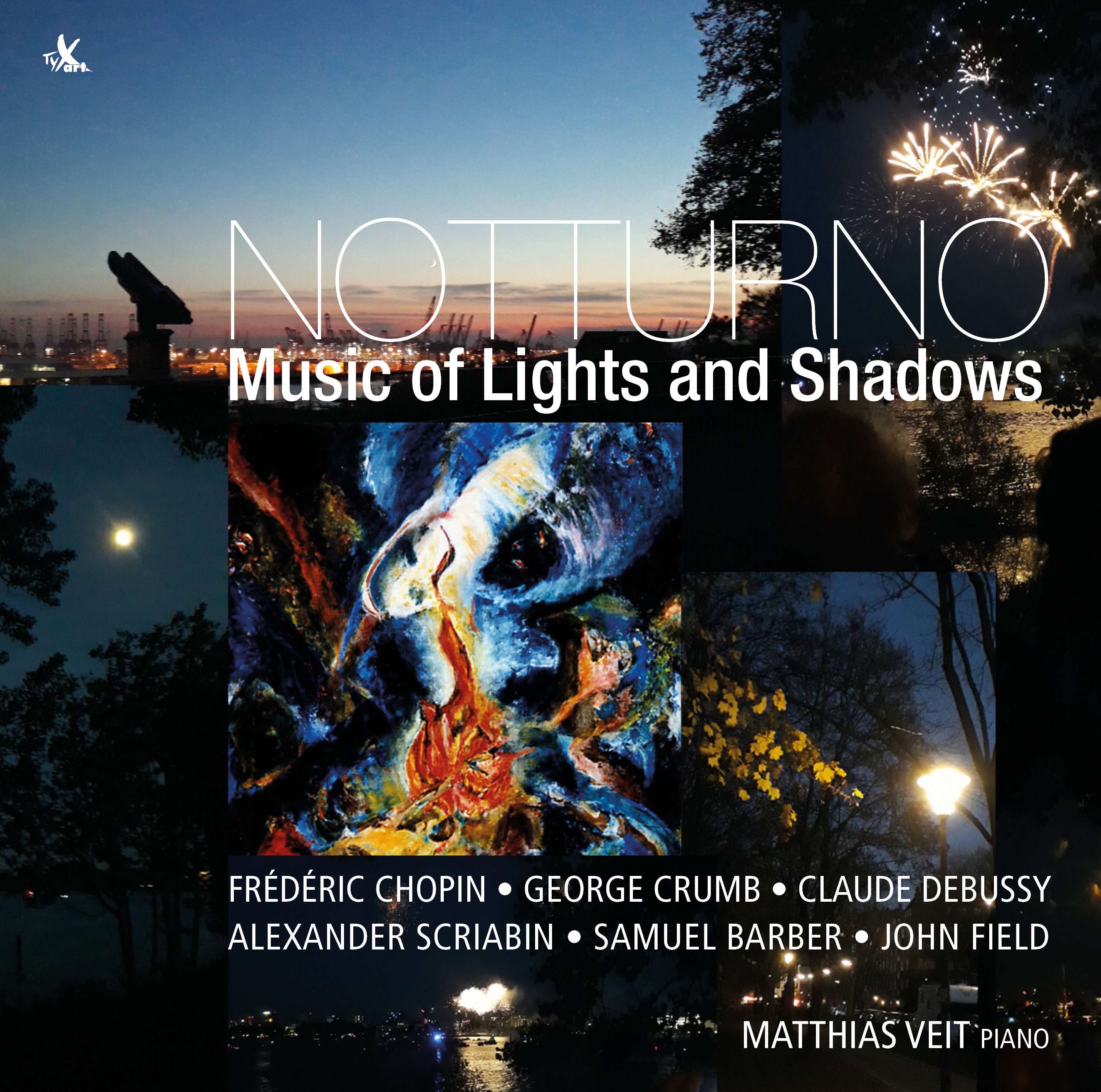 Works for Piano solo by Chopin, Crumb, Debussy, Scriabin, Barber and Field

"NOTTURNO — Music of Lights and Shadows" is a game; an interplay of light and shade in a quasi nocturnal setting that is occasionally illuminated by dazzling daylight.
Pianist Matthias Veit unfurls a "panorama of correspondence", shifting between tense tranquillity and colourful dramatics. Iridescent character pieces inhabited by ghostly figures, unknown and well-loved gems from the piano repertoire span a net that stretches from the Romantic era to the modern day. Works from Crumb's "Makrokosmos" initiate a musical discourse of pro and contra between the great piano composers Chopin, Debussy, Scriabin, Barber and Field, which breathes a single deep musical breath right from the start — ending with an unexpected culmination.

Matthias Veit studied piano with Gernot Kahl and voice with Susanne Korzuscheck, Peter Elkus and Tom Krause. He also attended masterclasses with Dietrich Fischer-Dieskau, Ralf Gothóni, Christoph Eschenbach a.o. As accompanist he earned early reputation, winning the 1992 Gundula Janowitz Prize at the International Schubert Competition Graz/Austria. He played and plays for numerous singers and instrumentalists, amongst them some of the world's leading singers. Also he worked at international masterclasses, renowned institutes and academies with famous artists such as Elly Ameling, Helen Donath, Brigitte Fassbaender, Cheryl Studer or Tom Krause. He also performed as a singer in concerts and gave his first masterclass at the Savonlinna Opera Festival 1996. He has been official accompanist in international competitions, 1998-99 Professor at the Hochschule in Hamburg, and since 1999 he has taught at several music academies in Germany as well as continuing to record for radio, television and CD. For his musical activity as well for his work as a painter he got awarded as "artist in residence" by the culture foundation Marienmünster/Germany 2016.
Free audio samples of this new CD album!
CD programme / Tracklist:
George Crumb (b. 1929) Pastorale
Claude Debussy (1862–1918) Danseuses de Delphes
Alexander Scriabin (1872–1915) Prélude op. 29, 2
Claude Debussy Feuilles mortes
Alexander Scriabin Prélude op. 22, 4
Frédéric Chopin (1810–1849) Prélude op. 28, 11
Alexander Scriabin Prélude op. 31, 3
Frédéric Chopin Prélude op. 28, 14
Alexander Scriabin Prélude op. 39, 1
Frédéric Chopin Prélude op. 28, 8
George Crumb Proteus
George Crumb Dream Images
Claude Debussy Les Collines d'Anacapri
Alexander Scriabin Prélude op. 74, 3
Samuel Barber (1910–1981) Nocturne op. 33
Claude Debussy Les fées sont d'exquises danseuses
Frédéric Chopin Nocturne op. 27, 2
George Crumb Twin Suns
Claude Debussy Canope
John Field (1782–1837) Nocturne Nr. 7
Alexander Scriabin Etude op. 65, 3
George Crumb Spring-Fire
Finale:
Claude Debussy Feux d'artifice / Alexander Scriabin Prélude op. 56,1 and 74,5 / Frédéric Chopin Fantaisie-Impromptus (Excerpt)
Bonus:
Claude Debussy Feux d'artifice
Frédéric Chopin Fantaisie-Impromptu


Keywords: Matthias Veit Piano Notturno