Jürgen Franz, Flute - Dieter Göltl, Cello - Matthias Veit, Piano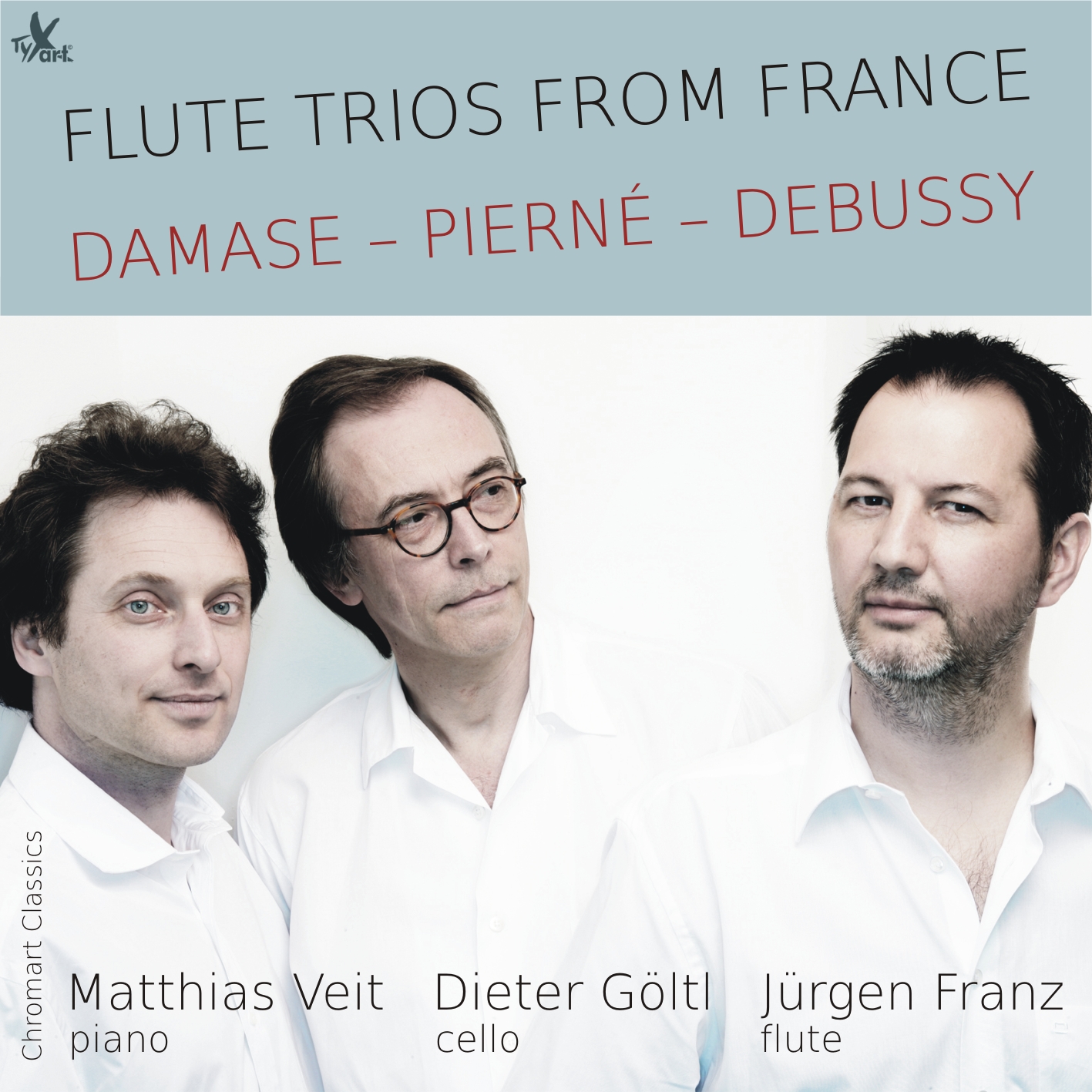 Works for Flute, Cello and Piano

"L'enregistrement de la Sonate en Concert est parfait: Tempi, interprétation, technique, sonorité, ensemble. Un grand bravo aux interprètes de Trio." J.M. Damase

Jean-Michel Damase
Sonate en Concert pour flute, piano et violoncelle ad libitum, written in 1950 and published by Lemoine in 1952. It is dedicated to the "Gentleman of the flute" Geoffrey Gilbert, who taught James Galway, as well as the cellist William Pleeth (1916-1999) who was a teacher at the Yehudi Menuhin Music School for gifted children. Despite being dedicated to a cellist, the cello part plays a subordinating roll in this work. It mainly follows the left hand of the piano part, although it is allowed to double the lute with parallel octaves in the Aria, a highly effective touch. Only in a few places does the cello voice play in canon with the melody.
The Sonate en Concert is cast in the form of a Baroque dance suite, a compositional form that has a long tradition in France. Damase does not strict ly follow the common sequence of dance movements. Nor does he adhere closely to the four or eight-bar phrasing normally found in such works.
The fundamental principle of the suite, a slow movement being followed by a quicker one, is weakened. His sequence, Prélude - Rigaudon - Aria - Sicilienne - Gigue, sets two consecutive slow movements one after the other in the middle of the suite. However, this fact is obscured, not only because the five movements are through-composed and played with connecting interludes, but also because an Intermezzo is inserted into the Aria. Th e Intermezzo is thus chosen as the central axis of the entire work.
Damase entertains a similar flexibility in terms of his adherence to the traditional principle of major-minor tonality. The main tonal center of the Sonate en Concert is C major, but the opening chord is already fragmented by a prickly b and a confusing d. It shows a tendency towards bitonality, a feature that is also charact eristic of Francis Poulenc and Jean Francaix, two other traditionalist colleagues of Damase.

Claude Debussy
For both Claude Debussy and his contemporaries, Pelléas et Mélisande is a key work in every way. It was premiered at the Opéra comique in Paris on April 30, 1902 and marked the arrival of Debussy as a composer. Soon after, in 1903, he was honoured as chevalier in the Legion of Honour.
Debussy's Pelléas et Mélisande was celebrated by his contemporaries for its revolutionary renewal of the operatic genre. In this work, a rapid and breathless sequence of fleeting musical pictures replaced the pathos of the extended Wagnerian monologue, and as a result, Debussy's work was hailed as the very opposite of Wagnerian Musical Drama. Debussy's opera aims at a unity of language and music where small intervals and sparse harmonies help generate an almost constant recitative-like vocal style. In this way the music closely follows and psychologically intensifies Mauice Maeterlinck's text, which is a symbolic representation of the mystery of death, dreams and destiny.
For most of the last century, the Trio in G major for violin, cello and piano by Claude Debussy was thought to be lost. In 1979 the first movement surprisingly turned up at a Paris Auction. Then, in 1985 the American musicologist Ellwood Derr discovered the other three movements in the estate of a French pianist, thus enabling the entire work to be published in an urtext edition by Henle in 1986. This youthful work was written by the 18-year-old Debussy in 1880, during his summer stay in Russia with the von Meck family. The 4-movement Trio shows the clear influence of earlier romantic composers, demonstrating stylistic parallels to Schumann and Franck as well as Massenet.
Since its publication in 1986, the Premier Trio en Sol has carved out a place in the repertories of many piano trios, despite the work's weaknesses. Actual presence in the concert hall and in recordings speaks for itself, because behind this work one becomes aware of a powerful musical personality with many fine creative ideas.

Gabriel Pierné
The Sonata da Camera, Op. 48 á la mémoire de Louis Fleury for flute, cello and piano appeared in 1927. It is from Pierné's late period and was written in response to Fleury's death the year before.
Born in Lyon in 1878, Fleury had been a student of Taffanel, and was a highly regarded flutist who had premiered Debussy's Syrinx back in 1913. The sonata is in 3 movements. The Prélude is in C major and is shaped by a series of loosely formed ideas which are thematically related. The restless, continually forward-moving main theme is introduced by the flute and is later taken up by the other instruments, first by the cello and then by the piano. A new, more peaceful idea follows, driven by an insistent piano part, which is soon replaced by the appearance of a scherzando theme. The tempo slows briefly before the reprise of the main theme.
»CD Tip!«
Magazine "Flöte aktuell"
Album programme (Tracklist):

Jean-Michel Damase (1928–2013)
Sonate en Concert pour flûte, piano-forte et violoncelle ad libitum

Claude Debussy (1862–1918)
Pelléas et Mélisande (Trio arr.: Henri Mouton)

Gabriel Pierné (1863–1937)
Sonata da Camera
Prélude
Sarabande
Finale

Claude Debussy (1862–1918)
Trio G major (Trio arr.: Jürgen Franz)
Andantino con moto allegro – Allegro appasionato
Scherzo – Intermezzo
Andante espressivo
Finale. Appassionato
Keywords: Tags Flute Trios from France Flötentrios aus Frankreich Franz Goeltl Veit
Bestell Nummer TXA 15057 GTIN EAN 4250702800576 TYXart Labelcode LC28001