Piano classics in a nutshell - from Girolamo Frescobaldi to Sofia Gubaidulina
Matthias Veit, Piano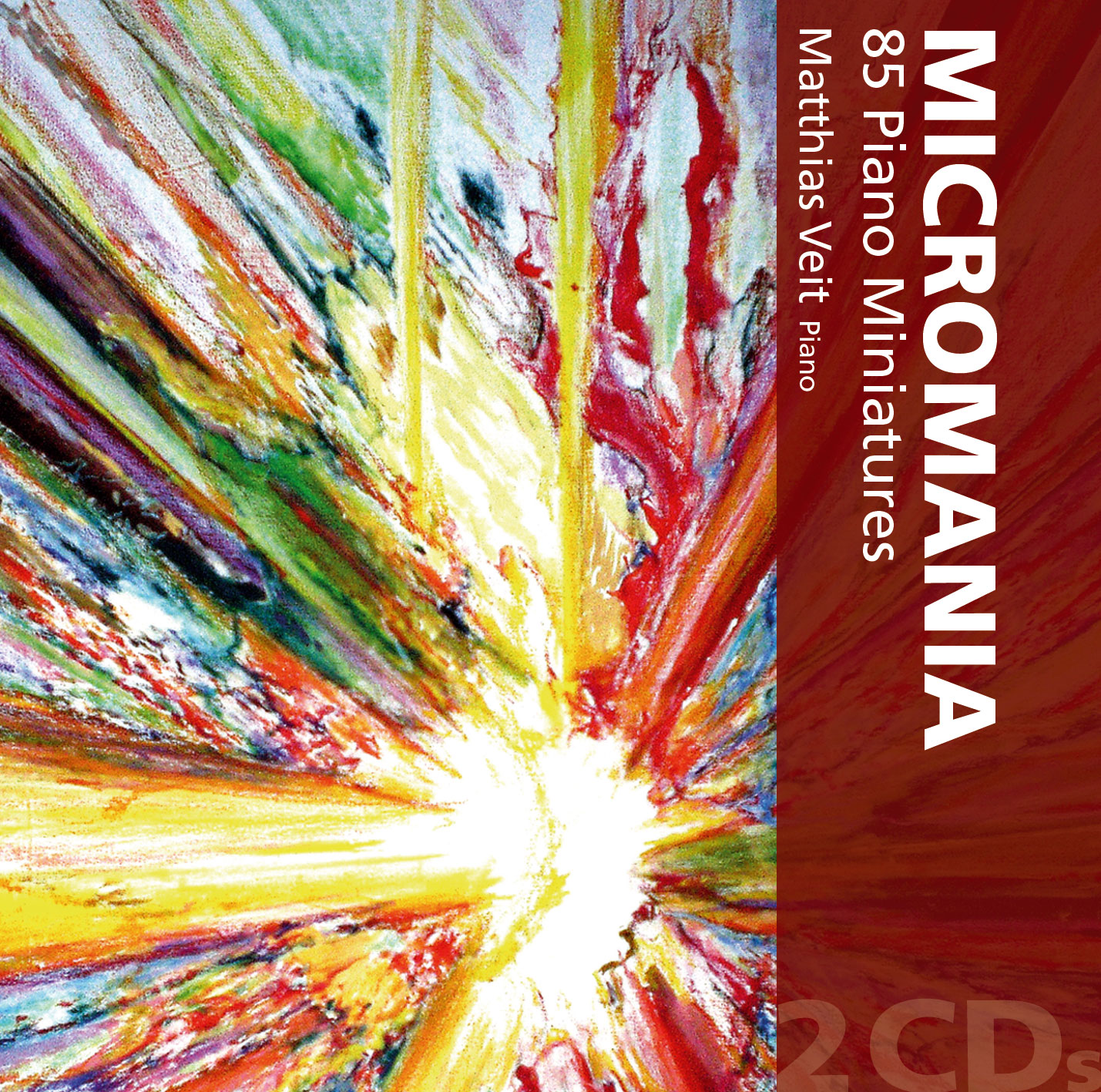 Chromart Classics

Two basic problems move (in both senses of the word) human beings in the 21st century: the fast pace and the complexity of the choice of products – not just cultural ones. In the music world, including the classical, modern man "lives" simultaneously in diverse epochs, listening to a jumbled up mixture of different styles. He must be able to grasp things more and more quickly or to make a selection from an ever increasing mountain of compositions.
My programme tries to come to terms with this situation and sketches a "caleidoscope" of musical epochs with the focus on classical piano music, presenting it in a concentrated form, as a short episode, an aphorism, a dictum. A game with brevity and smallness but that turns the miniatures into something large – a whole concert evening full of scintillating pièces.
...a short phrase versus an extremely extended one – another attempt to direct the view from the detail to the whole and vice versa. Chemically bleached piano music challenges the listener – and perhaps in the end we will have travelled all around the globe.
"CD Review & Recommendation"
klassik.com, Dr. Uta Schmidt (online 20 July 2016)

"CD tip"
lafolia.com (online, 06/2015)

"CD recommendation"
Piano NEWS - Magazine (I/2013)
CD-Programme (double CD):

MICROMANIA - 85 Piano Miniatures

CD 1
01 Carl Nielsen I Goddag (Guten Morgen) aus: op.11
02 Domenico Scarlatti Minuetto
03 Joseph Haydn (Allegro ma non troppo) Stücke für die Flötenuhr
04 John Bull Praeludium Fitzwilliam Virginal Book
05 Carl Orff Alte Melodie Klavierübung Kleines Spielbuch
06 Hugo Distler Perpetuum mobile 11 kleine Klavierstücke
07 André Jolivet Berceuse dans un hamac (Wiegenlied in einer Hängematte)
08 Jean Sibelius Reconnaissance Bagatellen
09 Johann L. Dussek Präludium Suite D-Dur
10 Henry Purcell Trompetenstück Trompetenstück und Air
11 Béla Bartók Staccato und Legato Mikrokosmos
12 Carl Grammann Am Springbrunnen op.54
13 Antonín Dvořák Presto Silhouetten op.8
14 Richard Strauss Träumerei op.9
15 Stephen Heller Verfolgtes Eichhörnchen Traumbilder
16 Karlheinz Stockhausen Klavierstück III
17 François Couperin Die braven Kuckucke
18 Johan Kuhnau Präludium Partie VII
19 Modest Mussorgsky Promenade Bilder einer Ausstellung
20 Miko Kelemen Die Rakete Der Esel geht am Meer spazieren
21 Ferruccio Busoni (Andante molto tranquillo e legato) (Nr.2) Sechs kurze Stücke zur Pflege des polyphonen Spiels
22 Ernest Chausson Dédicace Quelques Danses
23 Bedřich Smetana Idyla Bagatellen&Impromptus
24 Eric Satie Gymnopédie Nr.2 Gymnopédies
25 Anton Webern Klavierstück (Im Tempo eines Menuetts) op.posth.
26 Alfredo Casella Grazioso (Hommage à Chopin) Deux Contrastes
27 Frédéric Chopin (Allegro molto) (Nr.18) 24 Préludes
28 Franz Schubert Allegro vivace Moments musicaux
29 Girolamo Frescobaldi Toccata ottava
30 Johann Sebastian Bach (Nr.5 F-Dur) Kleine Präludien und Fughetten
31 György Kurtág Abbamaradós (Stop and Go) Játékok (Spiele) III
32 Olivier Messiaen La Colombe Préludes
33 Maurice Ravel Presque lent, dans un sentiment intime Valses nobles et sentimentales
34 Ludwig van Beethoven Allegramente Bagatellen
35 Ernst Krenek (Allegro vivace) 20 Miniaturen
36 Robert Schumann Phantasietanz Albumblätter op.124
37 Edvard Grieg Alfedans (Elfentanz) Lyrische Stücke op.12
38 Germaine Tailleferre Valse lente
39 György Ligeti (Bagatelle Nr.1) Trois Bagatelles [nur ein Ton! / only one note!]
40 Serge Prokoffiev Inquieto Visions fugitives
41 Frank Martin (Allegro) (Prélude Nr.4) 8 Préludes pour piano
42 Detlev Müller-Siemens (Con tutta la forza) (Nr. 3) Under Neonlight
43 Max Reger (Sehr aufgeregt und schnell) (Nr.1) Sechs Intermezzi op.45a
44 Karol Szymanowski (Vivace) (Etude Nr.6) 12 Etüden
45 Pierre Boulez (Trés vif) (Nr.2) 12 Notations
46 Alexander Scriabin (Impetuoso fiero) Vier Préludes op.48
47 Arvo Pärt Toccatina T. und Fuge
48 Michael Froberger Courante Suite a-Moll
49 Georg Friedrich Händel Bagatelle
50 Francis Poulenc En Auto Promenades
51 Felix Mendelssohn-Bartholdy (Moderato) (Nr.4) Lieder ohne Worte
52 Petr Eben Pingpong Young People's World
53 Arthur Honegger (Violent) (Nr.7) 7 Pièces brèves (Sieben kurze Stücke)

CD 2
01 Joseph Haas (In lebhaft bewegtem Marschtempo) (Nr.1) Schwänke und Idyllen
02 Einojuhani Rautavaara Närböläisten braa speli Pelimannit (Fiddlers)
03 Johannes Brahms Intermezzo (Nr.3) Intermezzi op.119
04 Harald Genzmer Präludium Movimenti musicali
05 Joaquin Turina Jugglers (Jongleure) The Circus
06 Bohuslav Martinů Improvisation
07 Aaron Copland Embittered Three Moods
08 Hanns Jelinek Charakterstück
09 Dmitri Kabalewski (Allegretto) (Nr.19) 24 Préludes
10 Carl Philipp Emanuel Bach Solfeggio
11 Dmitri Schostakovitch (Allegretto furioso) (Nr.20) Präludien
12 Sofia Gubaidulina The Echo Musikalisches Spielzeug
13 John Cage Quest
14 Zoltán Kodály (Tranquillo) (Nr.5) 7 Klavierstücke op.11
15 Claude Debussy Le Vent dans la Plaine (Der Wind in der Ebene) Préludes I
16 Arthur Lourié Formen in der Luft (Nr.1) ebd.
17 Karl Amadeus Hartmann (Sehr lebhaft(sehr roh)) (Nr.2) Kleine Suite
18 Frederico Mompou (Vif) (Nr.2) Fêtes Lointaines (Feste in der Ferne)
19 Franz Liszt Nuages Gris (Graue Wolken)
20 William Byrd Alman Fitzwilliam Virginal Book
21 Aram Chatschaturjan Dance Zwei Stücke
22 Alessandro Poglietti Capriccio "über das Hennergeschrey"
23 Heitor Villa-Lobos O Polichinello (Clown) Prole do Bébé
24 Darius Milhaud Gavea Saudades do Brasil
25 Charles Ives Bad Resolutions and Good WAN Five Take-offs for Piano
26 Alfred Schnittke (Senza tempo) (Nr.4) Fünf Aphorismen
27 Rudolf Wagner-Régeny (Nr.6) dem Andenken Kurt Weills Sieben Klavierfugen
28 Arnold Schönberg (Sehr langsam) (Nr.6) Sechs kleine Stücke op.19
29 Paul Hindemith Fuga sexta in Es Ludus tonalis
30 Wolfgang Amadeus Mozart (Nr.62 Es-Dur) (KV 15mm) Londoner Notenbuch
31 Anton Reicha Fuga Nr.6 Fugen
32 Gioachino Rossini Un Rien (Ein Nichts) Quelques Riens pour Album
CD Album: First release!


Matthias Veit Micromania 85 Piano Miniatures Klavier new Double CD Album