Gerhard Weinberger, Organ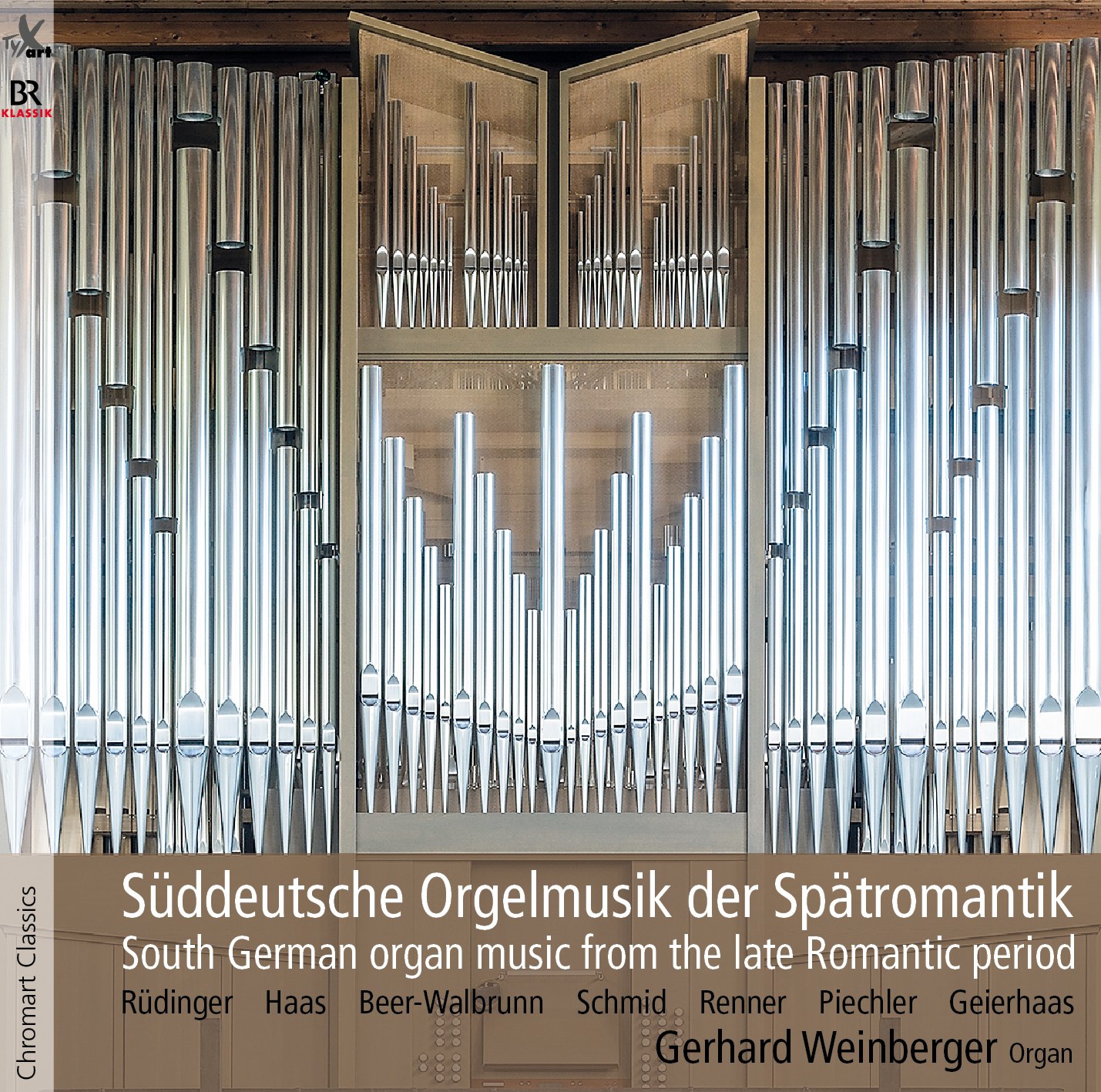 Works by Rüdinger, Haas, Beer-Walbrunn, Schmid, Renner jun., Piechler and Geierhaas

This album strives to present organ music from the South German late Romantic period that has been fundamentally shaped by what is called the "Munich School".
The composers Gottfried Rüdinger, Joseph Haas, Anton Beer-Walbrunn, Joseph Schmid, Joseph Renner jun., Arthur Piechler and Gustav Geierhaas - many of them not known anymore today - were important public figures in their times who fundamentally influenced the musical life in Southern Germany and far beyond. With this CD, the organist Gerhard Weinberger wants to increase awareness of them and some of their works again - masterly interpreted and mostly recorded for the first time.
For many years, Weinberger has been acknowledged as an organist of international repute. In his extensive repertoire, works by e.g. J.S. Bach and Harald Genzmer play a large role, too. He has given numerous concerts in Germany and abroad (Korea, Japan, USA and South America) and has made about 50 CD recordings.

The new Goll organ in St. Martin Munich-Moosach/Germany was dedicated on 26 April 2015 (first CD recording!).

A Co-Production with BR KLASSIK Bavarian Broadcast Corp., Munich.
Free Audio Samples ... of this CD album!
Review and Recommendation!
Magazine FONO FORUM, Friedrich Sprondel (October 2016)
CD Review and Tip!
Magazine organ _ Journal für die Orgel, Christoph Schulte im Walde (Edition 03/2016)
CD Review and Recommendation!
Magazine "Singende Kirche" Austria (Edition No.3 2016)
CD Review - highly commended!
»[...] This programme has clearly been a labour both of love and of dedicated research by Weinberger, [...] the recording quality, the splendid sound of this brand new organ and Weinberger's own playing combine to create a disc of real quality.«
MusicWeb International UK, Marc Rochester (Dec 2016)
End-of-year review 2016: Album Recommendation!
Newspaper 'nmz Neue Musik Zeitung', Peter P. Pachl, Germany (12/2016)
»Very enjoyable CD!«
The Organ Club, UK (17 Jan 2017)
CD-Programme / Tracklist:

Gottfried Rüdinger (1886-1946)
Sonate in h op. 68:
Allegro risoluto / Piu tranquillo
Doppelfuge

Joseph Haas (1879-1960)
Impromptu in e *

Anton Beer-Walbrunn (1864-1929)
Fuga in C op. 29 / 2 *

Joseph Schmid (1868-1945)
Elegia in c op. 48 *
"Passus et sepultus est" op. 110 / 3 *

Joseph Renner jun. (1868-1934)
Thema mit Variationen in c op. 58

Arthur Piechler (1896-1974)
"Puer natus est" op. 16 / 3
Nocturno ("Salve regina") op. 39 / 4

Gustav Geierhaas (1888-1976)
Phantasie und Fugato capriccioso in D: *
Phantasie
Einleitung und Fugato capriccioso

* Premiere Recordings


CD Album: Booklet 24 pages multicoloured, multi-lingual
Keywords Tags: South German organ music Romantic period Gerhard Weinberger TXA15052 Label TYXart Chromart Classics LC28001