Pi-Chin Chien, Cello & Bernhard Parz, Piano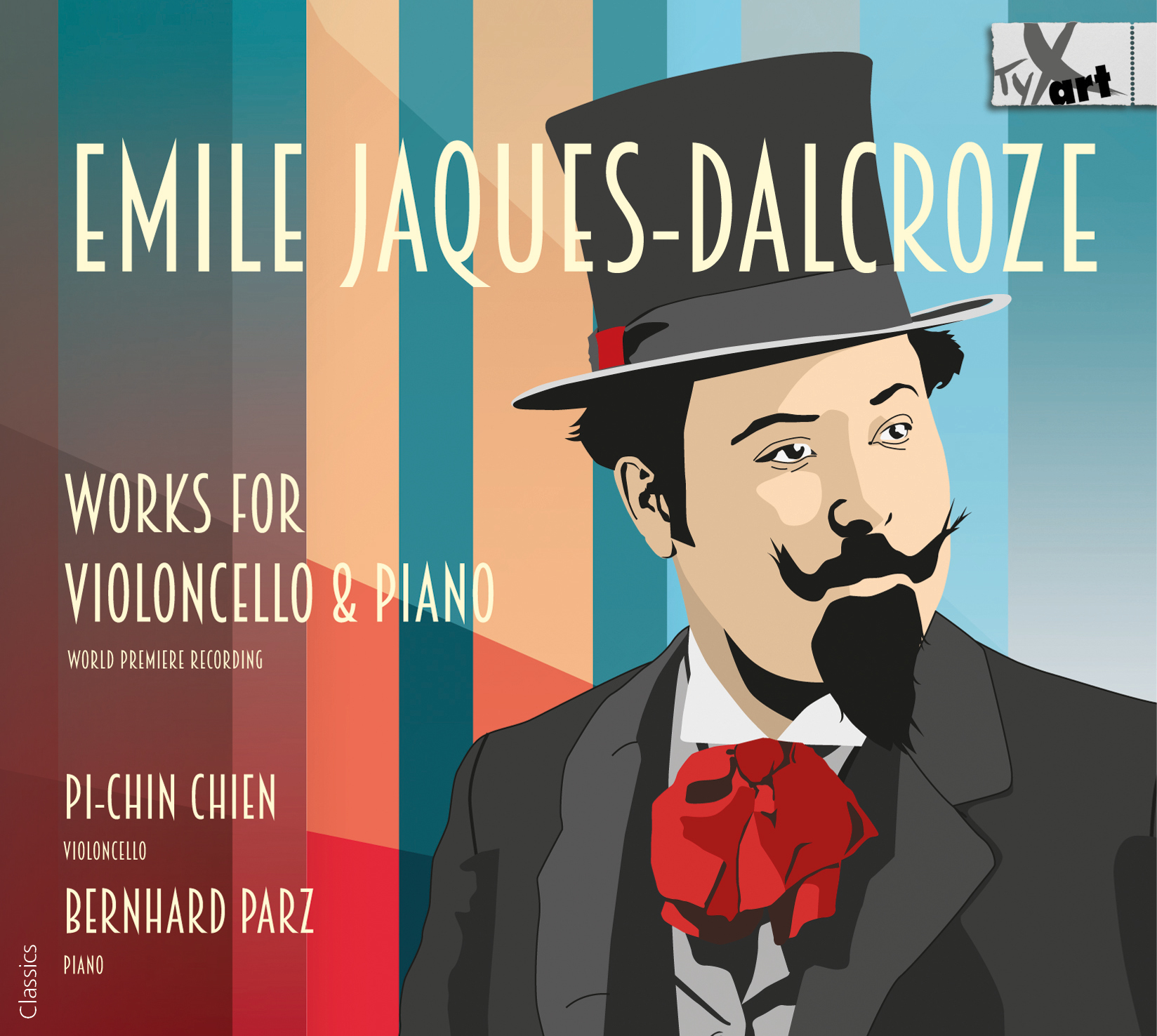 Emile Jaques-Dalcroze: Works for Cello and Piano - World Premiere Recording

Of the most prolific and world-famous composers from Switzerland, none fell into oblivion faster after his death than Emile Jaques-Dalcroze. With the late Romantic Joseph Joachim Raff, born in Lachen (Canton Schwyz), he shares the multitude of compositions in various genres, with his friend Arthur Honegger the multitude of publishers in France, England and Switzerland. Born as a contemporary of Jean Sibelius five years after Mahler and Hugo Wolf and ten years before Ravel, who influenced him less than the German Romantics, Jaques-Dalcroze developed a distinct personal style at the turn of the 20th century.

When Emile Jacques-Dalcroze died in Geneva on 1 July 1950, a few days before his 85th birthday, he left behind a life's work of overwhelming abundance as a composer. In addition to well over 500 songs in various instrumentation forms, his oeuvre contains several operas, festival music, cantatas, chamber and piano music as well as solfèges and other teaching literature for children and adults. Until the end of his life, his largely late Romantic oeuvre remained mixed with elements from the musical language of composers as diverse as Chopin, Schumann, Saint-Saëns and Fauré, despite all the independence. Emile Jaques-Dalcroze, however, was an extremely imaginative composer of great originality. First and foremost, however, the long-out-of-print compositions for violoncello and piano deserve to be returned to concert practice. The promising prelude to this CD album with exclusively world premiere recordings is the "Trois Morceaux op. 48" (Strasbourg 1902). With a dialogue introduced by the cello as a soloist, the multi-part "Lied romantique" in G major begins in a very unusual, free way. In the four "Rythmes délaissés" (Paris 1924), the composer uses rhythmic formulas such as short ostinati to combine them with singable melodic lines. The odd metres with which the first piece (C minor) begins in five-eighth time and with strikingly intoned arpeggios, and the frequent bar changes return in No. II (A major).

The "Suite op. 9" is dedicated to his friend Adolf Rehberg, the brother of the much better known pianist and composer Willy Rehberg. For the French-speaking Swiss cellist, who taught at the Geneva Conservatory, Jaques-Dalcroze also suited the "Lied romantique" op. 48 Point 1. The "Pièces faciles" published in 1907 go back to a children's concert performed by six- to sixteen-year-old students of the composer. Most of them are set for piano of two or four hands, those composed for violoncello and piano form an enchanting addition under the title "3 Esquisses". What the gifted pedagogue put on paper on only two printed pages of melodic freshness, contrapuntal subtleties and humor testifies as much empathy to the children's world as to compositional sophistication.

Magnificently recorded by the duo Pi-Chin Chien, violoncello and Bernhard Parz, piano, this CD offers a musical and sonic wealth of first recordings that should not be missed.
Free audio samples of this new CD album!
CD programme / Tracklist:
Emile Jaques-Dalcroze (1865–1950)

Trois Morceaux op. 48 pour violoncelle et piano
Lied romantique
Sérénade
Bagatelle

Rythmes délaissés pour violoncelle et piano
Nr. I Chantant et bien rythmé
Nr. II Commodément
Nr. III Allegretto comodo
Nr. IV Gaîment animé

Suite op. 9 pour violoncelle et piano
Nr. I Allegro ma non troppo
Nr. II Andantino espressivo
Nr. III Allegretto con moto
Nr. IV Vivace

Trois Esquisses pour violoncelle et piano
Nr. I Allegretto vivace
Nr. II Andante cantabile
Nr. III Allegretto scherzando

World Premiere Recording


CD Album: Digipak 6 pages, Booklet 20 pages, multi-lingual


Tags: KeywordsEmile Jaques-Dalcroze Pi-Chin Chien Bernhard Parz 4250702801672