Sabrina Frey, Recorder & Bernhard Parz, Piano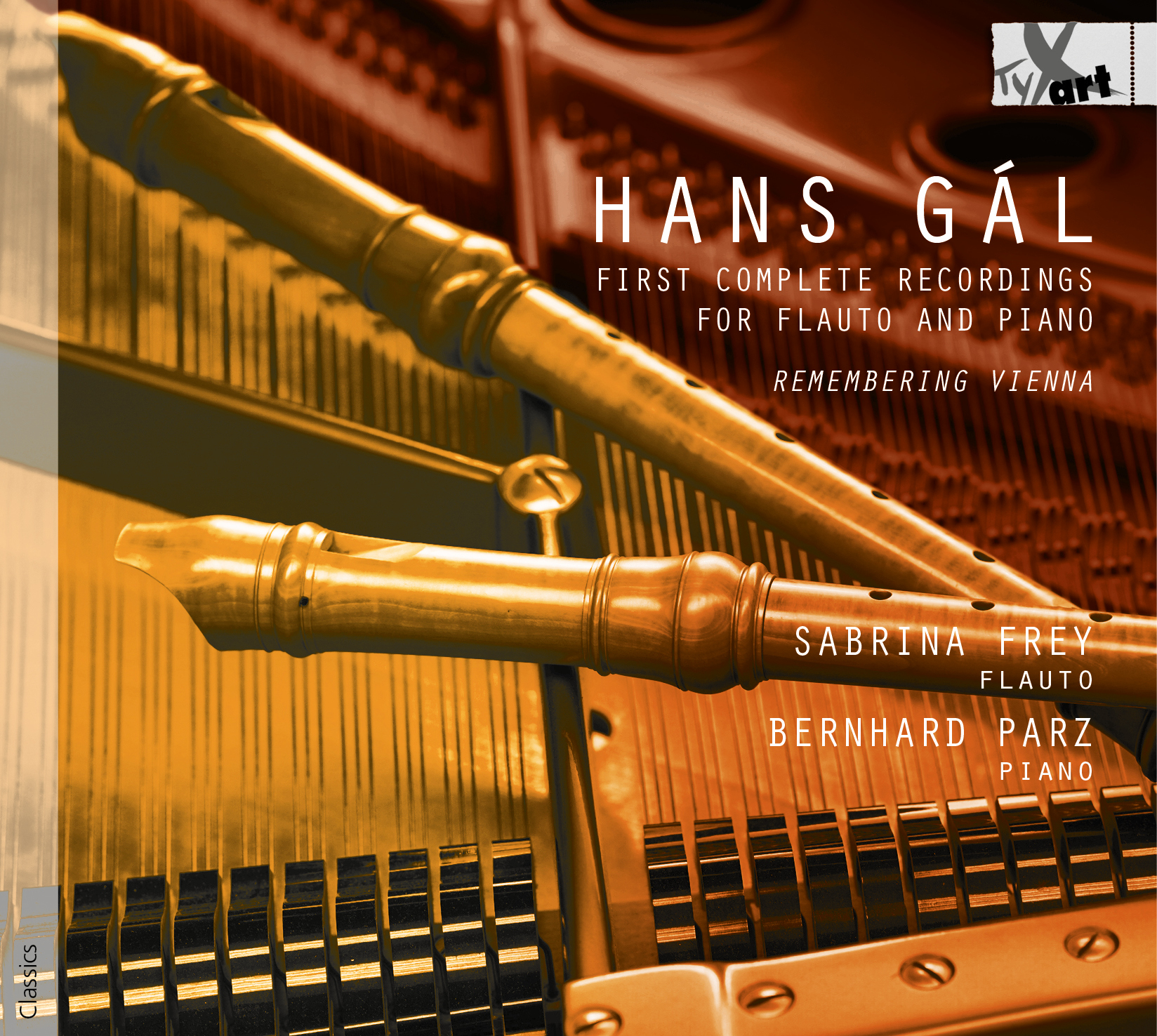 Hans Gál - First complete Recordings for Flauto and Piano – "Remembering Vienna"

The Austrian composer Hans Gál (1890–1987) was born in Brunn am Gebirge in Austria on August 5, 1890. Gál studied with Richard Robert (Vienna 1861 – Kaltenleutgeben 1924), one of the most respected piano teachers in Vienna, and in 1909, at barely 19 years old, passed the state examination at the New Vienna Conservatory founded that same year. Immediately afterwards, Robert offered him a position as a teacher of piano and harmony at the New Vienna Conservatory. Despite the hiatus of the First World War, being drafted to the front, and the existential hardship that came with this, he was able to compose, which testifies to his ability to remain artistically productive despite these external circumstances.
Despite the tough economic post-war conditions and galloping inflation, the late 1920s were a fruitful and extremely successful time for Hans Gál. Hitler's invasion and Austria's annexation to the German Reich in March 1938 also forced Hans Gál and his family into exile, in his case to England, where – thanks to private lessons and various teaching and other occasional jobs – he was able to continue his compositional work to some extent despite the turbulent conditions.

The late works or the affirmation of tradition
The majority of the works selected for this recording were composed during the last years of Gál's creative life in Scottish exile. During the last 25 years of his life, Gál dedicated himself above all to chamber music in a wide variety of instrumental combinations. The Concertino for treble recorder and piano op. 82, the Three Intermezzi for treble recorder and piano op. 103 and the Four Bagatelles op. 110a as well as the Sonatina for treble recorder solo op. 110b bear witness to a focus on chamber music, which he had turned to in addition to his compositions of larger formats. Gál remains true to tradition as a compositional guiding principle in these works and does not want to point to any final compositional "problems" or any new visionary ways in the sense of a "late" work, but rather continues to operate within the possibilities of classical keys, counterpoint and the principles of harmony.
His references are Mozart, Haydn, Mendelssohn, Schumann and, above all, Schubert and Brahms, with whom he dealt both intellectually and artistically throughout his life and to whom he dedicated extensive monographs. In contrast to Schoenberg, the melody is deliberately used as the main element of the musical form. In a way, his late works are a return to origins, a striving for the basic elements of melody, of "absolute melody" as understood by Gál in his analysis of Beethoven's music, melody that is typical of the folk-music repertoire.
[extract of the booklet text, Prof. Dr. Susana Zapke]
Free audio samples of this new CD album!
INTERNATIONAL PRESS REVIEW ABOUT THIS NEW ALBUM:
»[...] This is a very fastidious repertoire, which demands a lot of virtuoso skill from the soloist on the recorder, especially in the many pleasurable pieces. Sabrina Frey makes music technically superior and can concentrate entirely on the interpretation ...«
pizzicato.lu, BeNeLux, Remy Franck (April 19, 2020)
Album Presentation and Recommendation, Broadcast "TONART"
Radio "Deutschlandfunk Kultur", Germany (April 27, 2020)
»[...] The performances given here by Sabrina Frey and Bernhard Parz are simply wonderful, balancing Gál's seriousness and humor in equal measure.
A very delightful CD!«
The Art Music Lounge, An Online Journal of Jazz and Classical Music, USA (online, May 08, 2020)
CD programme / Tracklist:
Hans Gál (1890–1987)

Concertino for treble recorder and piano / für Altblockflöte und Klavier op. 82 (1961) *
I. Preludio
II. Scherzo lirico
III. Notturno
IV. Rondo capriccioso

Recorder Sonatina for treble recorder solo / Sonatina für Altblockflöte solo op. 110B (1983) **
Allegretto amabile
Andantino
Allegro energico

Three Small Pieces for Piano / Drei kleine Klavierstücke op. 64 (1933)
Humoresque
Melody
Scherzino

Four Bagatelles for treble recorder solo / Vier Bagatellen für Altblockflöte solo op. 110A (1983) **
Intrata
Buffoneria
Cantabile
Alla Danza

Three Intermezzi for treble recorder or flute and harpsichord or piano / Drei Intermezzi für Altblockflöte und Klavier op. 103 (1974) *
Andantino
Allegretto, quasi Minuetto
Allegra ma non troppo

Moment Musical for treble recorder solo / für Altblockflöte solo (1958) **
Moderato

* Premiere Recordings Flauto and Piano
** Premiere Recordings


CD Album: Digipak 6 pages, Booklet 24 pages, multi-lingual


Tags: Keywords Hans Gal Sabrina Frey Bernhard Parz 4250702801405
» Detailed CD booklet includes further info (bios, photos, etc.)
» Total playing time: 70min 57sec | Booklet Text: DE, EN, FR
» Format: 1 Audio-CD, Digipak 6 pages | Series "Classics"
» Order No.: TXA19140 | GTIN (EAN): 4250702801405 | © 2020
» CD available commercially or directly via TYXart
Further CDs with this Artists:
"Accademia dell'Arcadia - Roma 1710"
Further Info - Artists & Concert Dates etc.:
sabrinafrey.com
bernhardparz.com