Claudia Corona, Piano – Michael Dinnebier, Violin –
Sylvie Altenburger, Viola – Walter-Michael Vollhardt, Cello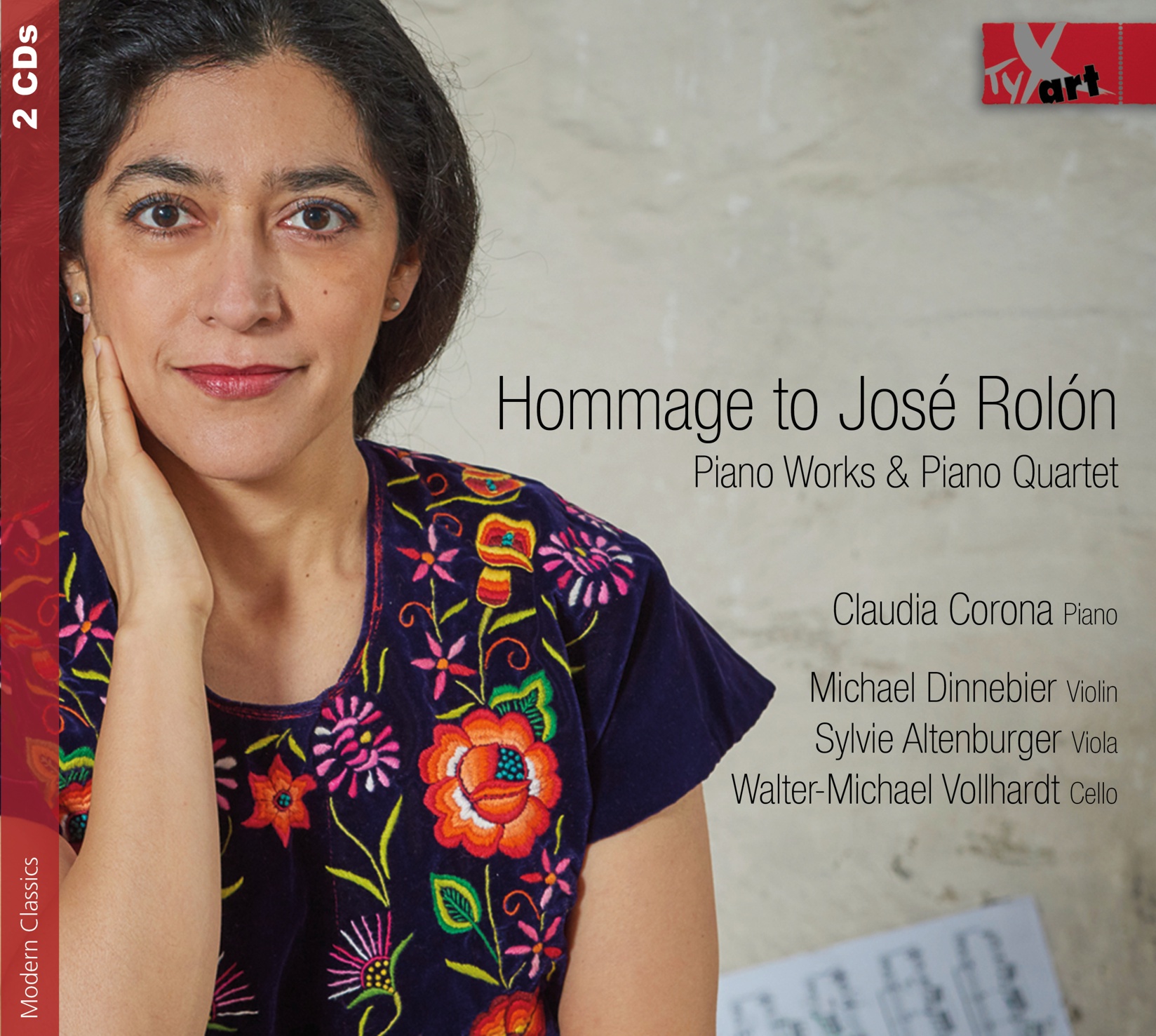 Series Modern Classics: Hommage to José Rolón: Piano Works & Piano Quartet

What happens with valuable works by composers that have not yet been properly acknowledged? This is what Mexican pianist Claudia Corona asked herself when she came across Rolón's work and realized that his music is still widely unknown.
Mexican composer José Rolón (1876–1945), born in the countryside surrounding Guadalajara, had the good fortune to study in Paris with such greats as Moritz Moszkowski, Paul Dukas and Nadia Boulanger and to let the tremendous musical wealth of that era influence his work.

With this exclusive new recording, Mexican pianist Claudia Corona ― together with Michael Dinnebier (Violin), Sylvie Altenburger (Viola) and Walter-Michael Vollhardt (Cello) ― pays tribute to her fellow countryman, José Rolón, who is considered to be one of the most prestigious Mexican composers of the 20th century.
Free Audio Samples of this double CD album!
CD programme (Tracklist):
CD1
Les papillons blancs * 02:51
Cinco piezas para piano Op. 12 * 15:26
Madrigal tapatío * 02:18
Valse Caprice Op. 14,
d'après « Sur les vagues » de Juventino Rosas 09:44
Tres danzas indígenas mexicanas (jaliscienses) 05:50
In tempo di Minuet (manuscript from Op. 3) * 03:04

CD 2
Cinq petits morceaux Op. 3 * 14:14
Dos estudios para piano * 04:48
Valse intime 03:20
Cuarteto para piano y cuerdas Op. 16 28:29

* World Premiere Recordings


CD Album: Digipak 6 pages, Booklet 24 pages, multi-lingual



Tags: Rolón Mexico Corona Dinnebier Altenburger Vollhardt
» Detailed CD booklet includes further info (bios, photos, etc.)
» Total playing time: 89min 43sec | Booklet Text: DE, EN, ES, FR
» Format: 2 Audio CDs | Modern Classics | Release: from ~04/2019
» Order No.: TXA18120 | GTIN (EAN): 4250702801207 | (p)+(c)2019
» CD available commercially or directly via TYXart
Another CD with Claudia Corona:
"Mexican Piano Concertos"
Further information and concert dates:
www.claudiacorona.com