Claudia Corona, Piano – Michael Dinnebier, Violin –
Sylvie Altenburger, Viola – Walter-Michael Vollhardt, Cello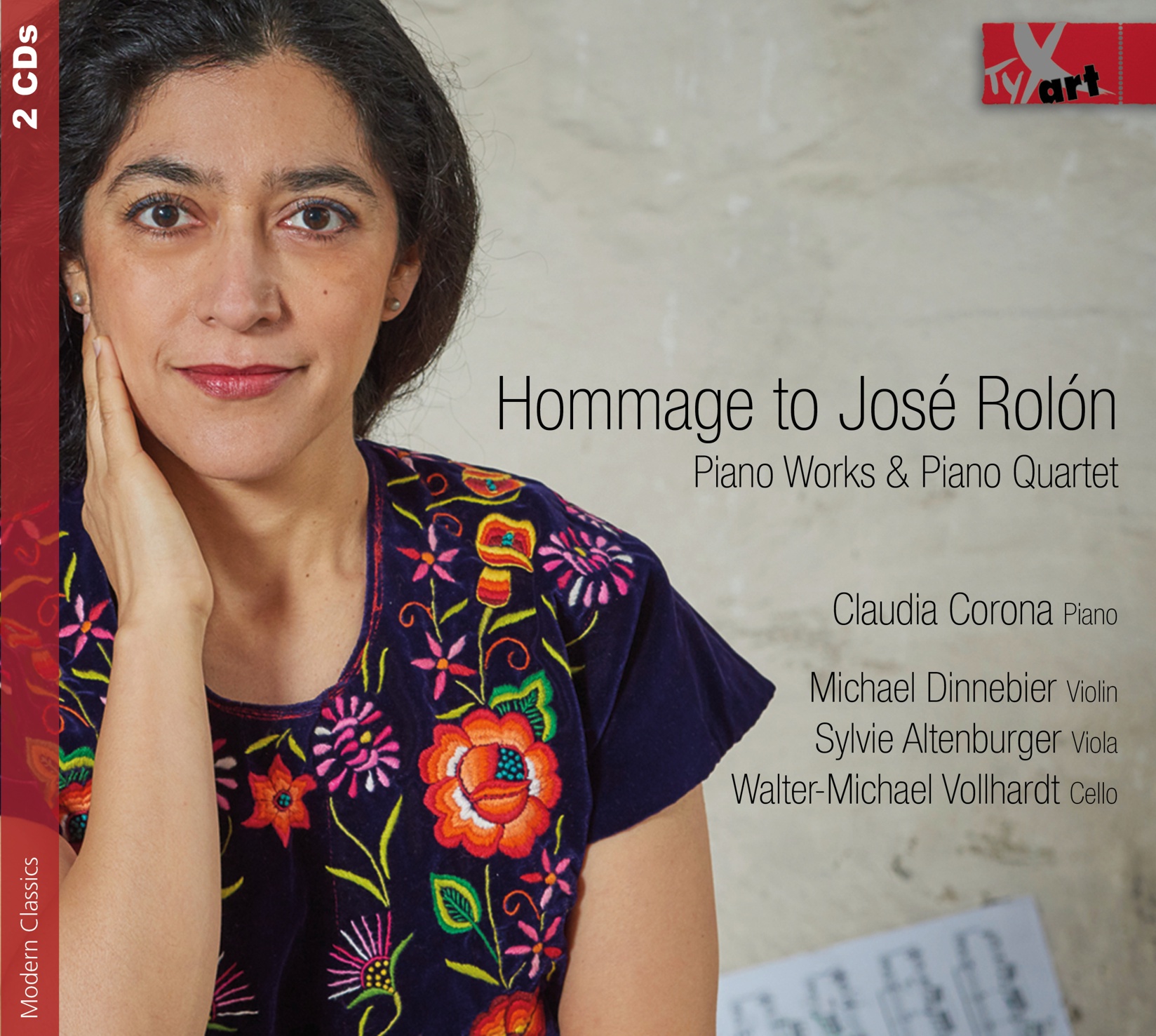 Series Modern Classics: Hommage to José Rolón: Piano Works & Piano Quartet

What happens with valuable works by composers that have not yet been properly acknowledged? This is what Mexican pianist Claudia Corona asked herself when she came across Rolón's work and realized that his music is still widely unknown.
Mexican composer José Rolón (1876–1945), born in the countryside surrounding Guadalajara, had the good fortune to study in Paris with such greats as Moritz Moszkowski, Paul Dukas and Nadia Boulanger and to let the tremendous musical wealth of that era influence his work.

With this exclusive new recording, Mexican pianist Claudia Corona ― together with Michael Dinnebier (Violin), Sylvie Altenburger (Viola) and Walter-Michael Vollhardt (Cello) ― pays tribute to her fellow countryman, José Rolón, who is considered to be one of the most prestigious Mexican composers of the 20th century.
Free Audio Samples of this double CD album!
INTERNATIONAL PRESS REVIEW ABOUT THIS NEW ALBUM:
Album Review and Tip!
»[...] Throughout this 2-Disc set, Claudia Corona's playing is always exemplary. From the highly expressive touches she brings to the beautiful Les papillons blancs to the technical demands of the 2 Etudes for Piano, she has already set the bar high for this music and will now be the gauge by which to compare any future recordings. [...]«
Classical Music Sentinel - recommendations of the best in classical music recordings, Kanada/international (04/2019)
CD Presentation and Recommendation!
»Mexican composer José Rolon created about one hundred years ago a music influenced by the romantic predecessors and his own cultural origins. Claudia Corona's playing immediately reveals a close familiarity with Rolon's work. It shows a sense of security and freedom of expression that directly conveys the charm of the various piano pieces. In the quartet the three strings join her with the same naturalness and make the work blossom intensively.«
pizzicato.lu - Remy Franck's Journal about Classical Music, BeNeLux/international (04/2019)
CD Review and Recommendation!
»[...] Claudia Coronas hochprofessioneller Einsatz für ihren kreativen Landsmann ist aller Ehren wert. Da bereitet das Hören wirklich Freude. Und: Da klingt José Rolón authentisch.«
Newspaper 'Badische Zeitung' - Klassik - Johannes Adam, Germany (20 Mar 2019)
CD Review and Tip!
»[...] Diese Werke zeigen Claudia Coronas virtuoses Potenzial ebenso wie ihr Temperament. Dass sie auch eine exzellente Kammermusikerin ist, beweist sie in Rolóns fast brahmsisch anmutendem Klavierquartett, das sie mit drei befreundeten Musikern eingespielt hat. Selbst Kenner würden da nie auf einen Mexikaner tippen.«
Newspaper 'Stuttgarter Zeitung', Germany (05 Apr 2019)
CD Review & Recommendation
Portal musicalifeiten.nl, Niederlande/international (online 03/2019)
CD Presentation and Review
Newspaper 'Stuttgarter Nachrichten', Germany (04/2019)
Album Presentation and Recommendation!
Newspaper 'Frankenpost', Germany (04/2019)
CD Review and Tip!
Newspaper 'Wiener Zeitung', Austria (18 Mar 2019)
CD programme (Tracklist):
CD1
Les papillons blancs * 02:51
Cinco piezas para piano Op. 12 * 15:26
Madrigal tapatío * 02:18
Valse Caprice Op. 14,
d'après « Sur les vagues » de Juventino Rosas 09:44
Tres danzas indígenas mexicanas (jaliscienses) 05:50
In tempo di Minuet (manuscript from Op. 3) * 03:04

CD 2
Cinq petits morceaux Op. 3 * 14:14
Dos estudios para piano * 04:48
Valse intime 03:20
Cuarteto para piano y cuerdas Op. 16 28:29

* World Premiere Recordings


CD Album: Digipak 6 pages, Booklet 24 pages, multi-lingual



Tags: Rolón Mexico Corona Dinnebier Altenburger Vollhardt
» Detailed CD booklet includes further info (bios, photos, etc.)
» Total playing time: 89min 43sec | Booklet Text: DE, EN, ES, FR
» Format: 2 Audio CDs | Modern Classics | Release: from ~04/2019
» Order No.: TXA18120 | GTIN (EAN): 4250702801207 | (p)+(c)2019
» CD available commercially or directly via TYXart
Another CD with Claudia Corona:
"Mexican Piano Concertos"
Further information and concert dates:
www.claudiacorona.com