Claudia Corona, Piano
Nuremberg Symphony – Gregor Bühl, Conductor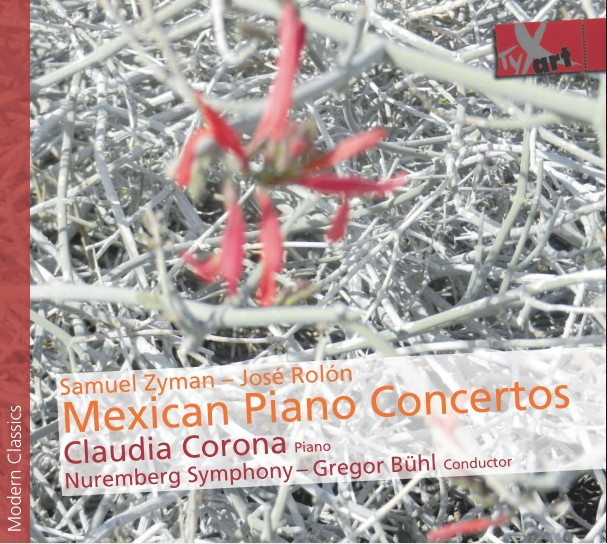 Series Modern Classics

– Premiere recordings of Mexican Piano Concertos –
On this TYXart CD, the pianist Claudia Corona and the Nuremberg Symphony Orchestra, conducted by Gregor Bühl, present exciting contemporary music from Mexico, composed by Samuel Zyman and José Rolón.
Zyman fascinates us with his incredible rhythmical drive — although his music is packed in a rather conventional style, it is filled with his unmistakable individuality.
Rolón delights us with his unique language and his references to traditional music — the fusion of Mexican songs and rhythms, with a touch of impressionism, creates a tremendous effect.
Claudia Corona decided to record these works for piano and orchestra after she had played them with several Mexican orchestras. She realised that performances of these magnificent works are extremely rare even in her homeland and that beyond Mexican borders they are almost completely unknown.
This recording will enchant you with its brilliant interpretation, and it will, for the first time, bring these Piano Concertos to a new international audience.
»Though very different these equally interesting Mexican piano concertos have been recorded in lively performances. We confidently recommend the new TYXart release to any music lover eager to enlarge his own symphonic horizon.
Un programme intéressant et innovant, bien interprété et à recommander à chaque mélomane désireux d'élargir son horizon symphonique concertant.«
pizzicato.lu, Remy Franck (11 July 2013)
»Répertoire 9/10 – Interprétation 9/10«
crescendo-magazine.be, Jean-Baptiste Baronian (21 June 2013)
»[...] Along with the Zyman, [the Rolón] is presented here in a world première version recording, and it certainly is nice to see them both enrich the piano concerto repertoire. [...]
Only one year old, and the new music label TYXart has already released its share of very good recordings presenting "new" works, and this so far is one of the best.
Don't be skeptical as to the relative obscurity - as far as recordings are concerned - of pianist Claudia Corona and conductor Gregor Bühl. They can spar with the best. [...]
If you're always on the lookout for good, unheard pieces of music worth discovering, this is an opportunity not to be missed. «
classicalmusicsentinel.com, Jean-Yves Duperron (August 2013)
»[...] I cannot over-emphasize the care and zest with which these musicians approach this enjoyable program, and the recording quality is excellent. Without question, this disc is a delightful discovery.«
Fanfare Magazine, USA, Classical Music Reviews & Magazine (Mar/Apr 2014)
»[...] Claudia Corona gives shape to his (Rolón's) top rhythmic Piano Concerto in a lively manner and luminous, supported by the Nuremberg Symphony under Gregor Bühl.«
FONO FORUM (09/2013)
»[...] Corona plays brilliantly, and the recording quality is warm, rich and detailed. An enjoyable, offbeat release.«
theartsdesk.com, Classical music reviews, news & interviews (25 Jan 2014)
»[...] CD Tip - Classical Lost and Found
[…] Mexican pianist Claudia Corona, who will be new to most, makes a strong impression with this release. A technically brilliant performer, her articulate phrasing, carefully judged dynamics and innate sense of Latin rhythms ensure superb interpretations of both concertos. She receives outstanding support from German conductor Gregor Bühl and the Nuremburg Symphony [...]«
clofo.com (21 Oct 2014)
»[...] Samuel Zyman was born in Mexico City in 1956 but later educated at Juilliard. His piano concerto, from the late 1980s, shows his romantic bent at its most uninhibited and fiery. Jose Rolon (1876-1945) is a new name to me. Also Mexican, Rolon - from an earlier generation - wrote in a more old-fashioned, French-influenced, picturesque manner. His pianism and scoring are quite elaborate. Lovers of big, exciting, virtuosic, in-thegrand- manner modern piano concertos will want to check out this release. The music, the playing, and the sonics are full-throated, rich, detailed, high-voltage, and colorful - full of bravura and bravado. [...]«
American Record Guide (January/February 2014)
»[...] Claudia Corona makes an impression as a soloist on both Concertos with vigorous rythmic accuracy and structural clarity as does the Nuremberg Symphonic Orchestra under Gregor Bühl's direction making themselves heard, comitted and with great dedication in this excellent CD edition,(also throughout the comprehensive booklet in 5 languages) as advocates of this music, little known in our country.«
das Orchester, Klaus Angermann (11/2013)
»CD Recommendation!«
expeditionaudio.com, Paul Ballyk (07 Oct 2013)
»General Impression: Maximum Score! 10/10«
klassik-heute.de, Michael B. Weiß (05 July 2013)
»WDR 3 TonArt: Interview«
WDR 3 TonArt, Broadcast (20 June 2013)
»Radio Stephansdom Vienna: CD of the day (25 June 2013) and CD of the week — An exciting discovery!«
CD review / CD recommendation / CD of the week
»CD Tip — Thüringische Landeszeitung«
TLZ, Wolfgang Hirsch (15 June 2013)
»CD Tip — Badische Zeitung«
Regio-Klassik, Fabian Ober (19 July 2013)
»CD Tip — Frankenpost«
Feuilleton, Michael Thumser (19 July 2013)
CD programme (Tracklist):
Samuel Zyman (*1956)
Concierto para Piano y Orquesta (1)
I Allegro molto 12:40
II Adagio 06:12
III Presto 05:44
(Publisher: Theodore Presser Company / ASCAP)

José Rolón (1876-1945)
El Festín de los Enanos / Das Festmahl der Zwerge
Symphonic Scherzo Op.30 07:57
(Publisher: Ediciones Mexicanas de Música, A.C.)

José Rolón
Concierto para Piano y Grande Orquesta Op.42 (2)
I Allegro enérgico 11:18
II Poco lento – Andante 05:01
III Allegro con fuoco 09:38
(Publisher: Ediciones Mexicanas de Música, A.C. / Score and materials provided by the Edwin A. Fleisher Collection of Orchestral Music at the Free Library of Philadelphia / Revised by Claudia Corona)

Premiere Recordings: (1) Symphonic Version, (2) Version of 1935


CD-Album: Digipak 6 pages, Booklet 28 pages, multi-lingual


Tags: Keywords Claudia Corona Nuremberg Symphony Gregor Bühl Conductor Mexican Piano Concertos Samuel Zyman José Rolón New CD Contemporary Piano Music Orchestra Music GTIN EAN 4250702800248 Order Number TXA 13024 TYXart LC Labelcode 28001