Tabea Debus, Recorders – Claudia Norz & Henry Tong, Violins – Jordan Bowron, Viola – Jonathan Rees, Cello & Viola da Gamba – Tom Foster, Harpsichord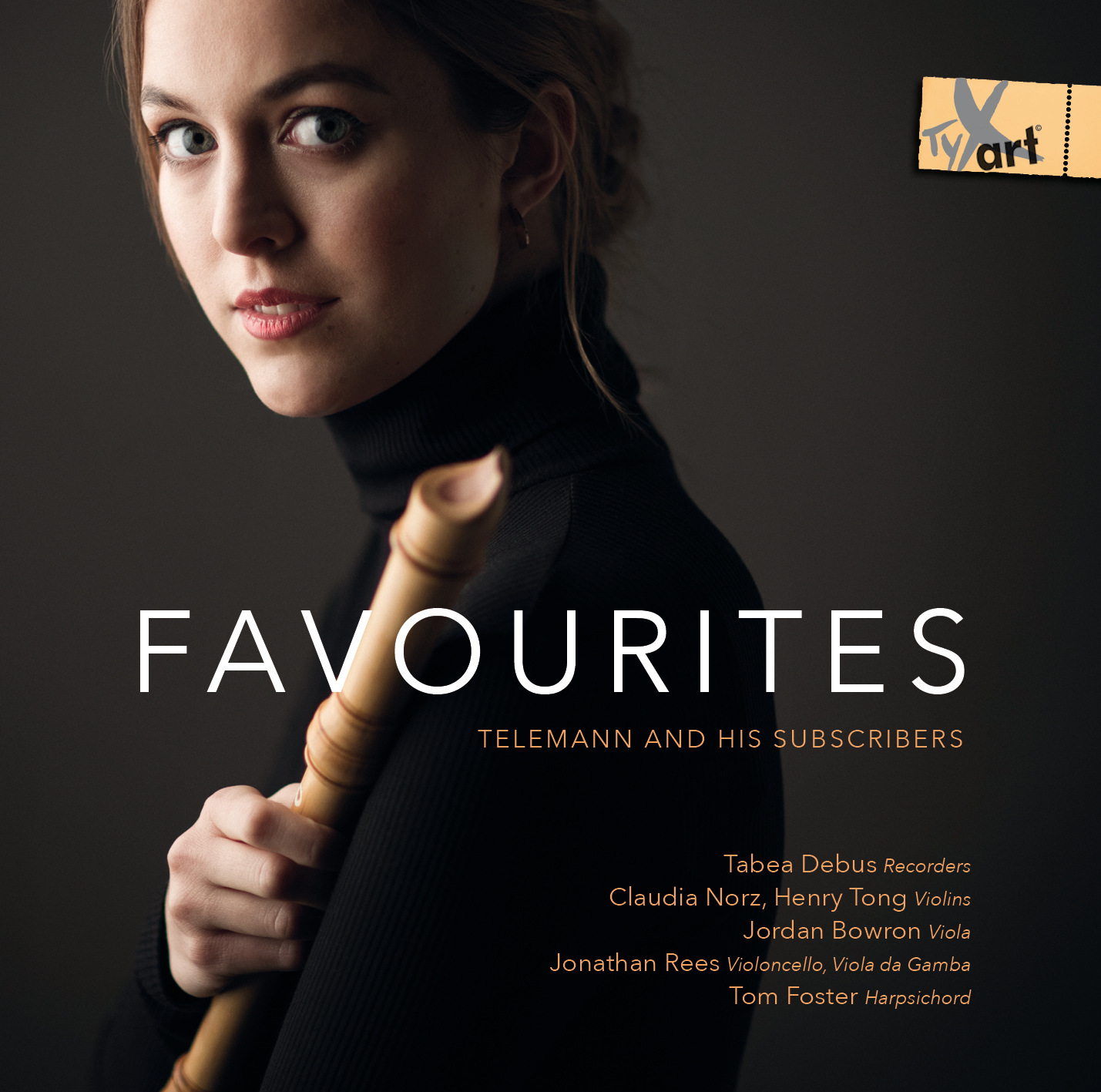 Works by Telemann, J.S. Bach, Handel and Blavet

"Telemann alone has above mere fame been raised." (J. Mattheson)
Georg Philipp Telemann (1681—1767) was known not only for his modernism and inventiveness but also his business sense. Through subscription schemes his music influenced his contemporary subscribers J.S. Bach, Handel and Blavet.

Telemann's profound knowledge of the recorder and its capacity is evident throughout the entire Sonata in C major (TWV41:C2). Aware of how to employ the recorder's charm, his writing encompasses the whole range of the recorder, highlighting its highest register.
The sonata opens with a generous Cantabile, followed directly by an Allegro brimming with playful humour and virtuosity. The Grave introduces a more subdued, intimate and longing affect to the sonata. But not for long: the final Vivace is a wake-up call, juxtaposing the opposing ends of the recorder's range. [...]
[Extract of the CD Booklet]

Be inspired by the young and fine Ensemble: Tabea Debus ― Recorders (her fourth TYXart CD already!), Claudia Norz and Henry Tong ― Violins, Jordan Brown ― Viola, Jonathan Rees ― Cello and Viola da Gamba, Tom Foster ― Harpsichord.
Free Audio Samples of this CD album!
Release Concerts and further info see artist's website!
INTERNATIONAL PRESS REVIEWS ABOUT THIS NEW ALBUM:
Album Presentation and Recommendation!
»Recorder player Tabea Debus is one of the most impressive young musicians of her generation. [...] This is an extremely well thought out programme of music that brings together four interlinked composers. The playing of Tabea Debus and her companions is outstanding, with an enticing combination of musical sensitivity and commendably undemonstrative virtuosity.«
Andrew Benson-Wilson : Early Music Reviews +, UK / international (08/07/2019)
CD Review and Tip!
»Recorder player par excellence Tabea Debus strikes again. [...] This new CD not only offers a refined and polished listening experience, but also shines a light on the communal musical life of Baroque composers. Gee, I wonder what a 1729 Woodstock music festival would have been like. Barock anyone?«
Classical Music Sentinel - recommendations of the best in classical music recordings, Kanada / international (07/2019)
CD Presentation and Testimonial!
Kulturjournal/Culture Journal Regensburg/East Bavaria, Germany (07/2019)
Broadcast (Excerpts) and Album Recommendation!
Interpretation: 5 Stars ✩✩✩✩✩
WDR3 TonArt, Germany (Aug 29, 2019)
Radio Broadcast - CD Tip: Tabea Debus: Favourites
Radio Bremen, Germany (Oct 30, 2019)
CD programme / Tracklist:
Favourites – Telemann and his Subscribers

01–04 Georg Philipp Telemann (1681–1767) Sonata in C major for recorder and Basso continuo, TWV41:C2 (07:30)

05–09 Sonata after Georg Philipp Telemann), TWV 22:8 & 21:27, and George Frideric Handel (1685–1759), HWV 17 & 99 (arr. Tabea Debus) (13:51)

10–12: Concerto after Johann Sebastian Bach (1685–1750), BWV 35 & 156 (arr. Tabea Debus) (11:30)

13–16 Sonata after Georg Philipp Telemann, TWV 21:27, and George Frideric Handel, HWV 21 (arr. Tabea Debus) (09:37)

17–22 Suite after Michel Blavet (1700–1768), Le jaloux corrigé, and Georg Philipp Telemann, TWV 21:27 (arr. Tabea Debus) (11:27)

23–26 Georg Philipp Telemann Concerto in F major for recorder, strings and Basso continuo, TWV 51:F1 (12:39)



Tags: Favourites Telemann Subscribers Debus Recorders
» Detailed CD booklet includes further info (bios, photos, etc.)
» Total playing time: 66min 34sec | Booklet Text: DE, EN, FR, JP
» Recording: 11/2017, St Marry's Harrow-on-the-Hill/UK | LC28001
» Format: 1 Audio-CD | Series "Early Music " | RD int'l from 08/0219
» Order No.: TXA18107 | GTIN (EAN): 4250702801078 | © 2019
» CD available commercially or directly via TYXart
Another CDs with Tabea Debus:
"tr!jo Sonatas - mis en tr!jo"
"XXIV Fantasie per il Flauto"
CANTATA PER FLAUTO
Artist Info & Concert Dates etc.:
www.tabeadebus.com