Tabea Debus, Recorders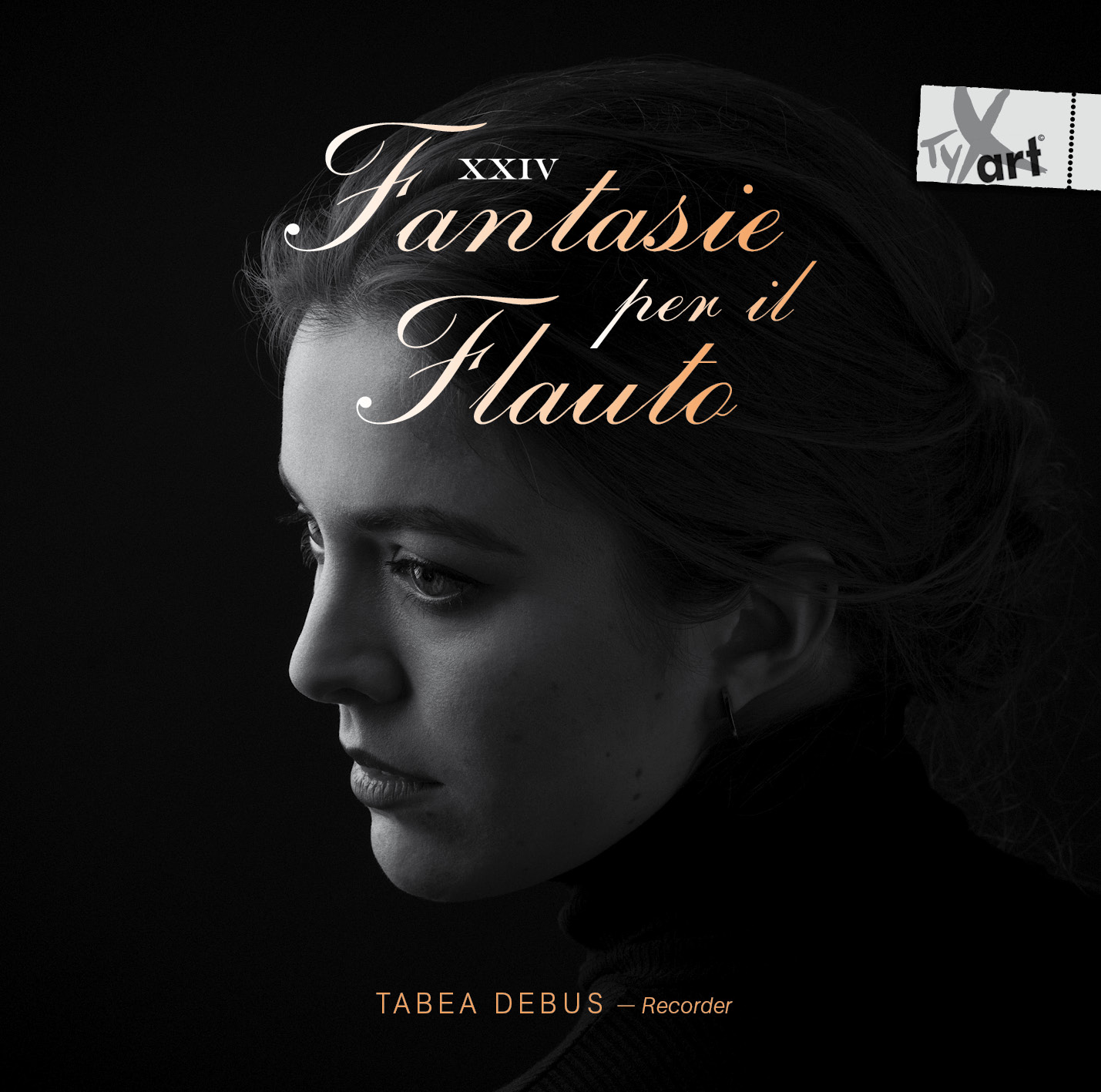 Works by Telemann and contemporary composers:
Howard, Penman, Leith, Chadburn, Miyachi, de Wardener, Gieshoff, Corp, Eggert, Mullov-Abbado, Zabel and Matthews (Premiere Recordings!)

Even during his lifetime Georg Philipp Telemann (1681–1767) was not only held in high regard by his colleagues, but was also known for his many skills. Amongst them were his ability to compose pieces in rapid succession, producing one earworm after the other, and his sense for music business and publishing. Last but not least Telemann was renowned for his modern zeitgeist, which enabled him to embrace the evolving musical tastes of his time and the preferences of his audience. His compositional output encompasses influences and musical fashions from many European counties, melting them into the so-called mixed style, the goût réuni.

This mix of styles is an especially prominent feature in his XII Fantasie per il Flauto senza Basso (c. 1733, Hamburg). These Fantasias for an unaccompanied flute juxtapose German counterpoint with Italian virtuosity, French and English dance movements with Polish folk infused dances. Perhaps this is what Telemann's choice of title, 'Fantasie', refers to: a fanciful, imaginative, daring, and fantastic line-up of musical languages. This invites the idea of exploring the continuing relevance of these ingenious pieces by adding the 21st century to the mosaic of compositional styles.
On the occasion of Telemann's 250th anniversary of death in 2017 the City Music Foundation and Tabea Debus have commissioned twelve contemporary pieces based on each of the Fantasias. All of these freshly-penned pieces are reflections on thematic, harmonic or rhythmic material taken from the Fantasias, a (re-) interpretation of musical ideas, a reply to Telemann's musical thoughts.
This recording aims not only at documenting the ever expanding repertoire for solo recorder, but also at showcasing so-far "unheard of" ways of listening to seemingly 'old" music. It strives to reveal the continuous relevance of Telemann's music in general and his twelve Fantasias for solo flute in particular.
(extract of the booklet text)

A Production in cooperation with the City Music Foundation London.
Video "XXIV Fantasie per il Flauto"
Free Audio Samples of this CD album!
INTERNATIONAL PRESS REVIEW ABOUT THIS NEW ALBUM:
»[...] Everything has merit [...] Debus is a charismatic virtuoso.«
Newspaper "The Times", United Kingdom (April 18, 2018)
»There is more than enough classical music around to keep performers happy for hundreds of years to come, but without new composers and compositions, music as a creative art form will die. So this recording from recorder player Tabea Debus is particularly important [...]
The range of contemporary musical styles is wide, and call on Tabea Debus's impressively wide range of virtuoso abilities, including singing into, and alongside, the recorders. She uses nine different instruments, including a couple of voice-flutes. [...]
This is a very impressive venture, both by a young performer who is clearly marking out an impressive musical career, and also by the more seasoned and august City Music Foundation [...]«
Andrew Benson-Wilson, Early Music Reviews +, United Kingdom (online, April 29, 2018)
CD Review and Recommendation - "Fabulous!"
Opus Klassiek, The Netherlands (online 04/2018)
Review and CD Tip!
Glarean Magazine, Switzerland (April 30, 2018)
»New CDs - presented. SWR2 Alte Musik / Early Music - CD Tip!«
Radio programme SWR2, Germany (April 12, 2018)
Radio Interview & CD Presentation
Radio WDR 3 TonArt, Germany (Broadcast April 24, 2018)
»[...] Debus's eloquence of phrasing and unfailingly intelligent musicianship, together with a charismatic virtuosity rare in any branch of music making, brings life to all of this music, whatever its epoch, whatever the approach. It is a deeply gifted artist who can make listening to twenty-four solo recorder fantasias, let alone just Telemann's twelve, such a compelling and rewarding experience.«
Recorder Magazine, United Kingdom (06/2018)
Review and Tip!
»[...] This enjoyable recital spins some surprises along the way. The use of the recorders in these Flute Fantasias offers variety and the contemporary reflections, whether standalone or interactive, are never less than fluent and engaging.«
MusicWeb INTERNATIONAL, United Kingdom / int'l (online 06/2018)
Klassik Heute Recommendation and CD of the Week!
Classification: In all Categories (Artistic Quality / Sound Quality / General Impression) max. Points!
klassik-heute.com, Germany/international (August/September 2018)
»[...] An excellent recording presenting a mature artist.«
Windkanal - The Forum for the Recorder, Germany (Edition 3/2018)
»[...] Tabea Debus – an exceptional talent amongst the young generation of recorder players – concludes her extraordinary and probably unique project "IIXV Fantasie per il Flauto" with an equally extraordinary CD recording. A terrific idea – terrifically executed!«
Tibia - Magazine for the Recorder, Germany (Edition 4/2018)
CD Review and ♪♪♪♪ Recommendation!
pizzicato.lu, BeNeLux (online 04/2018)
CD programme / Tracklist:
XXIV Fantasie per il Flauto

1-3 Georg Philipp Telemann (1681-1767) Fantasia 1, TWV 40:2 & Dani Howard (born 1993) Two and a half Minutes to Midnight

4-8 Georg Philipp Telemann Fantasia 2, TWV 40:3 & Alastair Penman (born 1988) Mirrored Lines

9-11 Georg Philipp Telemann Fantasia 3, TWV 40:4 & Oliver C Leith (born 1990) bendy broken telemann no. 3

12-15 Leo Chadburn (born 1978) Si la passion pour les plantes exotiques & Georg Philipp Telemann Fantasia 4, TWV 40:5

16-18 Fumiko Miyachi (born 1979) Air & Georg Philipp Telemann Fantasia 5, TWV 40:6

19-21 Georg Philipp Telemann & Max de Wardener (born 1972) Fantasia 6, TWV 40:7

22-24 Arne Gieshoff (born 1988) Entr'acte & Georg Philipp Telemann Fantasia 7, TWV 40:8

25-28 Georg Philipp Telemann Fantasia 8, TWV 40:9 & Ronald Corp (born 1951) Meditation and Gigue

29-33 Georg Philipp Telemann Fantasia 9, TWV 40:10 & Moritz Eggert (born 1965) Fantasia in Stereo

34-38 Georg Philipp Telemann & Misha Mullov-Abbado (born 1991) Fantasia 10, TWV 40:11

39-44 Georg Philipp Telemann Fantasia 11, TWV 40:12 & Frank Zabel (born 1968)...fizzling out...

45-47 Colin Matthews (born 1946) Meditation after Telemann: 12. Fantasie & Georg Philipp Telemann Fantasia 12, TWV 40:13

Incl. World Premiere Recordings (contemporary compositions)



Tags: Keywords Telemann XXIV Fantasie per il Flauto Debus Recorders 4250702801054 TXA18105 TYXart
» Detailed CD booklet includes further info (bios, photos, etc.)
» Total playing time: 79min 51sec | Booklet Text: DE, EN, FR, JP
» Recording: St. Mary's Harrow-on-the-Hill, London/UK
» Format: 1 Audio-CD | Series "Classics" | RD int'l from 05/0218
» Order No.: TXA18105 | GTIN (EAN): 4250702801054 | LC28001
» CD available commercially or directly via TYXart
Another CD with Tabea Debus:
CANTATA PER FLAUTO
Further new CDs coming in 2019!
Artist Info & Concert Dates etc.:
tabeadebus.com