Tabea Debus, Recorders —
Lea Rahel Bader, Viola da Gamba — Johannes Lang, Harpsichord & Chamber Organ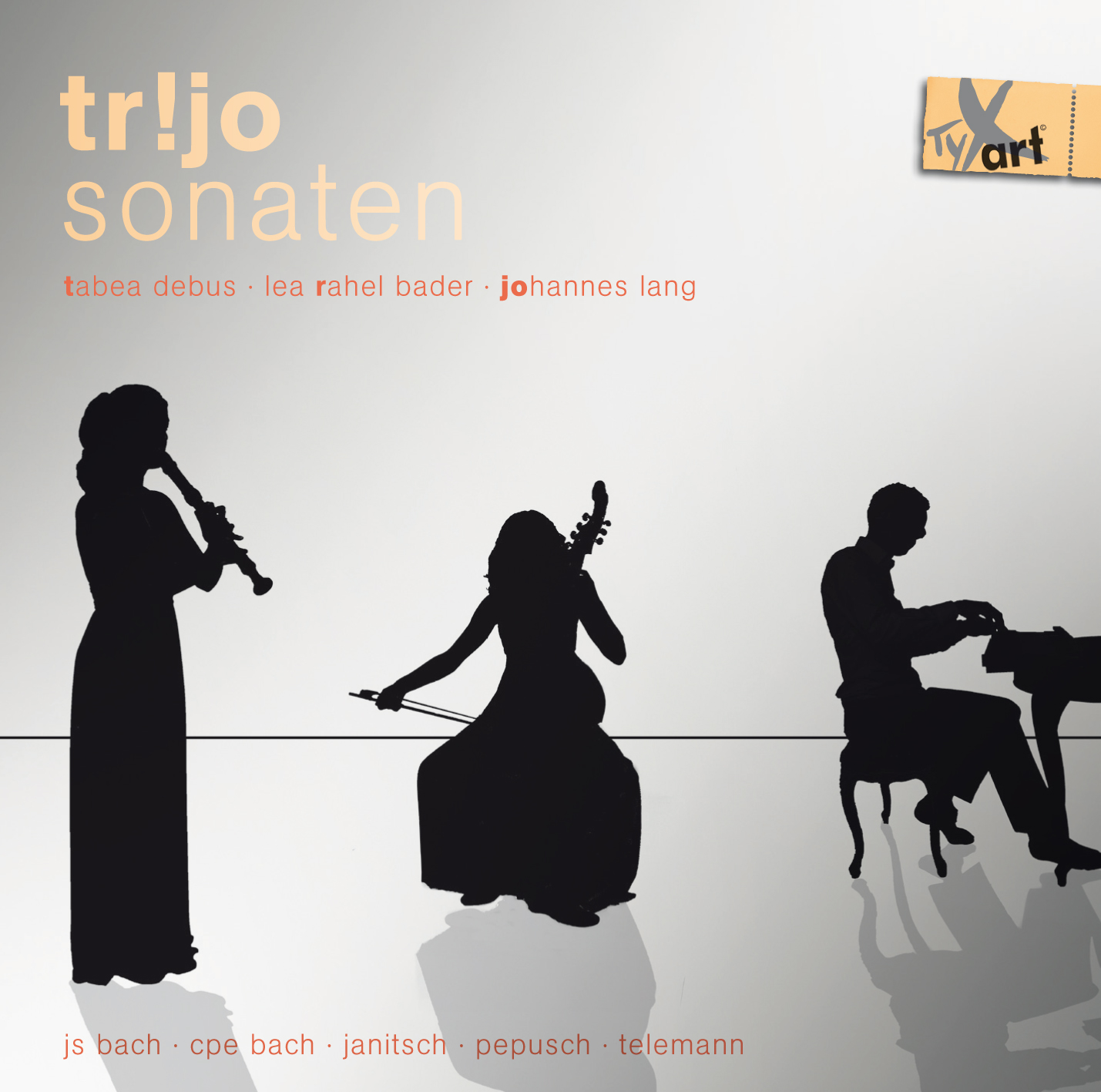 Works by J.S. Bach, C.P.E. Bach, Janitsch, Pepusch and Telemann

The tr!jo sonatas present a fresh and unique perspective on music from the 18th century. Inspired by the French baroque "mis en concert" technique, pieces originally scored for solo harpsichord are orchestrated for a larger chamber music setting. According to Carl Philipp Emanuel Bach this approach can also be applied to some of his father's compositions: "Bach's clavier fugues can be set out for as many instruments as they have voices; no voice fails to receive its proper share, and every one is carried through properly." (Carl Philipp Emanuel Bach, 27th of February 1788)


"Tabea Debus, Lea Rahel Bader and Johannes Lang are indeed a trio with an exclamation mark. Their joy in making music fascinates and wins over new listeners, as shown by the audience's glowing support and ovation." – Newspaper 'Westfalen Blatt'

As tr!jo, Tabea Debus (recorders), Lea Rahel Bader (viola da gamba and cello) and Johannes Lang (harpsichord and chamber organ) discover and arrange new repertoire to fit their flexible instrumentation, experimenting with a variety of musical styles. Founded in 2012, tr!jo won the audience award and second prize at the 2nd Berlin Bach Competition in 2015. Since 2017 tr!jo regularly collaborates with Daniel Trumbull (harpsichord), with whom they were awarded the audience prize and second place at the XVIII. Biagio Marini Competition in 2017. tr!jo regularly performs in venues throughout Europe, and has already appeared at the Konzerthaus Vienna, St. John's Smith Square in London and the Schlosskapelle Köthen.
Free Audio Samples of this CD album!
INTERNATIONAL PRESS REVIEWS ABOUT THIS NEW ALBUM:
Album Review and Tip!
»A highly pleasant presentation of original baroque trio sonatas and other pieces arranged by Tr!jo for this recording project. Tr!jo is comprised of Tabea Debus (Recorders), Lea Rahel Badler (Viola da Gamba) and Johannes Lang (Organ/Hpsd). They each bring a high level of expression, grace and finesse to the trio and in doing so create a unified sound that well projects the three voices that form each piece. And surprisingly enough, it's the pieces by the lesser-known composers Johann Gottlieb Janitsch and John Christopher Pepusch that I find the most entertaining. [... an] excellent TYXart recording.«
Classical Music Sentinel - recommendations of the best in classical music recordings, Kanada/international (04/2019)
Klassik Heute Recommendation!
»Classification: In all Categories (Artistic Quality / Sound Quality / General Impression) max. Points!«
klassik-heute.com, Germany/international (06/2019)
CD Presentation and Testimonial!
Kulturjournal/Culture Journal Regensburg/East Bavaria, Germany (04/2019)
Broadcast (Excerpts) and Album Recommendation!
Radio SWR2 - Broadcasting Coorp., Programme "Early Music - New CDs", Germany (04/2019)
CD programme / Tracklist:
tr!jo Sonatas - mis en tr!jo

01-04 Georg Philipp Telemann (1681–1767)
Orgelsonate in D-Dur (arr. tr!jo) 07:27

05-08 Johann Gottlieb Janitsch (1681–1767)
Orgelsonate in d-Moll (arr. tr!jo) 11:34

09-11 Johann Sebastian Bach (1685–1750)
Gambensonate Nr. 3 in g-Moll, BWV 1029 (arr. tr!jo) 15:47

12 Carl Philipp Emanuel Bach (1714–1788)
Presto, from: 12 kleine Stücke, W 81 / H 600 (arr. tr!jo) 01:35

13-15 Johann Sebastian Bach (1685–1750)
Orgeltriosonate Nr. 3 in d-Moll, BWV 527 (arr. tr!jo) 16:51

16 Carl Philipp Emanuel Bach (1714–1788)
Polonoise, from: 12 kleine Stücke, W 81 / H 600 (arr. tr!jo) 02:20

17-20 Johann Christoph Pepusch (1667–1752)
Triosonate Nr. 3 in a-Moll für Violine (Blockflöte), Viola da Gamba und b.c. 09:32

21 Carl Philipp Emanuel Bach (1714–1788)
Allegro, from: 12 kleine Stücke, W 81 /H 600 (arr. tr!jo) 01:19

22-24 Georg Philipp Telemann (1681–1767)
Triosonate in F-Dur, TWV 42:F3 für Blockflöte, Viola da Gamba und b.c.
from: Essercizii Musici (Hamburg 1740) 07:06



Tags: tr!jo Sonatas Debus Bader Lang 4250702801061 TXA18106
» Detailed CD booklet includes further info (bios, photos, etc.)
» Total playing time: 73min 31sec | Booklet Text: DE, EN, FR, JP
» Recording: 01/2018, Potsdam/Germany | ISRC | LC28001
» Format: 1 Audio-CD | Series "Early Music " | RD int'l from 04/0219
» Order No.: TXA18106 | GTIN (EAN): 4250702801061 | © 2019
» CD available commercially or directly via TYXart
Another CDs with Tabea Debus:
"Favourites – Telemann and his Subscribers"
"XXIV Fantasie per il Flauto"
CANTATA PER FLAUTO
A further new CD coming in 2019!
Artist Info & Concert Dates etc.:
tr-jo.de