Alexander Maria Wagner, piano/composition
RTV Symphony Orchestra Moscow - Alexei Kornienko, conductor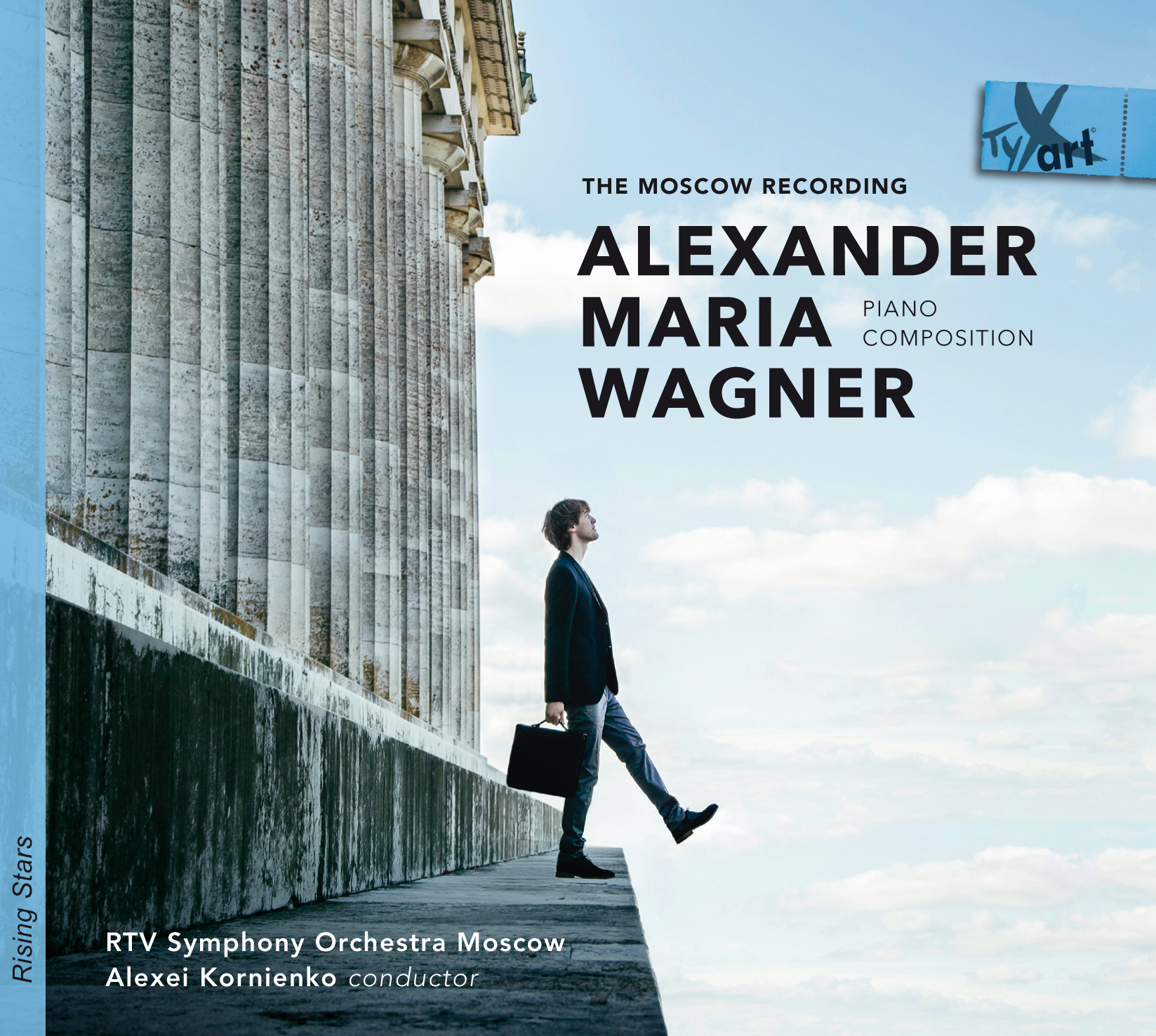 THE MOSCOW RECORDING in the Series "Rising Stars"

"Both as composer and pianist, Alexander M. Wagner has a natural and imaginative approach to music and his instrument. His talent for composition and interpretation make his musical visions so convincing and original that they justly give rise to great hopes for the future." Pavel Gililov

Alexander Maria Wagner's interpretation of the most popular piano drama of the Romantic era, Tchaikovsky's Piano Concerto in B-flat minor, that he deliberately chose to place next to his Second Symphony, as an especially stark contrast, gives one a feeling for his natural talent as a pianist and the facility with which he commands his instrument (or it him). This symphonic antithesis, interrupted in the first movement by the sensitive language of Johanna Kapelari's short, moving poem, that is as sweetly disturbing for the listener's soul as Tchaikovsky's music, also has the effect that we are completely overwhelmed by Wagner's nuclear sound world. Such music, which unfolds so philosophically even in the tiniest abrupt modulations of its compositional architecture, has not yet been heard or at least not with such a yearning character.

Alexander Maria Wagner, Piano/Composition
Alexander M. Wagner (born 31.3.1995) studied piano and composition with Franz Hummel, Theodor Breu and Jean-Pierre Faber. He is currently working with Pavel Gililov at the Mozarteum Salzburg/Austria, where he is also studying composition. • He has made numerous concert appearances in Germany (Gasteig Munich, Beethoven-Haus and Beethovenfest Bonn, among many others) and abroad (Austria, Czech Republic, France and Switzerland). • He composed his 1st Symphony, entitled KRAFTWERK, at the age of 14. Alexei Kornienko, then Principal Conductor of the Sofia Philharmonic Orchestra, was so thrilled by this youthful orchestra work that he recorded it on CD for Oehms. • Several renowned radio and TV broadcasters, including the Bayerischer Rundfunk (BR), Westdeutscher Rundfunk (WDR), Deutschlandradio Kultur, and 3sat, have already portrayed the promising career of Alexander M. Wagner. • About his second CD with piano works by Bach and Schumann, and one of his own compositions, the famous critic Ingo Harden writes in Fono Forum: "... [he] astounds from the first to the last bars with the unfeigned directness of his play and the lucid, self-assured decisiveness of his message. / [his] play is tremendously vigorous and vivacious, the interpretation is excitingly accomplished and distinctive, and he masters the manifold pianistic and musical obstacles with an overwhelming bravura, as though they did not exist at all." • He gave his acclaimed solo debut in the Herkulessaal in Munich in January 2016.
Free audio samples of this new CD album!
CD Review and Recommendation!
OpusKlassiek, BeNeLux (online 10/2017)
CD Review and favourable mention
»... you definitely want to hear more!«
Kultur Port, Germany (online Nov 17, 2017)
CD Review and Tip!
Musicalifeiten, The Netherlands (online 11/2017)
CD programme / Tracklist:

THE MOSCOW RECORDING

Peter Ilyich Tchaikovsky (1840–1893)
Piano Conzerto No. 1 B flat minor Op. 23
01 1. Allegro non troppo e molto maestoso [20:40]
02 2. Andantino semplice [07:12]
03 3. Allegro con fuoco [07:12]

Alexander Maria Wagner (b. 1995)
Symphony No. 2 °°
04 1. In sterngefüllten Seen.. / In star-filled lakes.. [09:26]
05 2. Trunken / Drunken [08:19]
06 3. In freudvollen Träumen / In joyful dreams [07:01]
07 4. Galaktischer Ritus / Galactic rite [05:17]

Alexander Maria Wagner, piano (Tchaikovsky) / composition (Wagner)
RTV Symphony Orchestra Moscow
Alexei Kornienko, conductor
Poem by Johanna Kapelari spoken by Bettina Schönenberg (Symphony)
°° First recording | CD album: World premiere release!

CD Album: Digipak 6 pages, Booklet 24 pages, multi-lingual
Tags: Keywords Alexander Maria Wagner Tchaikovsky Piano Concerto Kornienko RTV Orchestra TXA17096 LC28001
» Detailed CD booklet includes further info (bio, photos, etc.)
» Total playing time: 65min 33sec | Booklet Text: DE, EN, FR, JP
» Format: 1 Audio-CD | Series "Rising Stars" | RD int'l ~11/2017
» Order No.: TXA17096 | GTIN (EAN): 4250702800965 | © 2017
» CD available commercially or directly via TYXart
A further CD with Alexander Maria Wagner:
Bach - Schumann - Wagner
A further CD with Alexei Kornienko / RTV Symhpony Orchestra:
Violin Concertos XXI
Further information:
www.alexander-maria-wagner.com
PREVIEW
Further CDs in the Series "Rising Stars" are planned.