Elena Denisova, Solo Violin - Alexei Kornienko, Conductor -
Collegium Musicum Carinthia - RTV Orchestra Moscow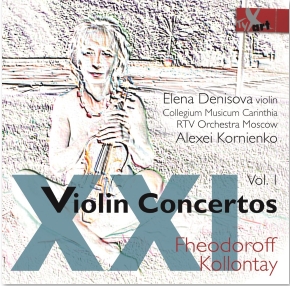 TYXart series "Modern Classics": Violin Concertos XXI (Vol. 1)

The soloist Elena Denisova and the String Orchestra Collegium Musicum Carinthia as well as the RTV Symphony Orchestra Moscow conducted by Alexei Kornienko proudly present two new violin concertos of the 21st century.
The works of Nikolaus Fheodoroff and Mikhail Kollontay are characterized by a constantly evolving, lively musical choreography of the performers and are, in a musical and technical sense, very masterful and expressive.

Nikolaus Fheodoroff: Concerto for violin, string orchestra and timpani
"What do you actually hear when you listen to music? What happens between the first and the last tone of a movement? Is there a "story" being told or are there any proportions that can be measured by numbers? Or is it just simple tones that gently float in your ears: high and deep, soft and loud, slow and fast? [...]

Mikhail Kollontay: Concerto for violin and orchestra "Blue Ray"
What do everyday exercices of a violinist contain? The inevitable playing of open strings; first one minute of the a-string, then a bow change and then another minute. With the metronome, which stands on the workplace of each performer. The curious sounds that fill up their consciousness in the moments of these distorted and sometimes painful exercises, this high-frequency whistle, all the own sounds of their inner ear, the destructively roaring trombones-La are all inside their musical consciousness, while the violinist pratices inconceivable passages. The silent world of music is conditioned by the one-dimensional reality of the sound. The tender tone of the bottle, obstacles, the losses of the transposition, a small - they are all obvious - for is the nature of music really just an acoustic one? [...]

[Abstract, booklet texts // Further english info text about composers & artist: see booklet inside!]
Free audio samples of this recording!
Magazine "das Orchester": CD Review & Recommendation!
dasOrchester.de, Germany / int'l (10/2017)
CD Review & Recommendation!
OpusKlassiek.nl, The Netherlands / BeNeLux, Aart van der Wal (online 04/2017)
CD Tip!
Magazine 'CLASS: aktuell', D-A-CH (Edition No. 2/2017)
CD Review!
klassik-heute.com, Germany (online 06/2017)
Album Review & Tip!
quadrevisie.nl, The Netherlands / BeNeLux (online 06/2017)
CD Review and Recommendation
Newspaper 'Westfaelische Nachrichten', Germany (Aug 02, 2017)
»Two contemporary violin concertos are heard on this CD in committed and attractive performances.
Elena Denisova is at ease in both works, and her virtuoso playing has a great naturalness.«
pizzicato.lu, Luxemburg (online 19.08.2017)
CD programme (Tracklist):

Violin Concertos XXI (Vol. 1)

Nikolaus Fheodoroff (1931–2011)
Concerto for violin, string orchestra and timpani
1. Allegro. Allegro moderato (13:47)
2. Adagio cantabile. Poco Mosso (11:33)
3. Vivace (03:18)

Mikhail Kollontay (*1952)
Concerto for violin and orchestra "Blue Ray" Op. 61
1. Movement (16:28)
2. Movement (08:40)
3. Movement (09:14)


Album production: In friendly cooperation with ORF K Austria, DZZ Moscow, Classic Etcetera and Pirastro.
Keywords: Tags Violin Concertos Fheodoroff Kollontay Denisova Kornienko CMC RTV TXA17093 TYXart LC28001