Alexander Maria Wagner, Piano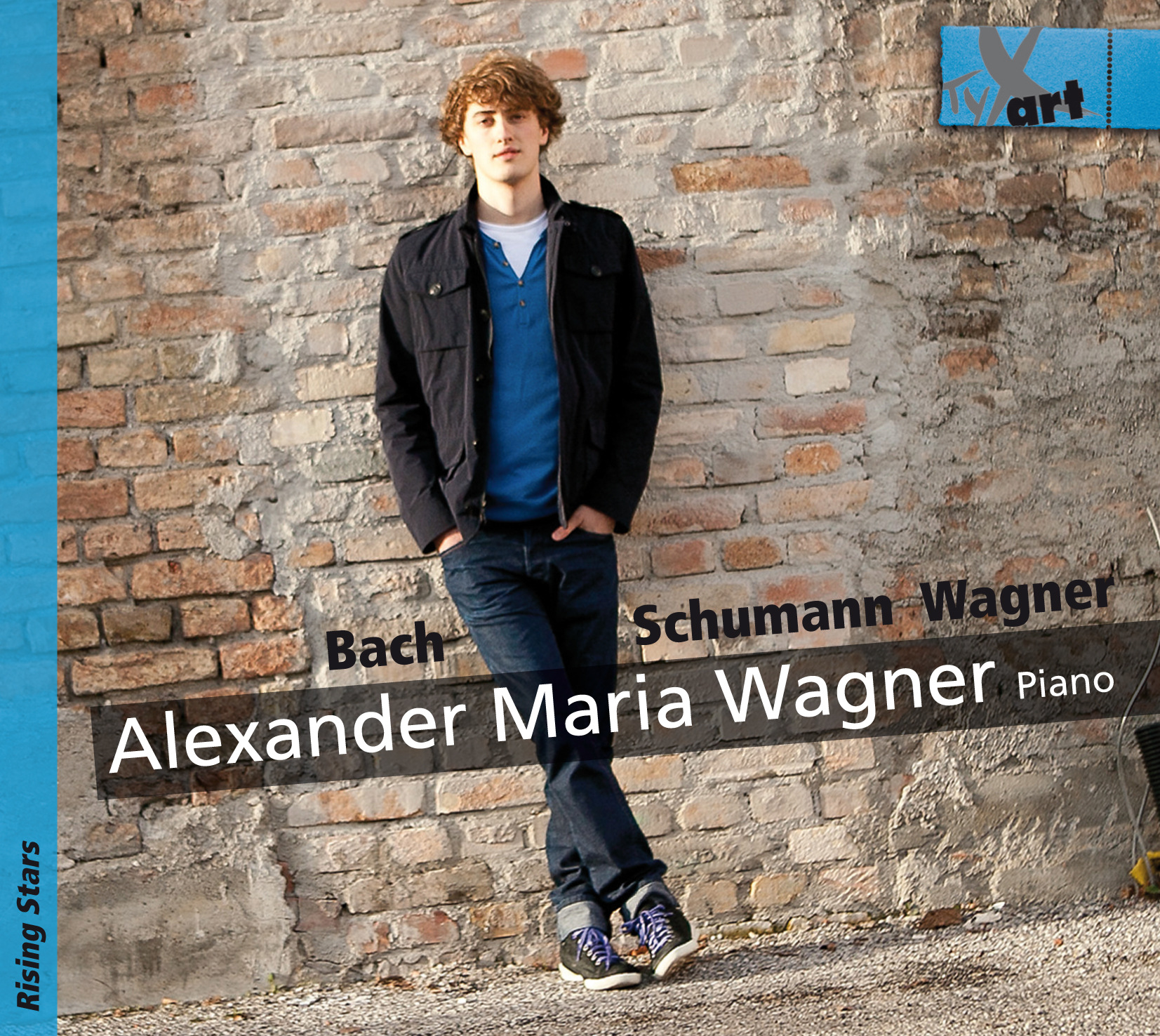 Series "Rising Stars"

Alexander Maria Wagner is an extremely inspired young man. He feels at home in all fields of art and philosophy, both intellectually and emotionally, and even the most remote music-philosophical trend never escapes his attention.
Wagner's psychogram reveals a highly motivated artist, who pursues his interests day and night; composing, philosophizing, practising piano works, which range from baroque to contemporary, and he has thus accumulated a wealth of knowledge and skill on which to build up his career. Alexander has already discarded a suitcase full of compositions of almost all genres. One can only hope that one day in the future he will forget his exaggerated self-criticism and, in the light of experience, reopen it to retrieve some of these gems from his youth.
Wagner has an uncomprising passion for explosive dramatics as well as for simplicity and naturalness. Complexity, energy and clearly comprehendable forms are the basis of his compositions and interpretations. These latter, with their intellectual clarity and radicality, enchant his audiences.
On this CD, the pianist Wagner demonstrates that he is an interpreter who, whilst refusing to put himself into a state of permanent insecurity by continually speculating on the composers' intentions, definitely has something personal to say about his great predecessors. With this attitude, he is able, perhaps, to show the brilliant structure of Schumann's compositions and the "romantic" futuristic vision of the ingenious Bach better than many other pianists, who remain dutifully "faithful" to the original and whose creativity and vitality have, in consequence, been lulled to sleep. Alexander M. Wagner would like contemporaries to play his music as if "they move into a house I've built and furnish it with their individual taste and imagination. Otherwise I would be a bad architect."
What could be more natural for us than to present this young artist in our TYXart series "Rising Stars"!

»Music: **** 4 Stars = very good // Sound: ****'* 4,5 Stars = very good/excellent«
Magazine FONO FORUM - Klassik Jazz HiFi - fonoforum.de (August 2014)
»CD Tip: Alexander Maria Wagner solo
Unusually. But very very convincing.«
Stuttgarter Zeitung, Hans Joerg Wangner (05 August 2014)
»CD Recommendation!
Maximum Score: Artistic Quality, Sound Quality and General Impression.«
klassik-heute.de (online, 21 August 2014)
»CD Tip: Alexander Maria Wagner, Piano
19 years old German pianist Alexander Maria Wagner does nothing to hide his youth or to lie at it. His performances are spontaneous and highly energetic.«
pizzicato.lu, Remy Franck (20 August 2014)
»CD Tip!«
Kulturjournal Regensburg/Ostbayern (August-September 2014)
»CD Tip!«
fluxx Magazine, REWAG/SWR (03.2014)
Interview and Live Piano Music, Radio Broadcasting Corporation WDR 3 TonArt!
»Exceptional talent on the piano«
www.wdr3.de (19 September 2014)
CD programme / Tracklist:

Johann Sebastian Bach (1685 – 1750)
Partita No. 6 E minor BWV 830
1. Toccata
2. Allemanda
3. Corrente
4. Air
5. Sarabande
6. Tempo di Gavotta
7. Gigue

Robert Schumann (1810 – 1856)
Papillons Op. 2
Nr. 1 Introduzione – Moderato
Nr. 2 Prestissimo
Nr. 3
Nr. 4 Presto
Nr. 5
Nr. 6
Nr. 7 Semplice
Nr. 8
Nr. 9 Prestissimo
Nr. 10 Vivo. Più lento
Nr. 11
Nr. 12 Finale

Alexander Maria Wagner (* 1995)
Inferno °°
1. Rondo precipitato
2. Mondspiegelung
3. Bacchanal

Robert Schumann
Carnaval Op. 9
1. Préambule
2. Pierrot
3. Arlequin
4. Valse noble
5. Eusebius
6. Florestan
7. Coquette
8. Réplique
9. Papillons
10. A.S.C.H. - S.C.H.A. (Lettres dansantes)
11. Chiarina
12. Chopin
13. Estrella
14. Reconnaissance
15. Pantalon et Colombine
16. Valse allemande / Paganini
17. Aveu
18. Promenade
19. Pause
20. Marche des "Davidsbündler" contre les Philistins
°° First recording | CD album: World premiere release!

CD Album: Digipak 6 pages, Booklet 16 pages, multi-lingual
Tags: Keywords Alexander Maria Wagner Piano Bach Schumann Wagner Premiere Recording Inferno Sonata 4250702800408 TXA14040 LC 28001
» Detailed CD booklet includes further info (bio, photos, etc.)
» Total playing time: 69min 32sec | Booklet Text: DE, EN, FR, JP
» Format: 1 Audio-CD | Series "Rising Stars" | RD from 07/2014
» Order No.: TXA14040 | GTIN (EAN): 4250702800408
» CD available commercially or directly via TYXart
A further CD with Alexander Maria Wagner:
The Moscow Recording
Further information:
www.alexander-maria-wagner.com
PREVIEW
Further CDs in the Series "Rising Stars" are planned.