Yojo, 19, Piano — his fourth CD!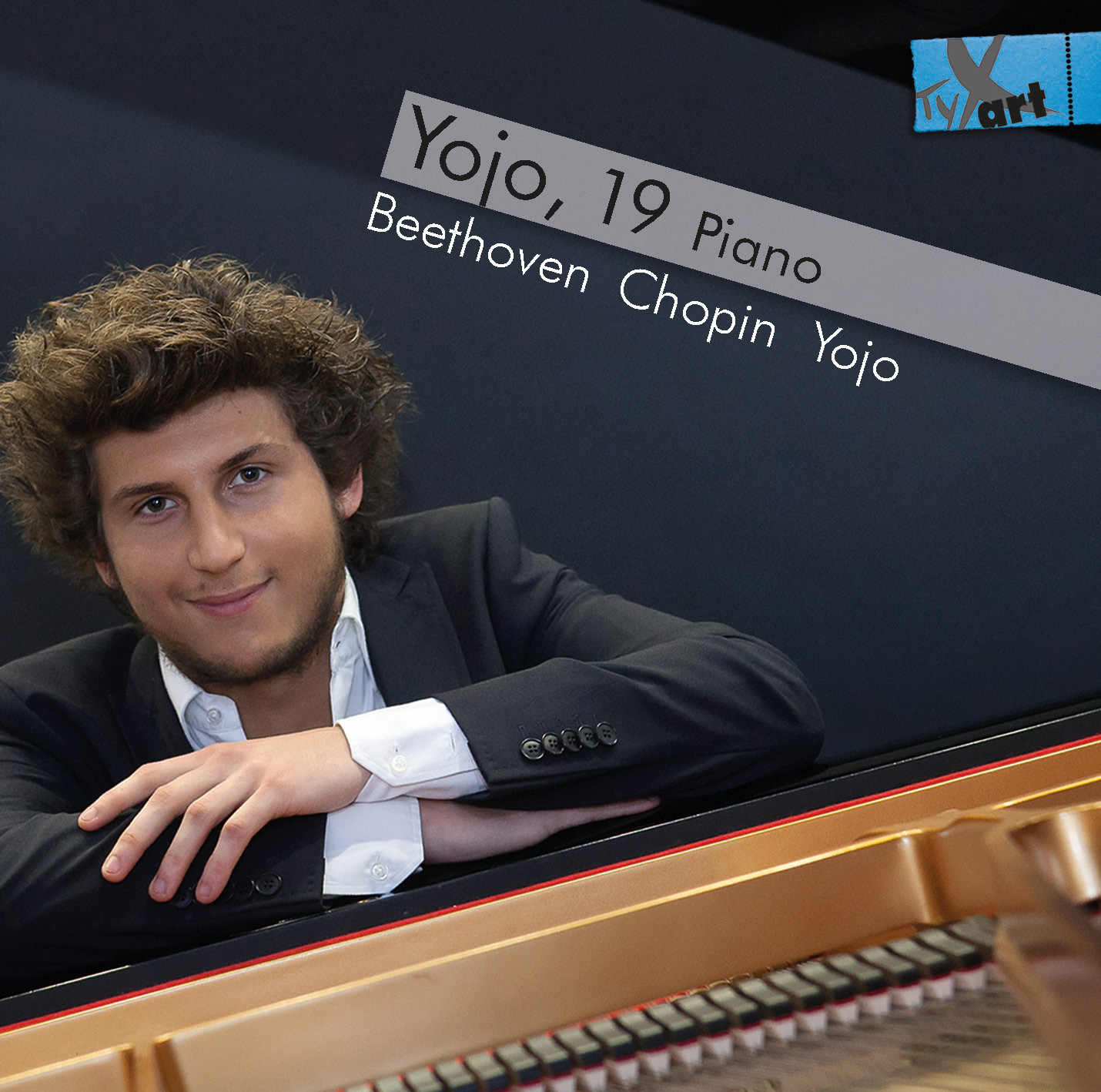 TYXart CD Series "Rising Stars"

Nineteen-year-old Yojo Christen is now well-known in Germany and abroad and this new release with TYXart can be said to be the climax of these CDs. Beethoven's "Appassionata" Op.57, Chopin's B flat minor Sonata Op.35 and the phenomenally virtuosic Scherzo Op.20, in B minor show the young pianist at the height of mastery.
The album also presents two of his own compositions: "Rally" and the passacaglia "IRINI", for which he won the second prize and the audience award at the international Diabelli Composition Competition 2015, as the youngest of 126 candidates.

This CD, "Yojo, 19", is his fourth release with the label TYXart, following "Yojo, 15", "Yojo, 17" and "Atavistic Music", which received widespread critical acclaim. Johannes Saltzwedel in DER SPIEGEL wrote: "The performance on this second CD (as on the first) demonstrates breathtaking natural musicality and dexterity."
In the magazine PIANO NEWS, Burkhard Schäfer called him "a pianist by the grace of God, who also has the spiritual depth necessary for the comprehension of the works."
The "Atavistic" CD is a collaboration with the German-American cellist Alexander Suleiman. Here the two musicians improvised 13 pieces completely spontaneously. The titles were their only form of inspiration. Under the headline "Heavenly music", Tilman Urbach wrote in FONO FORUM: "Suleiman and Yojo meet at eye level, mark out the territory, defend open spaces, chase one another across a prepared course, play with complete abandon, as if their instruments had only just been invented... this music is a celebration of unbounded playfulness, unleashed by sheer virtuosity."
Free Audio Samples ... of this CD album!
»[...] a young exceptional talent!«
TV Portrait: BR Broadcast "KlickKlack" (ca. 15min. 40sec.), Bayerisches Fernsehen (Bavarian Television), Moderation Martin Grubinger (23 May 2016)
»Yojo: Radio Portrait WDR3 TonArt«
WDR3 Broadcast "TonArt" (13 Sept 2016)
»[...] The Pianist Yojo Christen is a Phenomenon.«
CD Review and Tip, Newspaper 'Nürnberger Nachrichten' (07 June 2016)
»CD Review and Recommendation!
Bottom line: One must be careful about comparisons, but - what Yojo is doing here, this calls to mind Vladimir Horowitz, the dear God of the virtuosic guild.«
Newspaper 'Stuttgarter Zeitung', Hans Jörg Wangner (07 June 2016)
CD programme / Tracklist:

Ludwig van Beethoven (1770-1827)
Klaviersonate op. 57 f-Moll "Appassionata" /
Piano Sonata Op. 57 in F minor "Appassionata" (Steinway)
Allegro assai
Andante con moto
Allegro ma non troppo. Presto

Yojo Christen (*1996)
IRINI (Steinway) °°
Allegro con spirito – Intermezzo: Adagio – Allegro con spirito

Frédéric Chopin (1810-1849)
Klaviersonate Nr. 2 b-Moll /
Piano Sonata No. 2 in B flat minor (Bösendorfer)
Grave. Doppio movimento
Scherzo
Marche funèbre
Presto

Scherzo Nr. 1 op. 20 h-Moll /
Scherzo No. 1 Op. 20 in B minor (Bösendorfer)

Yojo Christen
Rallye / Rally (Steinway) °°
°° First recording | CD album: World premiere release!
Tags: Keywords Yojo 19 Christen Pianist Piano New CD 2016 Beethoven Liszt 4250702800743 TXA16074 TYXart Labelcode LC28001