Yojo, 17, Piano — his new CD 2013!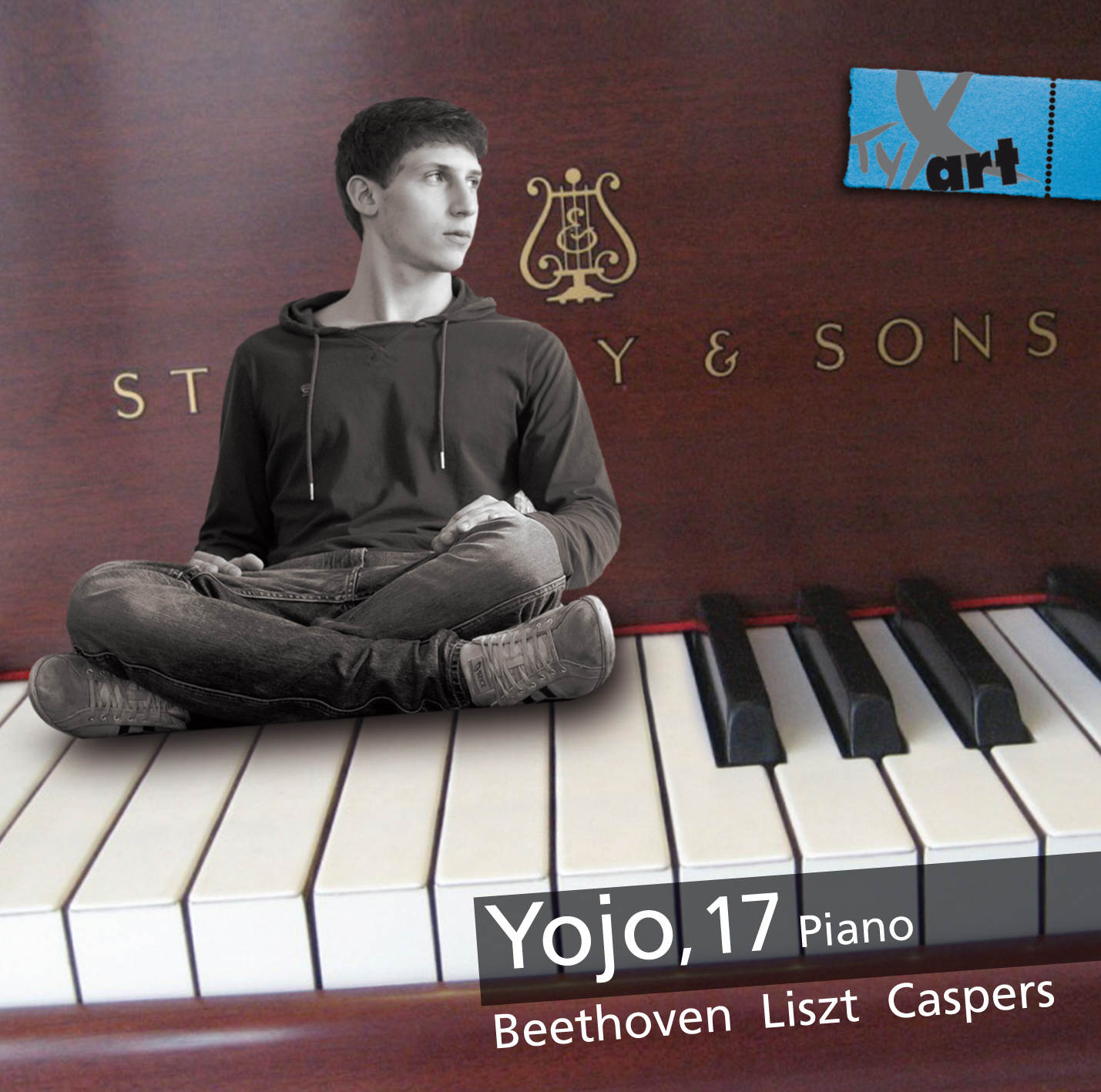 Series "Rising Stars"

Yojo Christen (b. 1996) began to take regular piano lessons at the age of four. When he was six, he would improvise for hours on the piano and he gradually began to hold on to his ideas as compositions. At the age of eight, he started to give concerts, in which he usually enhanced the programmes of classical and romantic works with his own pieces.
In 2010, the fouteen-year-old was invited by the German-Japanese Society to give a concert-tour of Japan, where he delighted audiences in six cities. After his first performance in Kobe, a fan bus accompanied him to his next recitals.
Yojo's piano works, with the composer as his own interpreter, have been broadcast on Bavarian Television, Deutschlandfunk, West German and Bavarian Radio.
Renowned critics have compared him to Kissin and Gulda. They have often described his breathtaking technique, and have raved about his highly original interpretations that are characterised by youthful drive and the meditative and other-worldly way he plays lyrical movements and passages.
At the moment, Yojo is composing his first opera, about Kemal Atatürk, and is studying piano and composition with Franz Hummel. Following Yojo's first CD release for TYXart (Order No. TXA12001), at the age of fifteen, for which he received enthusiastic reviews, this CD now presents the seventeen-year-old with Liszt's monumental B Minor Sonata as the main work.

»Music: **** 4 Stars = very good // Sound: **** 4 Stars = very good«
Magazine FONO FORUM - Klassik Jazz HiFi - fonoforum.de, Mario-Felix Vogt (January 2014)
»A very good CD! Interpretation 5 Points!«
Magazine Piano NEWS, Burkhard Schäfer (November-December 2013)
Link Info: Artist Portrait and CD Review in the Magazine "KulturSPIEGEL", 10/2013, DER SPIEGEL spiegel.de, Dr. Johannes Saltzwedel (30 September 2013)
»CD-Tipp: Yojo, die Zweite
Na, dieser junge Mann traut sich was [...] Es muss halt nur der Richtige am Flügel sitzen [...] Der 17-jährige Yojo ist es, der mit jugendlich leichtem Sinn die op. 13 [Beethoven] gegen den Strich bürstet. Und wie schon in seiner bemerkenswerten ersten CD [... ] zeigt Yojo aber, dass er ein Künstler mit überbordender Musikalität ist, der seinen Partituren mehr Interesse, Leidenschaft, Neugier entgegenbringt als viele seiner arrivierten Kollegen in ihrem akademischen Perfektionismus.
Und wie um das zu unterstreichen, hat Yojo als zentrales Stück seiner CD einen der ganz großen Brocken der Literatur angepackt: Franz Liszts h-Moll-Sonate, die er als "Schwitzkasten-Etüde im Poesiealbum" bezeichnet.
[...] Zum Glück gibt es solche Künstler.«
Stuttgarter Zeitung (07 Nov 2013)
Yojo zu Gast beim Bayerischen Rundfunk München in der Sendung "U21" am 11 September 2013:
U21 - Deine Szene. Deine Musik - Das wöchentliche Magazin auf BR-KLASSIK. Mit jungen Themen aus der Szene für die Szene.
...und hier als Podcast ...listen!
»Yojo ist ein bemerkenswerter Pianist [...] Die Interpretation des jungen Pianisten zeigt ein klares durchdachtes Spiel mit kraftvollen aber auch sensiblen Tönen.«
Deutschlandfunk DLF, Sendung "DIE NEUE PLATTE" (03 October 2013)
CD programme / Tracklist:

Ludwig van Beethoven (1770–1827)
Grande Sonate Pathétique c-Moll op. 13 /
Piano Sonata in C minor Op. 13 "Pathétique
Grave. Allegro di molto e con brio
Adagio cantabile
Rondo: Allegro

Franz Liszt (1811–1886)
Klaviersonate h-Moll /
Piano Sonata in B minor
Lento assai, Allegro energico
Andante sostenuto
Fugato: Allegro energico

Klaus Caspers (*1940)
"Gespenster" (Graphische Notizen) °° /
"Ghosts" (Graphic Notes) °°
1
2
3
4
5
°° First recording | CD album: World premiere release!
Tags: Keywords Yojo Christen Pianist Klavier Yojo 17 Piano New CD 2013 Beethoven Liszt Caspers GTIN EAN 4250702800286 Order Catalogue Number TXA 13028 TYXart LC Labelcode 28001