Christoph Preiss, 14, Piano — his second CD!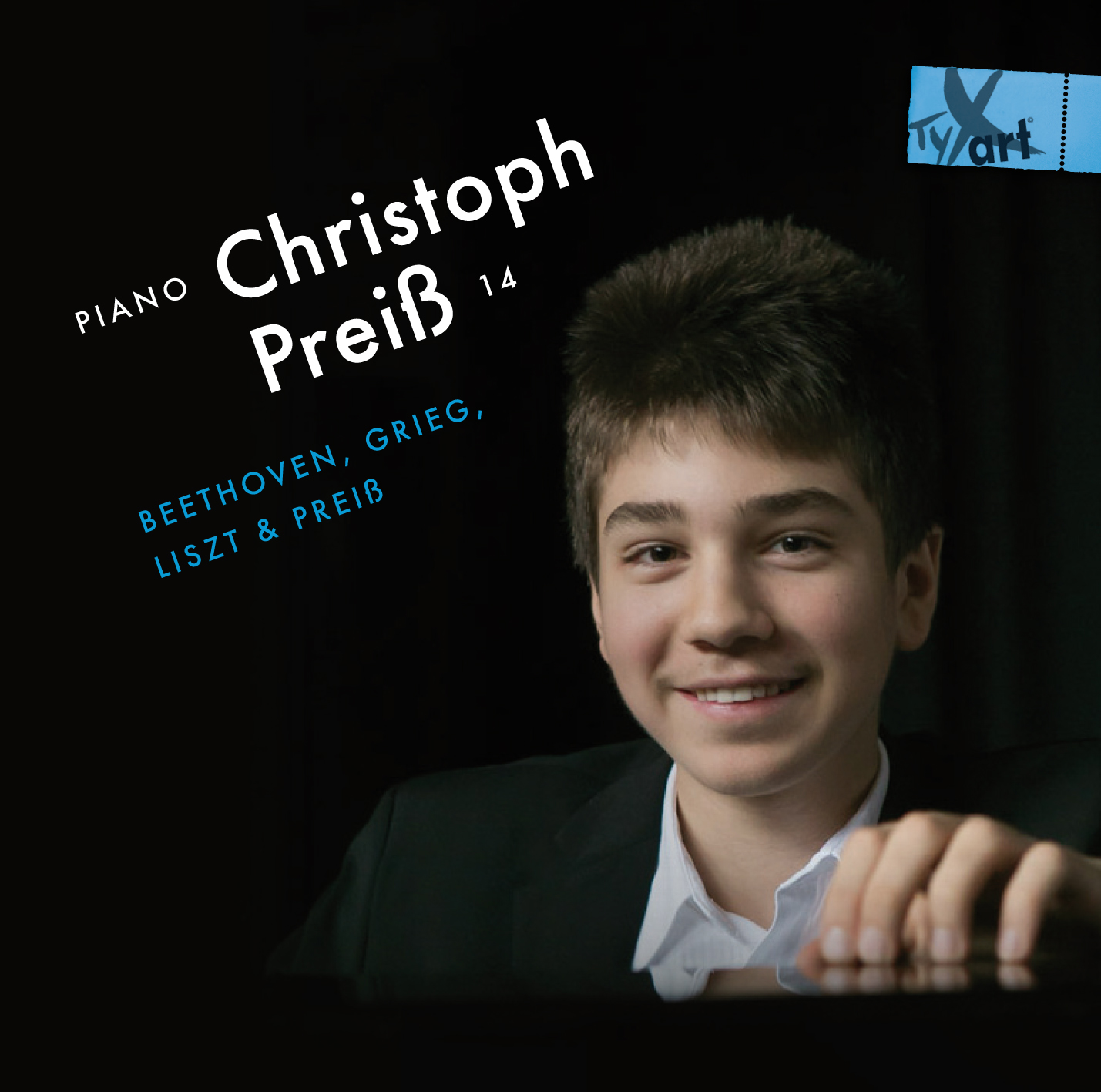 Series "Rising Stars"

Fourteen-year-old Christoph Preiss has already attracted the attention of music lovers throughout Germany. His piano recitals, although still rather rare, amaze and delight audiences and critics, especially as this precocious pianist plays the greatest works with astonishing artistic depth and a brilliant technique.
Christoph, who attends the "Regensburger Domspatzen" grammar school and studies piano with Franz Hummel, has won several first prizes in the competition "Jugend musiziert". ZDF television featured the young musician, and his recordings have been broadcast by various German radio stations. It is not hard to predict that Christoph will make a great career, and that is no exaggeration. This CD is his second release in the TYXart series "Rising Stars".
On 9/15/15, Guido Krahwinkel wrote in the Bonn Generalanzeiger: "What talent! ...he plays a demanding programme at the highest possible level... Preiss's mastery, at such an early age, commands unconditional respect... The way he played Franz Liszt's Funérailles was simply sensational. He achieved a degree of musical depth and emotional concentration, that is not often reached by many mature professionals.
Under the headline "A virtuosic prodigy", Christel Voith wrote in the Schwäbische Zeitung on 12/15/15: "One quickly forgets his age, as this is a musician who has already attained unusual maturity. His concert is a sensation.
On 11/4/14, Patricia Steipe wrote in the Süddeutsche Zeitung: "...Christoph is not only a highly gifted pianist, he composes as well. [...] he plays with authenticity - unbelievably well, full of energy, vitality and the typical young person's compulsion to keep on the move, as well as with the courage to take on every challenge.

"When i improvise and compose, i have a lot of fun inventing sounds that are out of the common, and sometimes i ask myself if there is a place where uncommon sounds are 'normal'. on Mars perhaps? Well, why not? My 'Martian' is such a funny guy that i can imagine a film about him."
Christoph Preiss about his composition "The Martian"
»ZDF German Television - TV Portrait of the young Pianist & Composer Christoph Preiß!«
ZDF heute journal (19 Dec 2014)
CD programme / Tracklist:

Ludwig van Beethoven (1770 – 1827)
Sonate F-Dur op. 10 Nr. 2 - Sonata in F major, Op. 10 No. 2
01 Allegro
02 Allegretto
03 Presto

Ludwig van Beethoven
Sonate d-Moll op. 31 Nr. 2 "Der Sturm" - Sonata in D minor, Op. 31 No. 2 "The Tempest"
04 Largo. Allegro
05 Adagio
06 Allegretto

Edvard Grieg (1843 – 1907)
Sonate e-Moll op. 7 - Sonata in E minor, Op. 7
07 Allegro moderato
08 Andante molto
09 Alla Menuetto, ma poco più lento
10 Finale: Molto allegro

Franz Liszt (1770 – 1827)
11 Funérailles

Christoph Preiß (*2001)
12 Der Marsmensch - The Martian °°
°° First recording | CD debut album: Premiere release!
Tags: Keywords Christoph Preiß 14 Piano Composer CD GTIN EAN 4250702800712 Order Number TXA 16071 TYXart Labelcode LC28001
» Detailed CD booklet includes further info (bio, photos, etc.)
» Total playing time: 57min 44sec | Booklet Text: DE, EN, FR, JP
» Format: 1 Audio-CD | Series "Rising Stars" | RD from 05/2016
» Order No.: TXA16071| GTIN (EAN): 4250702800712
» CD available commercially or directly via TYXart
Christoph Preiss' first CD: Christoph Preiss, 14, Piano
Christoph Preiss' third CD: Christoph Preiss, 16, Piano