Christoph Preiß, 12, Piano — Debut CD!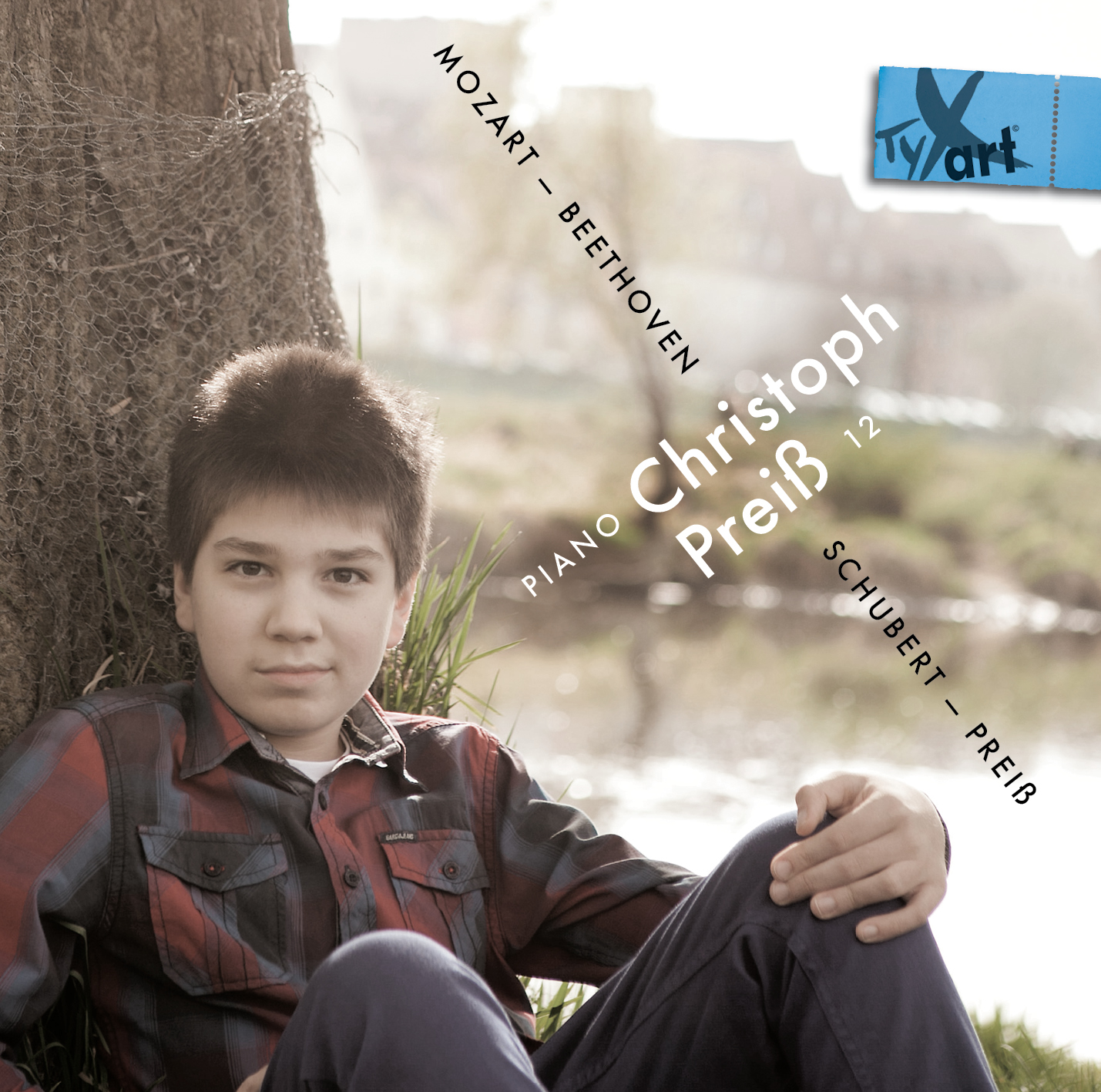 Series "Rising Stars"

This recording presents the highly gifted twelve-year-old pianist Christoph Preiss as an ideal artist for TYXart's series "Rising Stars", which hopes to draw attention to talented youngsters and their often precocious interpretations of the great, well-known works of music. After long deliberations, we have decided to release the CD, even though we are aware of the risk that the commercialism and triviality of the worldwide market can be detrimental to such a young musician. We hope the recording will inspire other young instrumentalists and give pleasure to those who wonder how today's internationally famous soloists may have played at the same age. It's common knowledge that many began to play when they were very young but it's extremely rare that we have an opportunity to listen to them. Christoph's exceptional talent has developed so clearly in recent years that we are convinced that this debut album, with works by Mozart, Beethoven and Schubert, as well as two of the young pianist's own compositions, will not only enchant you but will also prove to be an interesting record for his future audiences.
»... stylistic sovereignty ... genuine musicality ... ingenious ... enormous potential ...
Music and Sound: very good!«
FONO FORUM (01/2015)
»ZDF Second German Television - TV Portrait of the young Pianist & Composer Christoph Preiß!«
ZDF heute journal (19 Dec 2014)
»Interview Radio WDR 3 TonArt«
www.wdr3.de (20 Oct 2014)
»Interview Radio BR Klassik«
www.br.de (22 Oct 2014)
CD programme / Tracklist:

Wolfgang Amadeus Mozart (1756–1791)
Piano Sonata in D major, KV 311
01 I. Allegro con spirito
02 II. Andante con espressione
03 III. Rondo. Allegro

Ludwig van Beethoven (1770–1827)
Piano Sonata in F minor, Op. 2 No. 1
04 I. Allegro
05 II. Adagio
06 III. Menuetto. Allegretto
07 IV. Prestissimo

Franz Schubert (1797–1828)
Piano Sonata in A major, Op. posth.
08 I. Allegro
09 II. Andantino
10 III. Scherzo. Allegro vivace – Trio. Un poco più lento
11 IV. Rondo. Allegretto – Presto

Christoph Preiß (*2001)
12 Oriental Fantasy (2011) °°
13 Cadenza for Mozart's Piano Concerto in A major, KV 488 (2012) °°
°° First recording | CD debut album: World premiere release!
Tags: Keywords Christoph Preiß 12 Piano Composer CD GTIN EAN 4250702800446 Order Number TXA 14044 TYXart Labelcode LC28001
» Detailed CD booklet includes further info (bio, photos, etc.)
» Total playing time: 77min 29sec | Booklet Text: DE, EN, FR, JP
» Format: 1 Audio-CD | Series "Rising Stars" | RD from 10/2014
» Order No.: TXA14044 | GTIN (EAN): 4250702800446
» CD available commercially or directly via TYXart
PREVIEW
Further CDs "Rising Stars" are planned in 2015.