DEUTSCHES STREICHTRIO (German String Trio):
Ingolf Turban, Violin - Jürgen Weber, Viola - Reiner Ginzel, Cello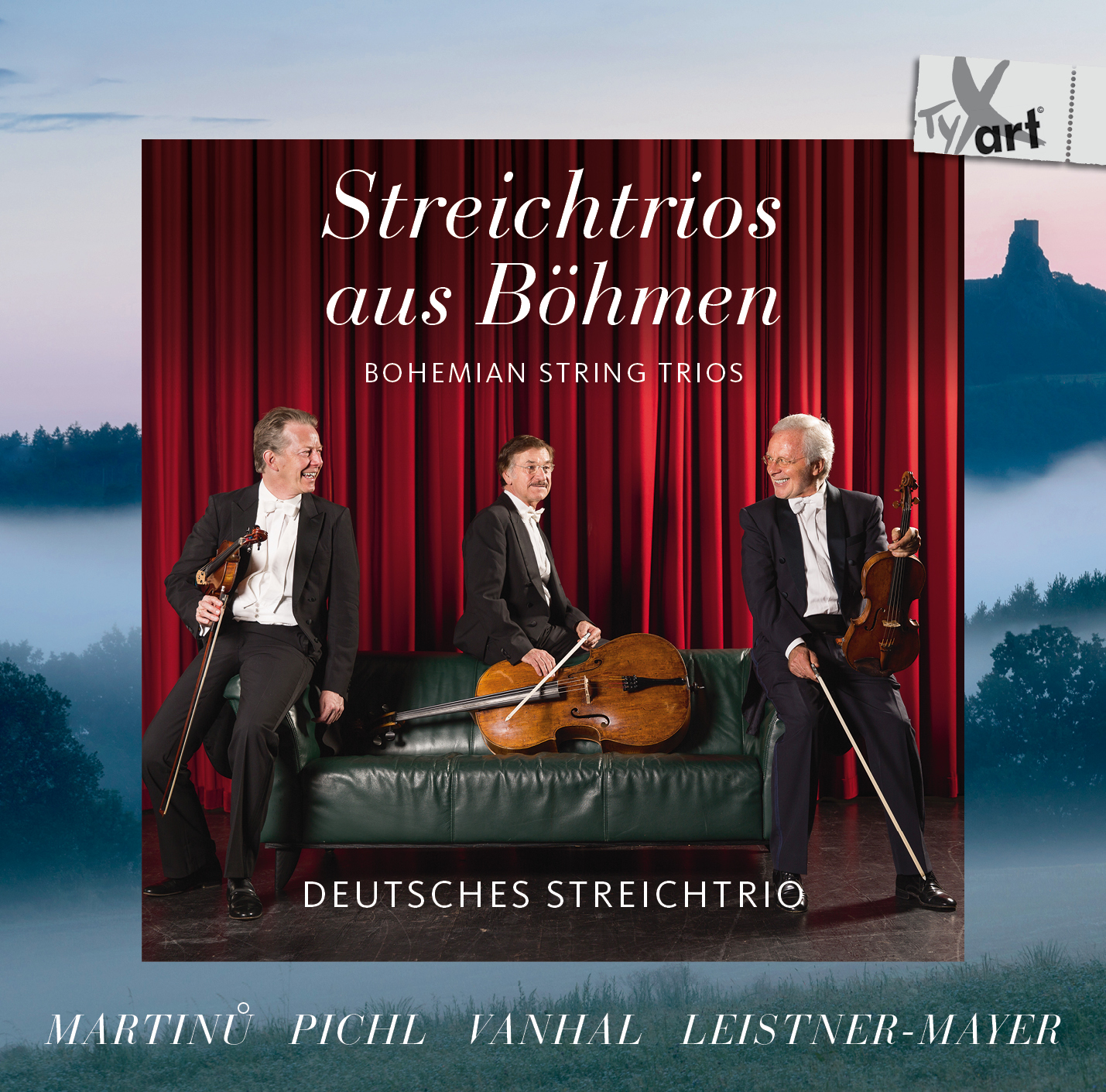 Bohemian String Trios / Streichtrios aus Böhmen
Works by Martinů, Pichl*, Vanhal and Leistner-Mayer* (* World Premiere Recordings)

"From Bohemia's Woods and Fields" – this is how we might sum up the shared roots of these four composers. Pichl and Vanhal penned their works in an early classical style, while Martinu° and Leistner-Meyer deployed the aesthetic means of expression of their own period to enrich the repertoire while still invoking the ideals of the classical era. This programme is the perfect treat for listeners who enjoy discovering new works and expanding their musical horizons!

Goethe famously wrote that listening to a String Quartet was like hearing four reasonable people talking with one another; one felt as if one could gain from listening to their conversation and acquaint oneself with the instruments' particular traits. Much the same applies for the string trio genre. Even though a string trio contains only three "reasonable people", these three cover all the registers from high to low and are able to rival the quartet in terms of sheer tonal power – as attested impressively by four works by four Bohemian composers of different eras.


DEUTSCHES STREICHTRIO
"No other string trio has performed so many new compositions for the first time, produced so many CDs, and helped this rare form gain such prestige as has the DEUTSCHES STREICH TRIO" – thus the music press in its reviews. The headlines – such as "A First-Rate Evening", "Interpretive High Point", "On the Mount Olympus of Chamber Music", – say it all.
In the more than 40 years since its founding the German string trio has received many awards – among others the "German Record Critics' Award", and today ranks among the world's leading chamber music ensembles. This is impressively documented by its intense and frequent concert tours through out the world (both alone and with outstanding chamber music performers like Dietrich Fischer-Dieskau, Aurèle Nicolet, and Kristian Zimerman), by its performances at the world's most important festivals, as well as by the master classes it has given throughout Europe, North America, and Asia. Important composers, such as Krzysztof Penderecki and Hans-Werner Henze, have dedicated works to this ensemble. A diverse public has come to know the DEUTSCHES STREICHTRIO through its numerous radio and television productions.
The ensemble's discography of more than 40 CDs includes all of the most important works composed for string trio.
[extract of the CD booklet]
Free audio samples of this new CD album!
CD programme / Tracklist:
Johann Baptist Vanhal (1739–1813)
01–05: Divertimento G-Dur, W. Vlb: 13 /
Divertimento G major, W. Vlb: 13 [13:50]

Roland Leistner-Mayer (b.1945)
06–09: 3. Streichtrio op. 158 /
3rd String Trio Op. 158 [24:06]
WORLD PREMIERE RECORDING

Vaclav Pichl (1741–1805)
10–12: Streichtrio No. 3 B-Dur /
String Trio No. 3 B flat major [09:09]
WORLD PREMIERE RECORDING

Bohuslav Martinů (1890–1959)
13–14: Streichtrio No. 2 /
String Trio No. 2 [16:30]


24 Bit / 96 kHz Audiophile Recording | High Definition Mastering for CD and Audiofiles


Tags: Keywords Bohemian String Trios Martinu Pichl Vanhal Leistner-Mayer Deutsches Streichtrio 4250702801689