Ensemble Barockin': Kozue Sato, Flauto Traverso - Dmitry Lepekhov, Baroque Violin - Lena Kaidanovska, Baroque Violin - Pavel Serbin, Baroque Cello / Viola da Gamba - Felix Stross, Baroque Cello / Violoncello Piccolo - Francis Jacob, Harpsichord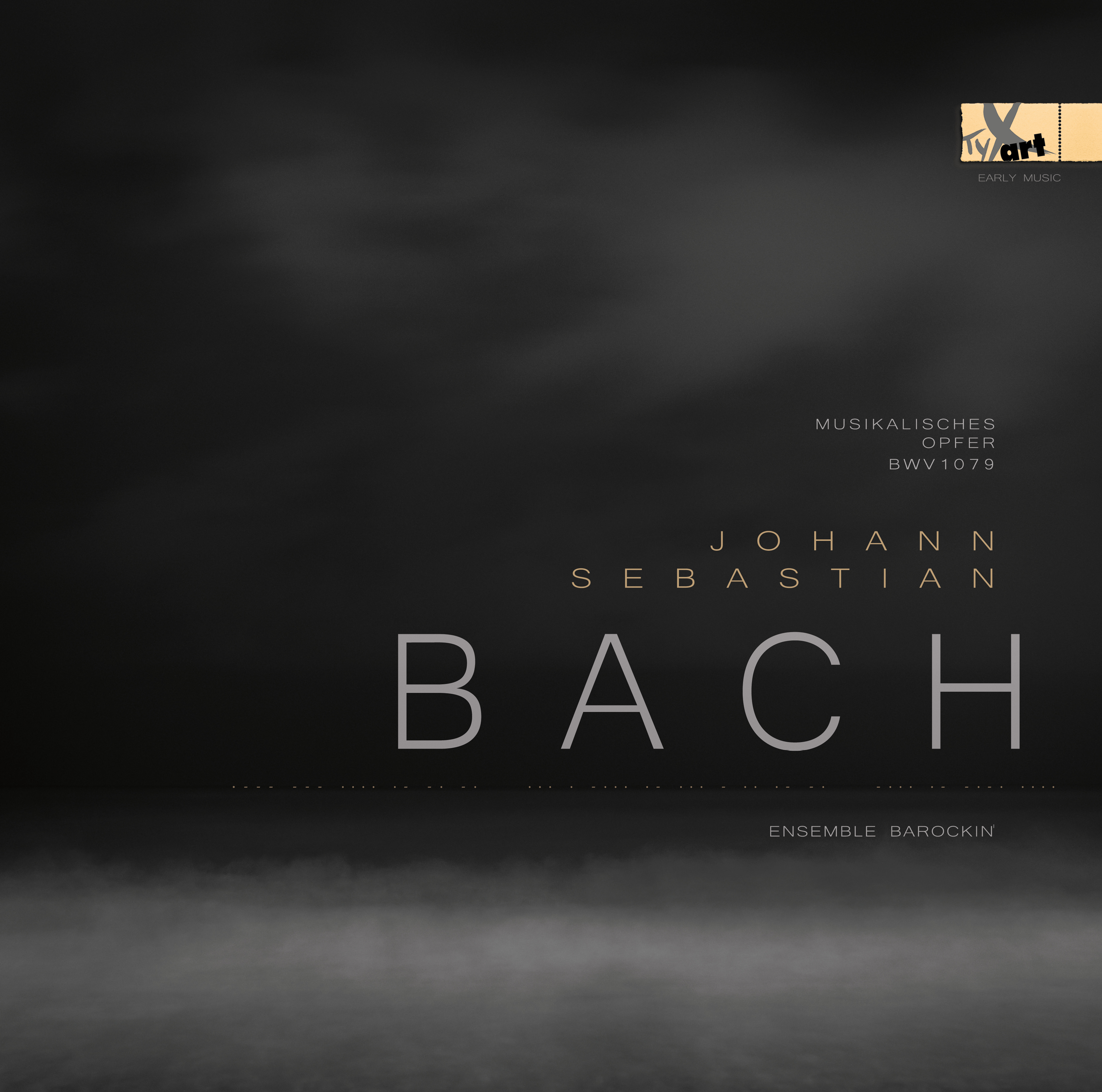 TYXart series "Early Music": Johann Sebastian Bach's "Musikalisches Opfer" BWV 1079
High Definition Recording for Vinyl, lacquer foil Mastering, HQ Vinyl (ca. 140g)

"Nicht Bach, sondern Meer sollte er heißen!" Ludwig van Beethoven
(Translator's note: "It's not Bach he should be called, but Meer!" In German, this is a play on words: "Bach" means brook and "Meer" means sea.)
The "Musical Offering" collection of pieces, dedicated to the Prussian King, Frederick II, is a contrapuntal masterpiece, in which Johann Sebastian Bach seems to draw every conceivable facet from a single theme (Thema Regium – royal theme). It is a musical testament of the old master, full of freshness, creativity and original quality – like an endless sea.
With this recording, Ensemble Barockin' presents a musically careful and genuinely new interpretation.

Ensemble Barockin' is an international ensemble with musicians from Russia, France, Germany and Japan who are committed to performing early music in the original sound.

The design of the front cover was created by artist, photographer and graphic designer Marc Köschinger. The cover shows a long time-exposure of the ocean. The picture was exposed at night over a longer period of time, so that it defines neither space nor time, something the musicians of Ensemble Barockin' particularly liked for this very special recording of this work by Bach.
Music without space and time like a reverberation of the universe – for this, Marc Köschinger added a Morse code to the text on the cover that makes the composer's name sound through space like an echo.
[extract of the text inside the LP Cover]
Free Audio Samples of this LP album coming soon!
(... from the digital CD version! Naturally that's not the analogue Sound of the Vinyl!)
INTERNATIONAL PRESS REVIEW ABOUT THIS NEW ALBUM:
"Klassik Heute" CD Review & Recommendation!
»Artistic Quality / Sound Quality / Overall Impression: Max. Score!«
klassik-heute.com, Germany/international (Aug 2020)
Da capo Vinyl - Review & Recommendation!
»[...] The international Ensemble Barockin' has now presented a worthy new recording. Played on historical instruments (the details can be read on the backcover for each instrument) and recorded excellently, a warm, witty sound is created, which fully lives up to the serious character of the work. An invitation to immerse yourself in Bach's unique art - audiophil mastering; pressed on 140g of high-quality vinyl.«
Sound: 1 / Pressing: 1
Da capo (10/2020)
Further Reviews/Recommendations see CD Edition.
LP programme / Tracklist:
Johann Sebastian Bach (1685–1750)
Musikalisches Opfer BWV 1079 (1747)

Side A

Regis Iussu Cantio Et Reliqua Canonica Arte Resoluta
Ricercar a 3 (Hrps)

Canon perpetuus super Thema Regium (Fl, Vn*, Vc)

Canones diverse sopra Thema Regium
Canon 1, a 2 cancrizans (2 Vn)
Canon 2, a 2 Violini in unisono (2 Vn, Vc**)
Canon 3, a 2 per Motum contrarium (Fl, Hrps)
Canon 4, a 2 per Augmentationem, contrario Motu (2 Vn, Va da G)
Canon 5, a 2 per Tonos (Vn*, Hrps)

Fuga canonica in Epidiapente (Fl, Vn*, Vc)

Regis Iussu Cantio Et Reliqua Canonica Arte Resoluta
Ricercar a 6 (Hrps)

Side B

Sonata sopr'il Soggetto Reale á Traversa, Violino e Continuo (Fl, Vn*, Vc, Hrps)
I. Largo
II. Allegro
III. Andante
IV. Allegro

Quaerendo invenietis
Canon a 2 (Vc P, Vc)
Canon a 4 (2 Vn, 2 Vc)

Canon perpetuus (Fl, Vn*, Vc)



Ensemble Barockin'
Kozue Sato Flauto Traverso (Fl)
Dmitry Lepekhov * Baroque Violin (Vn)
Lena Kaidanovska Baroque Violin (Vn)
Pavel Serbin Baroque Cello (Vc), Viola da Gamba (Va da G)
Felix Stross ** Baroque Cello (Vc), Violoncello Piccolo (Vc P)
Francis Jacob Harpsichord (Hrps)


Detailed Info & Instruments etc. can be found inside the LP Cover.


* HQ Vinyl: TYXart's long-standing experienced Tonmeister (Recording Producers, Balance Engineers) select for every release optimal balance of Vinyl Weight (! in principle, 180g is not always better, e.g. due to arising low self-noise etc !), natural & brilliant Sound and Dynamics (for this recording by using lacquer foil Mastering, a.o.t.).


This Record is also available as CD (Order No. TXA19136)



Tags: Bach Musikalisches Opfer Musical Offering Ensemble Barockin' Early Music Vinyl
» Detailed LP booklet includes further info (bios, photos, etc.)
» Total playing time: ca. 45 min. | Text inside: DE, EN, FR, JP
» Recording: 03/2017 | Mastering: 05/2020 | © 2020 TYXart
» Format: 1 LP (HQ Vinyl *), 12", 33⅓rpm | Laque Foil Mastering
» TYXart Series "Early Music" | Release int'l from 10/2020
» Order No.: TXA19137 | GTIN (EAN): 4250702801375 | LC28001
» CD available commercially or directly via TYXart
Further Information - Ensemble - Concerts:
barockin.com