Christoph Preiss, Piano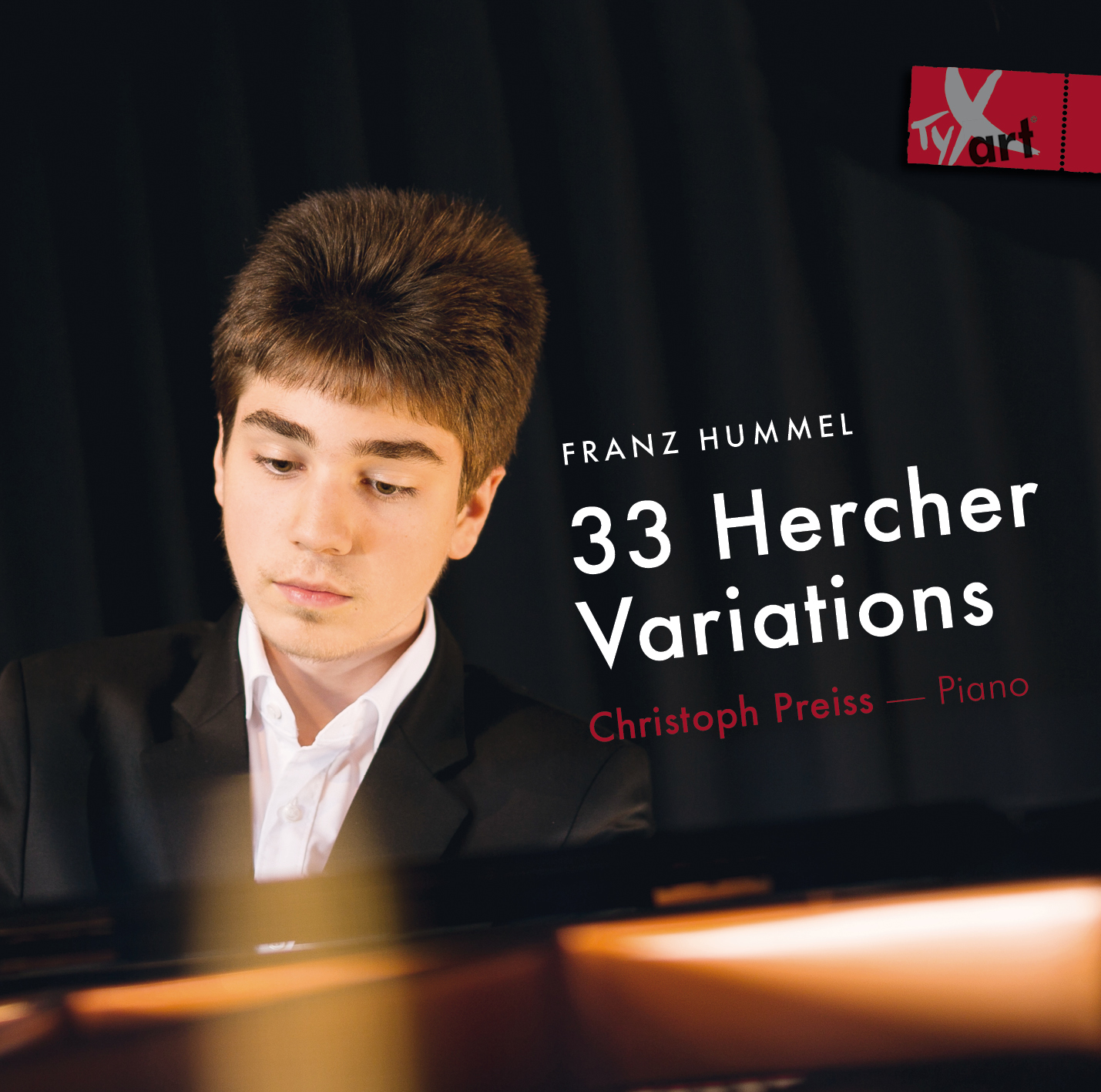 TYXart Series "Modern Classics"

On this CD, the 18-year-old piano virtuoso Christoph Preiss plays Franz Hummel's new composition, the 33 HERCHER VARIATIONS, which the 81-year-old composer has written as descendants of other well-known variations and a tongue-in-cheek psychogram of his friends "Roland and Sieglinde". In this respect, the composition is his first "programme music", which, as Hummel remarks facetiously, contradicts his own lifelong philosophy of music. Christoph plays the complex, virtuosic work with the due wit and greatest dedication, as well as with absolute pianistic earnestness. He has already released brilliant recordings of some of the most challenging works of piano literature with TYXart: for example, Tchaikovsky's monumental Grand Sonata in G major.

Christoph Preiss, born in 2001, began to play the piano when he was 5 years old. Since 2011, he has been a pupil of the pianist and composer Franz Hummel and he also studies organ with the Regensburg cathedral organist Professor Franz Josef Stoiber. Since the winter term of 2019/20, he has begun to study with Prof. Bernd Glemser (piano) and Prof. Christoph Bossert (organ) at the University of Music in Würzburg.
He has been featured in numerous radio and television programmes (BR, WDR and ZDF), which documented his artistic achievements and presented his three solo piano CDs. These drew enthusiastic reviews from the critics: Guido Krahwinkel wrote in Bonn's "General Anzeiger": "What talent! ... He plays such difficult repertoire at the highest possible level. ... Preiss's mastery at such an early age demands unconditional respect, [...] It was unbelievable to hear Preiss's interpretation of Franz Liszt's "Funérailles". Here he has reached a musical depth and emotional intensity, which is seldom achieved, even by fully grown professionals."
Free Audio Samples ... of this CD album!
Review and CD Recommendation
MusicWeb INTERNATIONAL, United Kingdom/international (04/2020)
Presentation of the new Release
klassik.com, Germany/international (01/2020)
CD Presentation and Recommendation
Kulturjournal Regensburg/Culture Journal Bavaria/Germany (02/2020)
Presentation of Album and Artists, CD Tip
Newspaper 'Mittelbayerische Zeitung' (01/2020)
CD programme / Tracklist:

Franz Hummel (b. 1939): 33 Hercher Variations
(33 CD Tracks)
Tags: Hummel Hercher Preiss Piano LC28001
» Detailed CD booklet includes further info (bio, photos, etc.)
» Total playing time: 44min 32sec | Booklet Text: DE, EN, FR
» Format: 1 Audio-CD | Series "Modern Classics " | RD from 02/2020
» Order No.: TXA19134 | GTIN (EAN): 4250702801344
» CD available commercially or directly via TYXart
Christoph Preiss' third CD: Christoph Preiss, 16, Piano