Namirovsky-Lark-Pae Trio:
Misha Namirovsky, Piano - Tessa Lark, Violin - Deborah Pae, Cello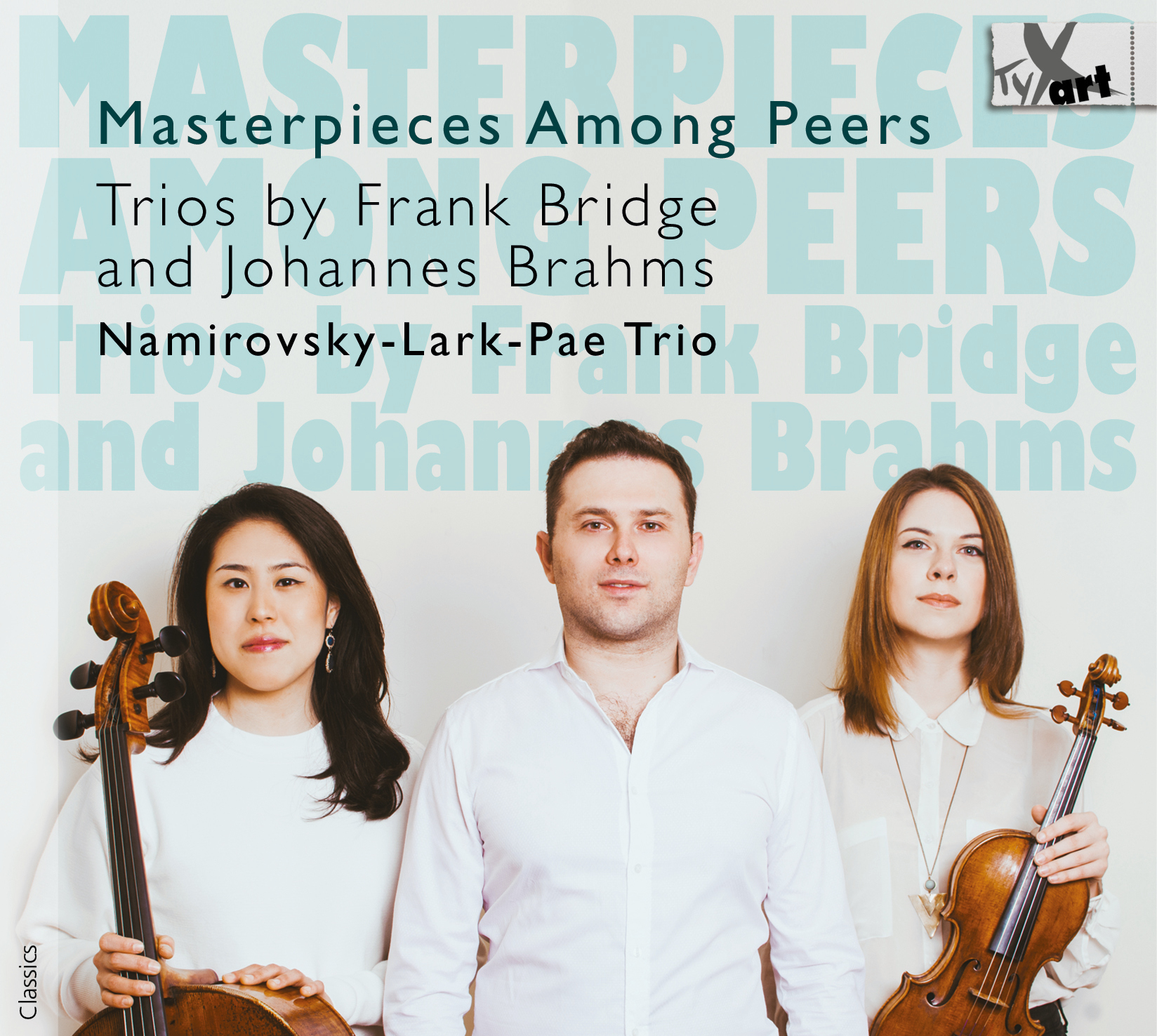 Masterpieces among Peers: Trios by Frank Bridge and Johannes Brahms

Joining the Trios of Johannes Brahms and Frank Bridge on one CD album may appear on first glance as an odd choice. The two composers offer few points of overlap, whether one chooses to observe them from a historical-biographical perspective or in a more direct comparison of their musical styles and characters. Yet this choice is anything but random.
All too often, recordings of music by "secondary composers" are preserved in a somewhat academic / systematic manner: for example, as complete recordings of one's oeuvre or in conjunction with compositions of that composer's countrymen. The established masterworks on the other hand are presented in highly diverse arrangements and combinations, thus underlying the inherent interest of a particular interpretation of that work. As the title of this CD suggests, our intention is to position Bridge's second piano trio among the established masterpieces of the genre and to propel the composition unto the consciousness of music lovers and performers alike. For that reason, we chose to link the Bridge trio with Brahms' op. 8—one of the most beloved and cherished compositions in the piano trio genre and one which we hold very dear to our hearts.

Founded in 2012, Namirovsky-Lark-Pae Trio (formerly Trio Modêtre) is a charismatic chamber ensemble known for their unbridled energy and imaginative interpretations of works in the classical and contemporary canon. Comprised of three internationally acclaimed artists, they are recipients of the Silver Medal and the "G. Burt & Charlotte Ford Fund" at the 2012 Fischoff National Chamber Music Competition; and they are winners of a 2016 Tarisio Trust Young Artist Grant, which co-sponsors this debut recording, "Masterpieces Among Peers".
Namirovsky-Lark-Pae Trio's musical influences span many centuries and continents, from Bluegrass in Kentucky to the traditions and new voices of Europe, the Middle East, and East Asia. Pursuing their deep affection for chamber music, they have also been Artists-in-Residence at a number of highly regarded festivals including Marlboro, Ravinia Steans Music Institute, Yellowbarn, Prussia Cove, and the Perlman Music Program, and have collaborated with a wide array of world-renowned artists including Itzhak Perlman, Pamela Frank, Kim Kashkashian, Ralph Kirshbaum, Paula Robinson, Peter Wiley and Arnold Steinhardt.
[extract of the booklet text]
Free audio samples of this new CD album!
INTERNATIONAL PRESS REVIEW ABOUT THIS NEW ALBUM:
The German Record Critics' Award | Preis der deutschen Schallplattenkritik
PdSK - "Quarterly Critics' Choice" (Bestenliste) 3/2020
CD Programme / Tracklist:
Frank Bridge (1879–1941)
Piano Trio No. 2, H. 178 /
Trio Nr. 2 für Violine, Violoncello und Klavier, H 178
I. Allegretto ben moderato 10:52
II. Molto allegro 05:00
III. Andante molto moderato 06:05
IV. Allegro ma non troppo 08:34

Johannes Brahms (1833–1897)
Piano Trio No. 1 in B major, Op. 8 /
Trio Nr. 1 H-Dur für Violine, Violoncello und Klavier, op. 8
I. Allegro con brio 15:10
II. Scherzo: Allegro molto 06:27
III. Adagio 09:09
IV. Allegro 06:50


CD Album: Digipak 6 pages, Booklet 20 pages, multi-lingual


Tags: Keywords Frank Bridge Johannes Brahms Namirovsky-Lark-Pae Trio 4250702801047
» Detailed CD booklet includes further info (bios, photos, etc.)
» Total playing time: 68min 14sec | Booklet Text: DE, EN, FR, CN
» Format: 1 Audio-CD, DigiPac 6 pages | Series "Classics"
» Order No.: TXA18104 | GTIN (EAN): 4250702801047 | © 2020
» CD available commercially or directly via TYXart
Further CDs with this Artists coming soon
Further Info - Artists & Concert Dates etc.:
Namirovsky-Lark-Pae Trio