Julian Riem, Piano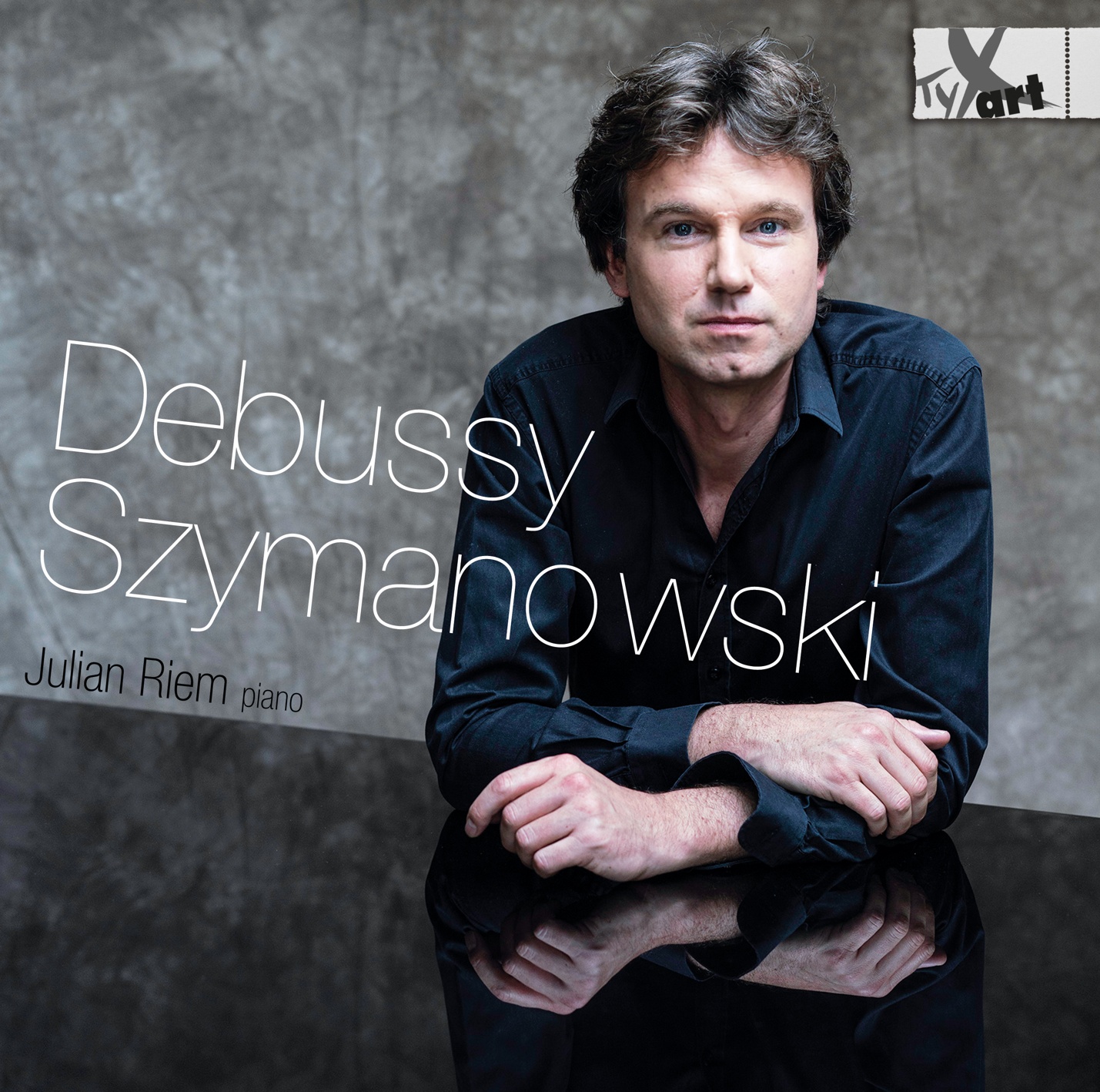 Piano Etudes by Debussy and Szymanowski, 1915/16

Julian Riem is a pianist noted for his elegance, spirited playing, and striking virtuosity. Numerous chamber music recordings attest to his versatility. Now the Echo award-winner is pre-senting his first solo CD, which features genuine rarities: the etudes of Claude Debussy and Karol Szymanowski represent the pianistic high points in the careers of two geniuses, who ex-periment here with the technical possibilities of the instrument and interpreter alike. Both composers wrote these cycles during the First World War, finding a highly personal form of expression in the process. Here the legacy of Chopin merges with the dawn of modernism.
With his depth, evocative playing, and brilliant tonal nuances, Riem leads us on a true journey of discovery.

The piano etude: from technical exercise to work of art
The etude (fr. étude: study) is an invention of the late eighteenth century. Originally called "Handstück" (lit. "hand piece," technical exercise), it is the result of the pedagogical endeavor to make learning technical foundations and nuances more palatable. These technical exercises, composed by teachers for the special needs of their pupils, were unique specimens and remained unpublished for good reason. With the tremendous innovations in piano manufacturing that took place during the first quarter of the nineteenth century and the rise of virtuosity, the stolid exercise underwent a metamorphosis to become the etude, something that bona fide composers now turned to with pianistic and pedagogical eros. The most well-known among them were Muzio Clementi with his Gradus ad parnassum (1817–1826), Johann Nepomuk Hummel with his Complete Theoretical and Practical Course of Instruction on the Art of Playing the Piano Forte (1828), and Carl Czerny with works such as his School of Velocity (1832). Even before this "butler of virtuosity" (Dieter Hildebrandt) published his magnum opus, Frédéric Chopin made duty a pleasure by turning the technical exercise into a publicly presentable work. His Twelve Etudes, op. 10, written between 1829 and 1832, were enthusiastically received by Parisian society, even more so than his Mazurkas or Nocturnes. [...]
[Extract of the CD booklet]


Julian Riem, native of Munich, Germany, studied with Michael Schäfer at the Hochschule für Musik und Theater in Munich and with Michel Béroff at the Conservatoire National Supérieur in Paris. He continued his studies with Rudolf Buchbinder at the Basel Music Academy, where he received a degree in solo performance with high honors. He is the winner of international piano competitions in Modena and Florence (Italy) as well as in Madrid (Spain) and was awarded a scholarship at the national German Music Competition.
Julian Riem's active concert schedule regularly takes him to Europe, Asia and the USA. International festival performances include the "Festival Liszt-en-Provence", the European Music Academy in Aix-en-Provence, France, Musica mundi in Brussels, Belgium, Les Muséiques in Basel, Switzerland, Marvao International Music Festival, Portugal, Tongyeong International Music Festival, South Korea, as well as the Oleg Kagan Festival, Festspiele Mecklenburg-Vorpommern, Schleswig-Holstein Musik Festival, the Munich Opera Festival and the Rheingau Musikfestival, all in Germany.
Riem is a sought-after chamber musician and Lied accompanist. He is a member of the Munich Horn Trio as well as the Velit Quartet and frequently collaborates with cellist Raphaela Gromes. He has recorded for such labels as Sony classical, Farao classics, Oehms, Querstand and Gramola. His recording with the Munich Horn Trio of works of Brahms and Ligeti won a prestigious Echo Klassik award 2012.
In addition to his commitment to the standard classical music repertory, Julian Riem regularly performs the works of well-known 20th century composers like Messiaen, Ligeti, Stockhausen, Henze, Boulez, Xenakis, Schnittke and Hartmann and is an in-demand interpreter of the works of living composers like Liebermann, Stahmer, Borboudakis, Illes, Koch and Bertelsmeier.
Free audio samples of this new CD album!
CD Review and Tip!
Portal musicalifeiten.nl (online 10/2018)
Klassik Heute CD Review
Online Magazine klassik-heute.com (11/2018)
CD Presentation and Tip!
Magazine "Kulturjournal" Regensburg/Bavaria (Edition 10/2018)
klassik.com - CD-Kritik
»[...] Julian Riem gestaltet makellos und höchst überzeugend [...] eine rundum überzeugende Platte! ♪♪♪♪«
klassik.com (11/2018)
Riem Plays Debussy & Szymanowski Études
»[...] A very exciting and fun disc for lovers of "modern" (i.e., anything that has advanced harmonies, even if it's more than a century old) piano music.«
The Art Music Lounge, USA (online Jan 22, 2019)
CD Review "The New Listener"
the-new-listener.de, Germany/int'l (January 17, 2019)
Album Review and Recommendation!
Opus Klassiek, The Netherlands/int'l (11/2018)
CD programme / Tracklist:
Claude Debussy (1862–1918)
à la mémoire de Frédéric Chopin

Douze Études (1915)

1er Livre
01 Pour les "cinq doigts" - d´après Monsieur Czerny
Sagement. Animé (Mouvement de Gigue) 02:52
02 Pour les Tierces
Moderato, ma non troppo 03:15
03 Pour les Quartes
Andantino con moto 04:53
04 Pour les Sixtes
Lento 03:43
05 Pour les Octaves
Joyeux et emporté, librement rythmé 02:33
06 Pour les huit doigts
Vivamente, molto leggiero e legato 01:36

2e Livre
07 Pour les degrés chromatiques
Scherzando, animato assai 02:10
08 Pour les agréments
Lento, rubato e leggiero 04:38
09 Pour les notes répétées
Scherzando 03:04
10 Pour les sonorités opposées
Modéré, sans lenteur 04:22
11 Pour les arpèges composés
Dolce e lusingando 03:55
12 Pour les accords
Décidé, rythmé, sans lourdeur 04:17


Karol Szymanowski (1882–1937)
à Monsieur Alfred Cortot

Études op. 33 (1916)

13 Presto 01:04
14 Andantino soave 01:21
15 Vivace assai 00:36
16 Presto 01:24
17 Andante espressivo 01:08
18 Vivace 00:38
19 Allegro molto 00:53
20 Lento assai mesto 02:04
21 Animato 01:04
22 Presto. Tempestoso 01:01
23 Andante soave 01:22
24 Presto 01:44


Keywords: Julian Riem Piano Debussy Szymanowski Etudes
» Detailed CD booklet includes further info (bios, photos, etc.)
» Total playing time: 56min 41sec | Booklet Text: DE, EN, FR,JP
» Format: 1 Audio-CD | Series "Classics" | Release int. from 11/2018
» Order No.: TXA18100 | GTIN (EAN): 4250702801009
» CD available commercially or directly via TYXart
Further information and concert dates:
www.julianriem.com