Alexandra Sostmann, Piano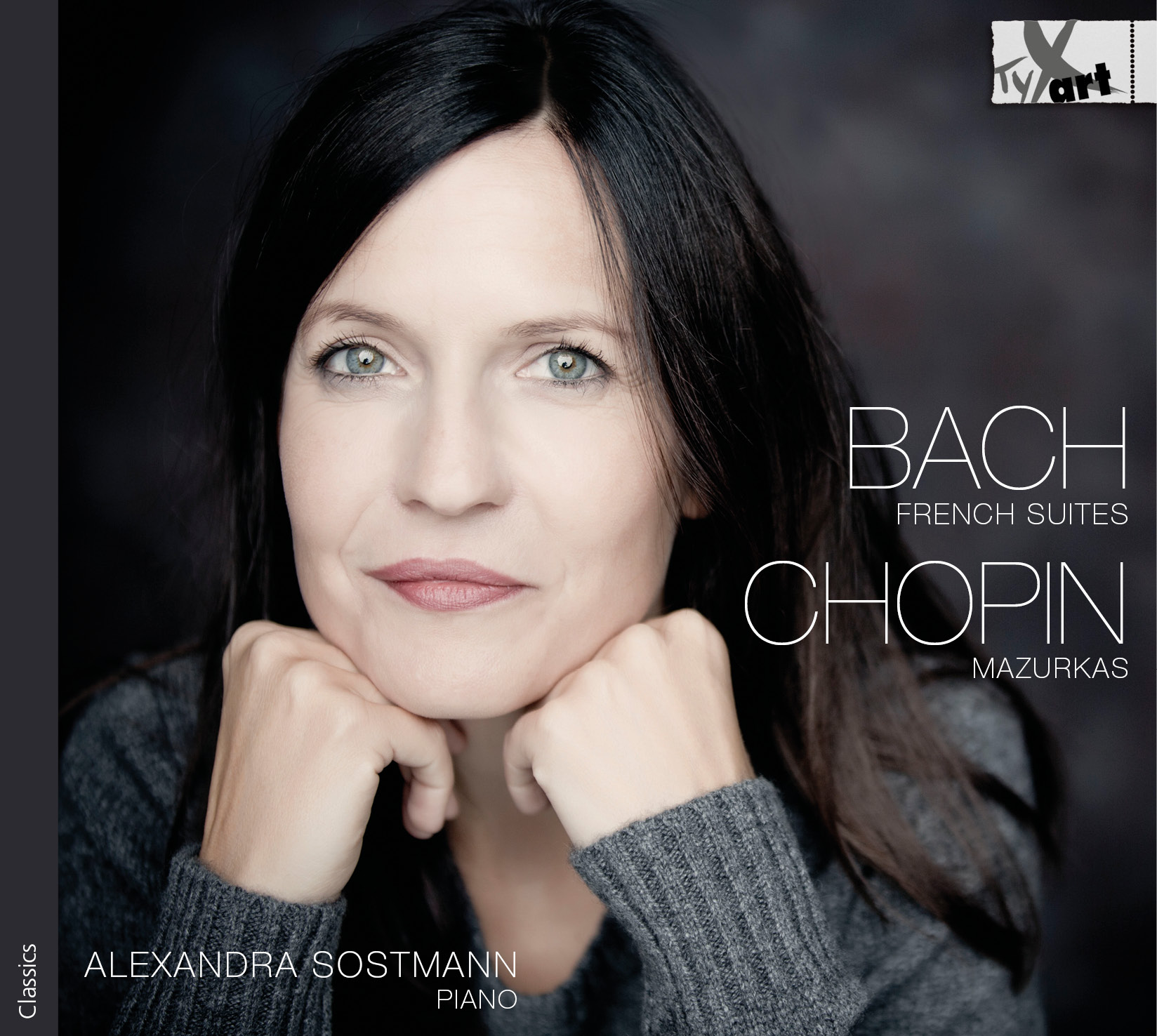 "Bach will never grow old. His works are constructed like geometric figures. Everything is in its place, and you will look in vain for a superfluous line." Frédéric Chopin

Frédéric Chopin is regarded as one of Johann Sebastian Bach's, most significant musical successors, despite the fact that, as far as temperament, era and the personal circumstances under which they worked are concerned, the two musicians could hardly be more different. Bach's artistic genius developed in a Central German baroque, provincial town, his works and his character protected by his unshakeable faith. In contrast, Chopin was a man continually torn apart by weltschmerz, a Polish emigré in Paris, who was celebrated and admired in the fashionable salons but had no ties to a real place on earth except to the "dream world of poetry", as Heinrich Heine described it. And to Johann Sebastian Bach's music. Even as a child in Warsaw, he was said to have played Bach's Preludes and Fugues by heart. This was unusual at that time, for it was not until 1829, following the performance of the St. Matthew Passion by Felix Mendelssohn-Bartholdy, that Bach's music was rediscovered. By then Chopin was 19 years old and about to leave for London and Paris, at the start of an exciting career as a virtuoso pianist. He had, incidentally, prepared himself for this new life by practising Bach's works, rather than his own compositions and he is said that he have told his students that Bach was "the best for making progress". When he travelled to the Valldemossa Charterhouse in Majorca in the winter of 1838/39, he only took one piece of music with him: Bach's "Well-Tempered Piano", which he reflected in the architecture of his own 24 Préludes Op. 28.
The proximity to Bach is also manifest in the rich creativity of Chopin's Mazurkas, although Chopin is said to have declared that he would never "reach such heights". In their compact structures, some Mazurkas bear witness to his profound analysis of the works of the "Thomaskantor". And they demonstrate a visionary harmony that seems to anticipate Wagner. "I find such relationships fascinating," says Alexandra Sostmann, the pianist from Hamburg. "On the one hand, the horizon is widened, on the other hand, the circle closed. Bach's artistic genius is universal. He absorbs everything but is, at the same time, the source of everything."
On her CD "Bach & Contemporary Music", that was released in 2014 (TXA13036), she demonstrated Bach's influence on modern composers. In her new recording, she traces the relationship between Chopin and Bach – with one particular aspect in mind. "All the works I have recorded are determined by dance forms, but stylized dances, of course, that were never intended as an invitation to dance," says Sostmann. She has chosen ten Mazurkas by Chopin and placed them between two of Bach's French Suites, No. 3 in B minor BWV 814 and No. 5 in G major BWV 816

Discover the connection between the composers and traces of Bach in Chopin!
Free audio samples of this new CD album!
Video - new Album "BACH – CHOPIN"
TYXart Video Channel
CD Review in the Newspaper FAZ!
»A great joy to hear this CD again and again.«
Newspaper "Frankfurter Allgemeine Zeitung", Feuilleton/Music (Nov 13, 2017)
From February 2018 – In-flight Entertainment: Recommended in the Audio programme at Lufthansa, Austrian Airlines, Swiss Int'l Airlines
'Klassik Heute' Recommendation!
»Maximum Score: Artistic Quality, Sound Quality and General Impression.«
klassik-heute.com, (online Sept 13, 2017)
Magazine "concerti" - CD Review!
concerti.de, Germany (10/2017)
CD News - Broadcasting Corp. NDR kultur
Album Presentation & Recommendation!
NDR kultur, Germany (Radio Broacast, Sept 24, 2017)
CD Review & Recommendation: "Tranquillity and Mastery"
the-new-listener.de, Germany (online 10/2017)
Album Review & Tip!
quadrevisie.nl, BeNeLux (online 09/2017)
Review & Tip
klassik.com Germany, Dr. Hartmut Hein (10/2018)
Radio Presentation & Recommendation
radioklassik.at Austria, Monika Jaros (Broadcast May 2018)
CD Review and Recommendation!
OpusKlassiek, The Netherlands (online 09/2017)
CD programme / Tracklist:
BACH – CHOPIN

JOHANN SEBASTIAN BACH (1685–1750)
French Suite No. 5 in G major BWV 816
Allemande (03:29)
Courante (01:47)
Sarabande (04:27)
Gavotte (01:08)
Bourrée (01:19)
Loure (02:17)
Gigue (03:25)

FRÉDÉRIC CHOPIN (1810–1849)
Mazurka Op. 6 No. 1 in F sharp minor (03:18)
Mazurka Op. 24 No. 2 in C major (02:19)
Mazurka Op. 17 No. 4 in A minor (04:31)
Mazurka Op. 24 No. 4 in B fl at minor (05:23)
Mazurka Op. 63 No. 3 in C sharp minor (02:22)
Mazurka Op. 7 No. 2 in A minor (03:30)
Mazurka Op. 67 No. 4 in A minor / WN 60 (posthumous) (03:04)
Mazurka Op. 50 No. 3 in C sharp minor (05:45)
Mazurka Op. 68 No. 2 in A minor / WN 14 (posthumous) (03:29)
Mazurka Op. 68 No. 4 in F minor / WN 65 (posthumous) (03:30)

JOHANN SEBASTIAN BACH
French Suite No. 3 in B minor BWV 814
Allemande (03:55)
Courante (02:08)
Sarabande (03:27)
Menuett I/II (02:58)
Anglaise (01:32)
Gigue (01:57)


CD-Album: Digipak 6 pages, Booklet 24 pages, multi-lingual


Keywords: Alexandra Sostmann Bach Chopin CD 4250702800972 TXA17097 TYXart Labelcode LC28001
» Detailed CD booklet includes further info (bios, photos, etc.)
» Total playing time: 71min 20sec | Booklet Text: DE, EN, FR
» Format: 1 Audio-CD | Series "Classics" | Release int. from 10/2017
» Order No.: TXA17097 | GTIN (EAN): 4250702800972
» CD available commercially or directly via TYXart
Another CD by pianist Alexandra Sostmann:
"Bach & Contemporary Music"
Further information and concert dates:
www.alexandra-sostmann.de