Alexandra Sostmann, Piano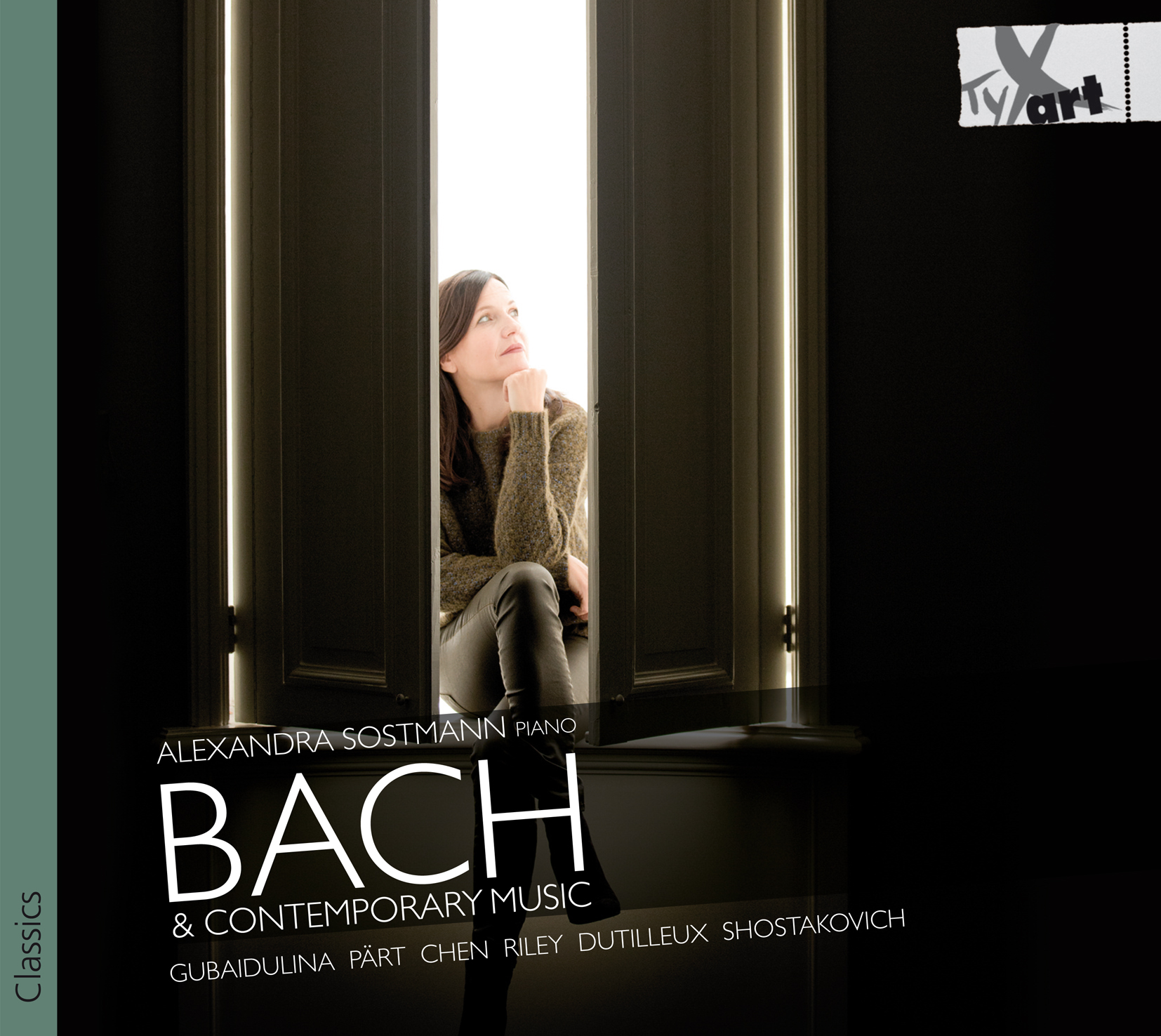 A Net of Traditions
In this personal musical selection, the pianist Alexandra Sostmann traces the delicate ramifications in the history of piano music. Despite the historical distance between the separate works, the choice makes clear that music and interpretation are dependent upon one another and that, together, they can reveal similarities between baroque and contemporary music.
For example: The question of whether G Song fits into the context of this CD, which accentuates the many-faceted flourishing of musical tradition, is answered by the composer Terry Riley with an »enthusiastic YES for this project«. The ear is best qualified to recognise that in Baroque Music, polyphony forms the rhythm, whereas in Minimal Music, polyrhythmic conjurs up the melody.
Magnificent Baroque as well as "new" Piano Music by Johann Sebastian Bach, Sofia Gubaidulina, Arvo Pärt, Xiaoyong Chen (Premiere Recording), Terry Riley (Transcription for Piano — Premiere Recording), Henri Dutilleux and Dmitri Shostakovich.
"Making of Video" - new Album BACH & CONTEMPORARY MUSIC
TYXart Video Channel
»CD Review & Recommendation!
[...] Sostmann performs lovingly. [...] Given the thought of programming and the performances themselves, this release is a winner.
The way that Sostmann moulds Bach's music to suit its surrounding is exceptional.«
Fanfare Magazine USA (June/July 2014)
»[...] an astounding 'auditory' experience!«
Review, BR Klassik - Bavarian Broadcasting Corporation, Dr. Thorsten Preuß, www.br.de/radio (27 Jan 2014)
»[...] excellent Interpretation [...]
Performance: ***** 5 Stars! «
KulturNews.de (online, Feb 2014)
»CD Tip!«
Recommended by hr2 kultur Broadcast Corporation (09 Feb 2014)
»CD Tip!«
pizzicato - Journal about Classical Music - Remy Franck (30 March 2014)
»CD Tip!«
Newspaper Frankenpost (06 March 2014)
»Music and Sound: very good!«
FONO FORUM (July 2014)
»[...] this is an intriguing recital [...] Shostakovich's concentrated fugue builds to a passionate climax in Sostmann's hands, providing an intense finale. [...] If you look at the versions for piano, there are many fine competitors; Angela Hewitt, Murray Perahia, Vladimir Feltsman and Robert Levin offer the English Suites in contrasting performances. Alexandra Sostmann's performance of the A minor suite shows up well in that company; athletic, clear and well-articulated, as is her account of the D minor prelude and fugue. [...] the sound recording is clear and spacious. Certainly well worth a listen.«
MusicWeb-International (14 April 2014)
»Interpretation, Sound Quality, Repertoire, Booklet: very good!«
klassik.com (30 Jun 2015)
CD programme / Tracklist:
BACH & CONTEMPORARY MUSIC

Johann Sebastian Bach (1685–1750)
Toccata C minor BWV 911

Sofia Gubaidulina (*1931)
Toccata–Troncata

Arvo Pärt (*1935)
"Für Alina"

Johann Sebastian Bach
English Suite No.2 A minor BWV 807
Prélude. Allemande. Courante. Sarabande. Bourrée I+II. Gigue

Xiaoyong Chen (*1955)
Diary III [ Premiere Recording ]
Chant of Stones. Wind, Water and Shadow

Terry Riley (*1935)
G-Song [ Transcription for Piano - Premiere Recording ]

Henri Dutilleux (1916–2013)
Au gré des ondes: Hommage à Bach (1946)

Johann Sebastian Bach
Prelude and Fugue D minor BWV 851
Prelude. Fugue

Dmitri Shostakovich (1906–1975)
Prelude and Fugue D minor Op. 87, 24 Prelude. Fugue


CD-Album: Digipak 6 pages, Booklet 24 pages, multi-lingual


Keywords: Tags Alexandra Sostmann Bach Contemporary Music Bach Gubaidulina Pärt Chen Riley Dutilleux Schostakowitsch New CD Contemporary Piano Music GTIN EAN 4250702800361 Order No. TXA 13036 TYXart LC Labelcode 28001
» Detailed CD booklet includes further info (bios, photos, etc.)
» Total playing time: 66min 35sec | Booklet Text: DE, EN, FR, JP
» Format: 1 Audio-CD | Series "Classics" | Release int. from 02/2014
» Order No.: TXA13036 | GTIN (EAN): 4250702800361
» CD available commercially or directly via TYXart
Another CD by pianist Alexandra Sostmann:
"Bach - Chopin"
Further information and concert dates:
www.alexandra-sostmann.de