Ilia Yourivich Laporev, Cello - Ilia Laporev jr., Cello -
Dasha Moroz, Piano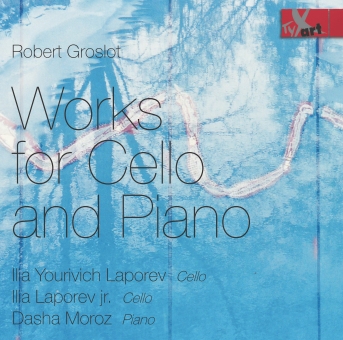 Robert Groslot: Works for Cello and Piano

Robert Groslot's music reveals a multifaceted personality that in addition to being an accomplished pianist and conductor is also at home in the visual arts, video art and mind games.
Groslot takes his inspiration from images, in which a line is equal to writing a musical phrase, but a colour can serve just as well to create a harmony. His fascination for puzzles forms the overarching structure for it all. But above all, his passion for language has led to intriguing writings that make his personal style recognisable.
An organic music resounds through his impressive body of work that, just like our language, has an internal cohesion while communicating directly with the listener. His music speaks immediately through its spontaneity, capricious twists and surprising humour.
Because Groslot starts with improvisation, his music sounds like an intuitive language with a logical development, which is always audibly recognisable for the listener. In terms of melody, he thinks in musical phrases – just like in a spoken conversation – which can be suddenly interrupted or overlap each other internally. This "conversational technique" is the leitmotif through his body of work and also resounds through his titles.
Although the harmonies are often built upon fifths and thirds, his music is rarely tonal. He succeeds in rhythmically using apparently repetitive elements that remain unpredictable every time. The listener is immersed in a lively fantasy that bursts with contrasts, surprises and playful twists, while being highly and consistently structured at the same time.
All three of the compositions on this CD are connected to one another through their link to the spoken language, which is also expressed in some of the titles.

The three excellent musicians Ilia Yourivich Laporev (Cello), Ilia Laporev jr. (Cello, Tracks 02-06) and Dasha Moroz (Piano) bring this very interesting solo and chamber music by Robert Groslot to the listeners for the first time.
Free Audio Samples ... of this CD album!
Portrait - Robert Groslot: "Elektrisierende Leichtigkeit und schwindelerregende Virtuosität"
crescendo - Magazine, Germany, Christoph Schlüren (Edition Sept.-Oct. 2017)
CD Review/Recommendation
the-new-listener.de, Germany (online 09/2017)
CD Review & Recommendation!
OpusKlassiek, The Netherlands, Aart van der Wal (online 06/2017)
»Album Review & Tip: 4 ♪♪♪♪«
pizzicato.lu, Luxembourg/int'l, Remy Franck's Journal about Classical Music (online July 12, 2017)
CD programme (Tracklist):
Robert Groslot (*1951)

Conundrum for Cello and Piano (2014) [17:27]

Unclouded Conversations for two Cellos (2014)
Fable [03:26]
Debate [02:33]
Pillow Talk [03:20]
Questioning [04:16]
Prophecy [03:33]

Sonata for Cello solo (2011)
I. Thoughts and Consequences [15:25]
II. Barcarola [04:39]
III. Sogni, fantasme, scacciapensieri
(Dreams, Fantasies, Diversions) [07:28]


Tags Keywords: Groslot Laporev Moroz cello piano CD TYXart LC28001 ISRC 4250702800941 TXA17094
» Detailed CD booklet includes further info (bios, photos, etc.)
» Total playing time: 62min 30sec | Booklet Text: DE, EN, FR, JP
» Format: 1 Audio-CD | "Modern Classics" | Release int'l ~ 08/2017
» Order No.: TXA17094 | GTIN (EAN): 4250702800941 | (p)+(c)2017
» CD available commercially or directly via TYXart
Another CD with music by Robert Groslot:
"Chamber Music"
Further info about the composer:
robertgroslot.eu