Bernhard Berchtold Tenor - Jeannette La-Deur, Piano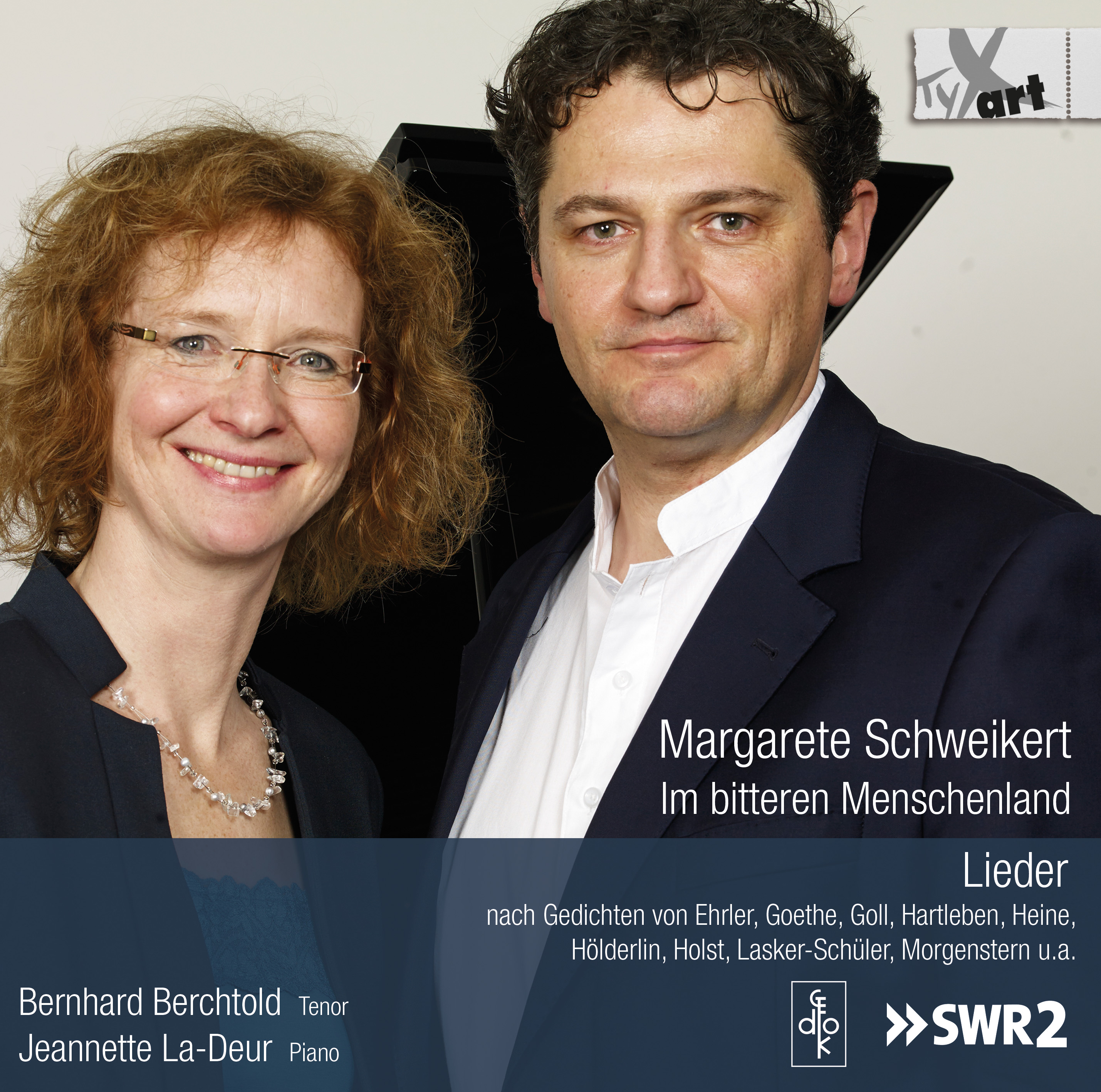 Margarete Schweikert - Im bitteren Menschenland
Lieder after Poems by Ehrler, Goethe, Goll, Hartleben, Heine, Hölderlin, Holst, Lasker-Schüler, Morgenstern ...

Margarete Schweikert was born on the 16th of February, 1887 in Karlsruhe/Germany, the residency of the former Margrave of Baden. She remained the only child of her parents Luise, née Petry, and Friedrich Schweikert. Both were interested in music, Luise played the piano, Friedrich the violin. They also sang with their only daughter. At the age of 14, Margarete left the lyceum and concentrated on the artistic formation at the Munz'sche Konservatorium in Karlsruhe, where she studied violin, piano and possibly singing. At the Badisches Konservatorium, the precursor of the Badische Hochschule für Musik (Baden University of Music), she was taught the violin by Heinrich Deecke, first violinist of the Großherzoglich Badische Hofkapelle (Court Orchestra of the Margrave of Baden) and in the theory of music and composition by Max Herold. During her studies, Margarete Schweikert began to perform as a violinist in Karlsruhe. For her concerts, again and again, she wrote new songs and combined them with compositions for the violin. In the winter semester 1912/13, Schweikert continued her studies in Stuttgart privately. Her teachers were the violinist Carl Wendling and the composer Joseph Haas, an alumnus of Max Reger, both were lecturers at the local Königliche Konservatorium (Royal Conservatory).
The most prolific years of the song composer Margarete Voigt-Schweikert lay between 1910 and 1925. In 1924, her daughter Christiane was born, later, due to the National Socialist Party's employment policy, she was not allowed to work, and only because she was married. After World War II and after several strokes of fate, she wrote another few songs. Margarete Voigt-Schweikert died in her native city on March the 13th, 1957.
[ Further english info text about artists & works: see booklet inside ]
Free Audio Samples of this CD album!
CD Review and Recommendation!
Opus Klassiek, The Netherlands (online 04/2018)
Review and Tip!
MusicWeb INTERNATIONAL, United Kingdom / int'l (online 08/2018)
CD programme (Tracklist):
Margarete Schweikert (1887–1957)

Einzelne Lieder
Der Schäfer (Johann Wolfgang von Goethe)
Glück (Cäsar Flaischlen)
Meine Hoffnung (Ernst Zahn)
Morgengebet (Hans Heinrich Ehrler)

Lieder an ein Mädchen op. 15 (Hans Heinrich Ehrler)
Die Wolke muss zum Himmelsrand
Du bist noch so von Mutter her
Es rieselt etwas über dein Gesicht
Wenn ich holder Liebreiz
Was hat getan dir dieser eine Kuss
Hab ich beladen dich mein Kind
Und wenn du in die Fremde gehst
Erloschen ist der Sterne schimmernd Heer
Und wenn ein Sturm herunterbricht

Einzelne Lieder
Es liegt der heiße Sommer (Heinrich Heine)
Die Visitation (Adolf Holst)
Märchenstunde (Albert Herzog)
Zu Dritt (Börries Freiherr von Münchhausen)
Des Sturmgotts Liebe (Albert Herzog)
Süßduftende Lindenblüte (Otto Erich Hartleben)
Kleine Tragik (Ludwig Marohl)
Es war ein alter König (Heinrich Heine)
Slawisches Liebeslied (Frida Schanz)
Wehmut im Walzertakt (Hans Beyersdorff)
An deiner Kirche (Erminia van Natangen)

Im bitteren Menschenland op. 9 (Ernst Goll)
Opfer
Ich sah ein Blümlein
Jubel
Verlöbnis
Trotzige Liebe
Bitte
Ahnst Du?
Ein Brief
Zwei Vöglein
Die Liebenden

Einzelne Lieder
Weltende (Else Lasker-Schüler)
Der Säemann (Christian Morgenstern)
Totenhausen (Heinrich Vierordt)
Die Entschlafenen (Friedrich Hölderlin)


Tags Schweikert Lieder Berchtold La-Deur CD TYXart LC28001 4250702800866 TXA16086
» Detailed CD booklet includes further info (bios, photos, etc.)
» Total playing time: 74min 53sec | Booklet Text: DE, EN
» Format: 1 Audio-CD | "Classics" | Release int'l from 04/2018
» Order No.: TXA16086 | GTIN (EAN): 4250702800866 | (p)+(c)2018
» CD available commercially or directly via TYXart
Further CD with Lieder by Margarete Schweikert:
"Margarete Schweikert: Lost Love"