Diana Tomsche, Soprano - Armin Kolarczyk, Baritone -
Jeannette La-Deur, Piano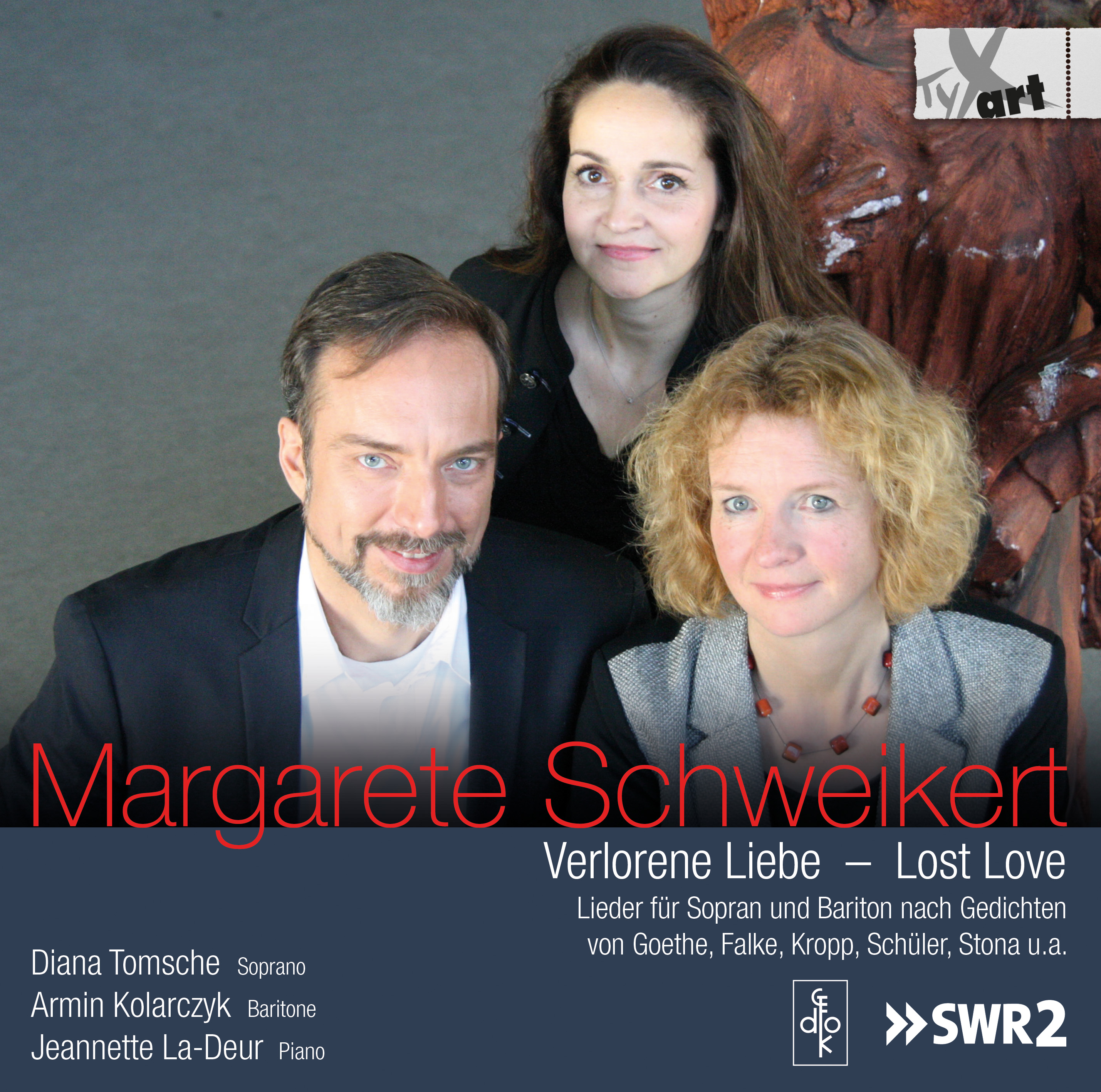 Margarete Schweikert - Lost Love
Lieder for Soprano and Baritone after Poems by Goethe, Falke, Kropp, Schüler, Stona ...

The songs recorded for this CD span a whole female composer's life: Still a student at Munz'sches Konservatorium in Karlsruhe, Germany, Margarete Schweikert wrote the songs Der Page on a poem of Frida Schanz and Im Schilf on verses of A. W. Stern. They were premiered in a concert given by the students on june 7, 1905. Three of the Vier Lieder nach Gedichten von Martha Kropp were performed for the first time on january 28 in 1955 in a concert arranged by the GEDOK Karlsruhe in presence of the composer.
Her teachers were the violinist Carl Wendling and the composer Joseph Haas, an alum of Max Reger; both lecturers at the local Königliche Konservatorium. During these years, Margarete Schweikert expanded her activities as violinist and as composer: She performed not only in Karlsruhe, but in other Southern German cities like Würzburg, Nürnberg and Stuttgart. In the programs organized by herself, she often combined chamber music for violin and her songs. Again and again, renowned singers campaigned for her songs: In Karlsruhe e. g. the baritone Otto Wessbecher, who, from 1911 on, included Gomorra frequently in his programmes. In Karlsruhe, Stuttgart and Munich, the soprano Hedy Iracema-Brügelmann, the bass-baritone Hermann Conzelmann and the composer on the concert grand realized a composition evening with songs of Margarete Schweikert in february and march 1920.
[ Further english info text about artists & works: see booklet inside ]
Free Audio Samples ... of this CD album!
CD Review and Recommendation!
Opus Klassiek, The Netherlands (online 04/2018)
CD Review "Klassik Heute"
klassik-heute.com, Germany / intl' (June 21, 2018)
Review and Tip!
MusicWeb INTERNATIONAL, United Kingdom / int'l (online 08/2018)
CD programme (Tracklist):
Margarete Schweikert (1887–1957)

Im Schilf (A.W. Stern)
Nähe (Johann Wolfgang von Goethe)
Wie zum Himmel (Georg Marrell)
Das Wölkchen (Gustav Falke)
Die Verschmähte (Gustav Falke)
Malönchen (Gustav Falke)
Auf einer Wiese (Eduard Grisebach)
Der Page (Frida Schanz)
Wiegenlied (Johannes Schweitzer)

Frühlingslieder op.12 (Gustav Schüler)
Frühlingslied
Frühlingsbild
Das möcht ich gern
Säerspruch

In Meissenheim (Anonym)
Du meiner Jugend (Adolf Holst)
Das unscheinbare Vögelchen (Gustav Falke)
Seliger Eingang (Gustav Falke)
Mädchengebet (Agnes Miegel)
Gomorra (Maria Janitschek)
Unser Haus (Johannes Schlaf)
Glocken (Ernst Zahn)
Graue Tage (Cäsar Flaischlen)
Litauisches Lied (Erminia van Natangen)
Verlorene Liebe (A. von Berchthold)
Seelchen (Maria Janitschek)
Wachsen der Nacht (Carl Meissner)
Zukunft (Gustav Falke)
Die Falte (Gustav Falke)
Der Schmerz (Otto Julius Bierbaum)
Zusammen sterben (Jap. Verse d. Nagahorn; d. Paul Enderling)
Meine Lippen brennen so (Maria Stona)

Vier Lieder nach Gedichten von Martha Kropp
Farbloser Tag
Landschaft
Spätsommer
Ich singe nicht


Tags Schweikert Lieder Tomsche Kolarczyk La-Deur CD TYXart LC28001 4250702800859 TXA16085
» Detailed CD booklet includes further info (bios, photos, etc.)
» Total playing time: 74min 30sec | Booklet/Lieder Text: DE, EN
» Format: 1 Audio-CD | "Classics" | Release int'l from 04/2018
» Order No.: TXA16085 | GTIN (EAN): 4250702800859 | (p)+(c)2018
» CD available commercially or directly via TYXart
Further CD with Lieder by Margarete Schweikert:
"Margarete Schweikert: Im bitteren Menschenland"