Jamina Gerl, Piano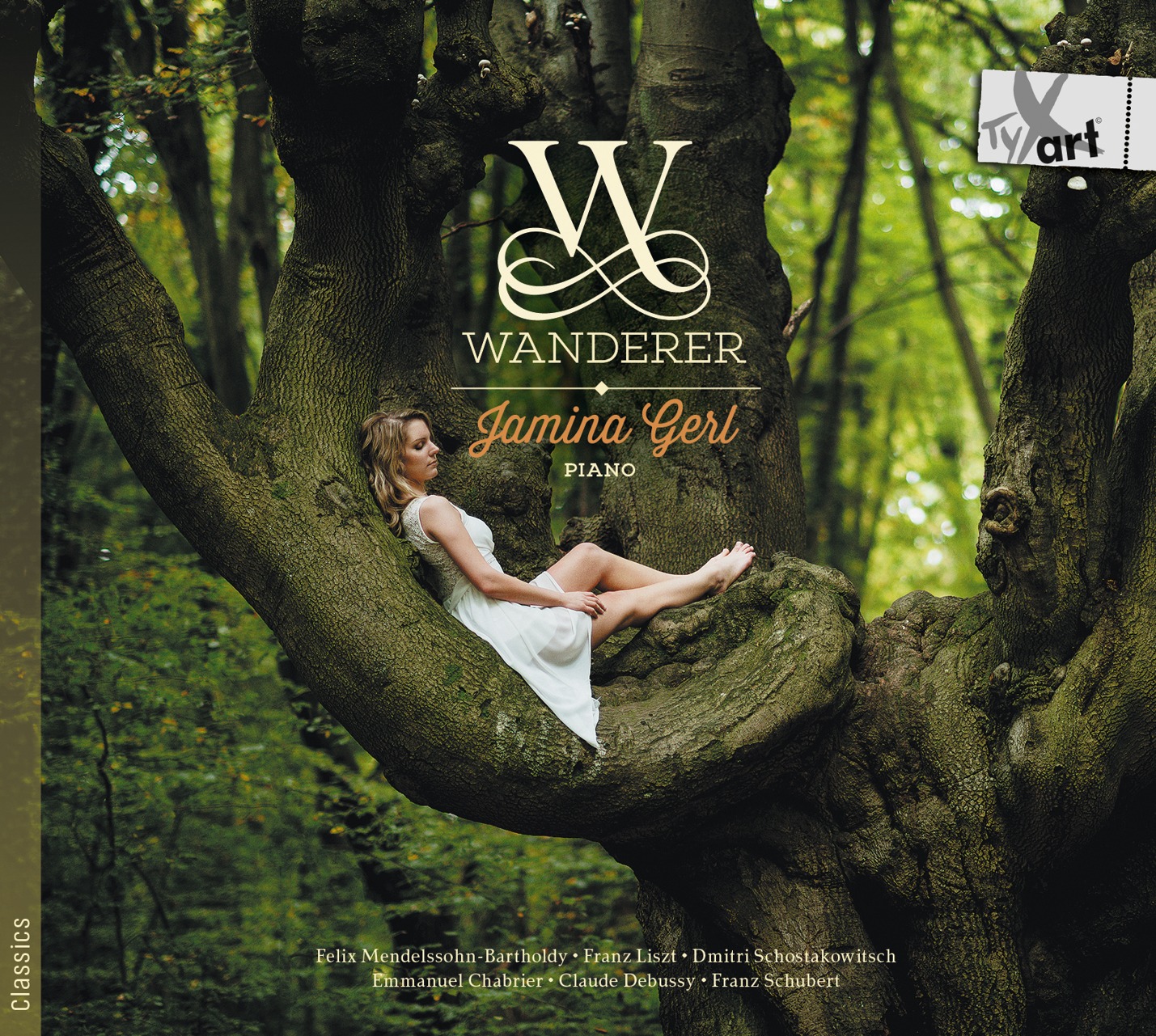 Wandering is not only the joy of the miller striding easily through the world. Wandering reflects a heavyweight archetype of Romantic motion and anguish; longing for the far-away beloved, the rootlessness of the lonely, the lost. Franz Schubert decisively shaped this image, particularly in his famous cycle after Wilhelm Müller's Die Winterreise. The first line of the lied has become, as it were, iconic of the Romantic awareness of life and suffering: »A stranger I arrived here, a stranger I go hence.« Schubert also dealt with this central subject of his times in his "Wanderer Fantasy". He borrowed this work from the German poet Georg Philipp Schmidt von Lübeck. On his journey, Schmidt's wanderer traverses roaring seas and steaming valleys in his eternal search for a place he belongs, for home. The futility of this search ends with the words: »Where you are not, there's happiness.«
The "Wanderer Fantasy" is the theoretical starting point and crowning work of this recording, which, however, also thoughtfully looks at the atmospherically light side of Romantic wandering. The program thus firmly leads from the famous wanderer of the educated classes, Felix Mendelssohn, and his journey through Scotland to colorful musical atmospheric images by composers from Liszt to Debussy. They tell of forests, the world of gnomes and sprites, and of fantastical and exotic dances. Venetian gondola songs then segue from dry land onto the water and guide us on the winding bends of the 'Grand Canal' all the way to the 'L'Isle joyeuse', that island of joy regarded as the kingdom of love and bliss.

Concerts in Germany and abroad have always earned the young German pianist Jamina Gerl excellent reviews from professional critics. For instance, the press in New York declared her orchestral debut performance of Rachmaninoff's Third Piano Concerto "a triumph for all concerned," christening Gerl "a lioness of the keyboard."
In addition to her versatile concert programs, she is often praised for her poetically inspired piano playing, remarkable virtuosity and richly shaded, differentiated expression. Concerts and numerous competition triumphs (e.g. first prize at the 2013 International Shining Stars Rachmaninoff Piano Concerto Competition in New York) resulted in her appearing in such prestigious venues as Carnegie Hall and the Steinway Hall in New York, the Beethoven Haus Chamber Music Hall, the Illsley Ball Nordstrom Recital Hall, Mannes College Concert Hall, Tonhalle Dusseldorf and Munetsugu Hall Nagoya.
Free Audio Samples ... of this CD album!
CD Review, Magazine "international Piano" UK
»... Superbly recorded ... Repertoire choices, too, are wonderful ... a player capable of great pianistc colour ... five stars!
Unhesitatingly recommended.«
Highscore! (5 Stars ✩✩✩✩✩ = excellent)
international-piano.com, Magazine "international Piano", Great Britain (Jan/Feb 2018)
FONO FORUM Recommendation of the Month!
»[...] This CD is a superior debut!«
Music and Sound: Maximum score (5 Stars = excellent)
fonoforum.de Magazine FONO FORUM (2-2017)
Album Recommendation and Interview
»[...] The recordings of the Wanderer Fantasy I listen to most often are by Alfred Brendel on Vox and Elisabeth Leonskaja on Teldec, but I suspect I will be playing Gerl's version frequently. Her CDs sound engineering is excellent. [...]
Hers is a career I will follow with extreme interest. Wanderer displays a talent that is ripening wonderfully.«
Fanfare Magazine USA (online 03/2017)
»Radio hr2 kultur CD Tip!«
hr2 kultur Broadcasting Corp. (23 Oct 2016)
Review and Recommendation!
»[...] And everyting here is performed with just the right amount of character, élan and expressive depth to take the listener along on a musical journey unique to each one. A well engineered recording, clear piano sound, booklet notes of interest and beautiful packaging, all help and make this a piano recording worth having.«
Classical Music Sentinel, Canada (April 2017)
Review and Recommendation of the new CD "WANDERER" - Jamina Gerl, Piano
Newspaper Bonner Generalanzeiger (19 Oct 2016)
rbb kulturradio: Radio Broadcast, Artist's Portrait & CD Recommendation!
rbb kulturradio, Germany (20 Apr 2017)
»CD Review and Tip!«
pizzicato.lu Luxembourg, Remy Franck (20 Nov 2016)
CD Review & Recommendation!
OpusKlassiek The Netherlands, Aart van der Wal (online 02/2017)
»CD Recommendation«
kulturexpress.de (10-11/2016)
»CD Review and Tip!«
pianonews.de Magazine PianoNEWS, Carsten Dürer (1/2017)
'Klassik Heute' Recommendation & CD of the Week (Jan 2017)!
»Artistic Quality 10/10, Sound Quality 9/10, General Impression 10/10«
klassik-heute.de Germany, Peter Cossé (online 26 Nov 2016)
CD Review and Tip!
Interpretation, Sound, Repertoire: 4 Stars - very good!
klassik.com (online 18 Feb 2017)
»CD of the day! Recommendation ☺«
ORF - Ö1 Vienna/Austria, Broadcasting "Ö1 bis zwei" (07 Mar 2017)
CD Tip!
Interpretation, Sound, Repertoire: very good!
Newspaper 'Coburger Tageblatt' (04 Aug 2017)
WDR3 TonArt - Interview: Jamina Gerl, Pianist
Broadcasting Corp. WDR 3 TonArt (08 Nov 2016)
CD programme / Tracklist:

Felix Mendelssohn-Bartholdy (1809–1847)
Fantasie Op. 28 (13:54)

Franz Liszt (1811–1886)
Waldesrauschen, Gnomenreigen (08:17)

Dmitri Shostakovich (1906–1975)
3 Phantastische Tänze (Phantastic Dances) Op. 5 (03:50)

Emmanuel Chabrier (1841–1894)
Bourée Fantasque (06:04)

Felix Mendelssohn-Bartholdy
3 Venezianische Gondellieder
(g minor, f-sharp minor, a minor) (07:25)

Claude Debussy (1862–1918)
L'Isle joyeuse (06:03)

Franz Schubert (1797–1828)
Der Wanderer (06:30)
Wanderer-Fantasie Op. 15 D 760 (21:14)
» Detailed CD booklet includes further info (bios, photos, etc.)
» Total playing time: 73min 17sec | Booklet Text: DE, EN, FR, JP
» Format: 1 Audio-CD | Series "Classics" | Release int.: ~ 10/2016
» Order No.: TXA16082 | GTIN (EAN): 4250702800828
» CD available commercially or directly via TYXart
Further information:
www.jaminagerl.com