Sophie Klußmann, soprano - Oliver Triendl, piano - Daniel Giglberger, violin 1 -
Hélène Maréchaux, violin 2 - Corina Golomoz, viola - Bridget MacRae, cello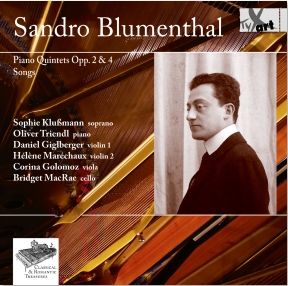 From the academy to the avant-garde - Chamber Music by Sandro Blumenthal

This eighth CD in this new series is dedicated to the Venetian composer Sandro Blumenthal (1874–1919), a versatile wanderer between the establishment and the avant-garde of the German musical and cultural landscape around the turn from the 19th to the 20th century.
After a promising start as a composer of serious music, he turned to the cabaret and became an important singer of cabaret lieder.

"It is harder to honor the memory of the nameless than of the famous."
Walter Benjamin

It might be harder, but often it is also more interesting, since the path through the yet dark regions of the history of mankind is like a veritable treasure hunt, unearthing undreamed-of valuables again and again. In addition to the finder's euphoria about his discovery comes the fact that he contributed to opening up a larger or smaller part of the past, thus saving it from being forgotten. Much has been written about Munich around 1900, one of the most important German artistic and cultural centers at the time, however, usually only about the most renowned protagonists of that golden era of the city, such as Thomas Mann and Richard Strauss. Many of the less famous and successful artists, on the other hand, were rarely mentioned at all, although they had just as decisive an influence on the scene.
One of them is the composer and singer Sandro Blumenthal. He became famous above all for his work as a cabaret singer, yet his early work - to which this first recording of his oeuvre is dedicated – shows him to be an equally talented composer of "serious music". [...]
(text extract of the CD booklet by Judith Kemp)


A Coproduction with BR-KLASSIK / An Album Coproduction with the Joachim Wollenweber Edition.
Free Audio Samples ... of this CD album!
CD Review & Recommendation!
Portal "OpusKlassiek.nl", Niederlande / BeNeLux, Aart van der Wal (online 05/2017)
CD Review - Magazine & Portal "das Orchester"
»Recommendation!«
das Orchester, Germany / int'l (12/2017)
CD Tip - Rediscovery!
Newspaper 'Stuttgarter Zeitung', Germany (June 06, 2017)
CD Review
Portal 'klassik-heute.com', Germany/international, Guido Krawinkel (online, June 08, 2017)
" buy recommendation "
klassika.info - Die deutschsprachigen Klassikseiten (online 2016)
CD Review
the-new-listener.de, Germany (online 10/2017)
CD Tip & Recommendation
Newspaper 'Recklinghäuser Zeitung', Germany (August 11, 2017)
CD Review ✩✩✩✩
klassik.com, Germany/international (online 06/2018)
CD Review and Tip - Portal "MusicWeb INTERNATIONAL"
»"[...] The lieder, as sung with flaming engagement by Sophie Klußmann, are intensely romantic.
[...] A Venetian unknown rooted in the nineteenth century is given a second chance, and well worth it too. Blumenthal could not be better served than by these ardently expressive musicians and by TYXart's technical team who deliver a broad, deep and believable sound spectrum.«
MusicWeb INTERNATIONAL, United Kingdom (online 07/2017)
CD programme (Tracklist):
Sandro Blumenthal (1874–1919)

Klavierquintett D-Dur op. 2 / Piano Quintet D major Op. 2
Allegro moderato
Adagio espressivo
Scherzo. Prestissimo
Finale. Molto lento – Allegro con fuoco

Vier Lieder / 4 Lieder
Non pensare a me ! (Romanza)
M'incontri per la strada...
Ah non languir ! ...
Erntelied

Klavierquintett G-Dur op. 4 / Piano Quintet G major Op. 4
Adagio sostenuto – Allegretto deciso e con moto
Andante cantabile assai sostenuto
Scherzo. Velocissimo
Finale. Allegretto quasi a piacere – Allegro assai vivace e brillante


Premiere Recordings / Album: First Release!



Tags Keywords Sandro Blumenthal Quintett Lieder Klussmann Triendl Giglberger Maréchaux Golomoz MacRae TYXart Labelcode LC28001 4250702800798 TXA16079
» Detailed CD booklet includes further info (bios, photos, etc.)
» Total playing time: 70min 51sec | Booklet Text: DE, EN, FR, JP
» Format: 1 Audio-CD | "Classics" | Release: int'l from ~06/2017
» Order No.: TXA16079 | GTIN (EAN): 4250702800798 | (p)+(c)2017
» CD available commercially or directly via TYXart
The seventh CD of this new Chamber Music series: "Robert Fuchs"
The sixth CD of this new Chamber Music series: "Felix Draeseke"